Many people are forced to work from home. Sometimes house noise can be distracting and you might not be able to concentrate properly. A lot of people have found a garden office a great solution to use as a quiet working space while being home.
A garden office is built outside of your home, but still on the same property. Having a garden office can add great value to your property. Depending on the size and complexity of the design, the garden office will add about 5% of the value of your property.
Garden offices come in many types and sizes. They can be built from the ground up or you can buy a pre-made office. Garden offices also serve as a magnificent decoration in your garden. They can also be multi-purpose and many people find different uses for them.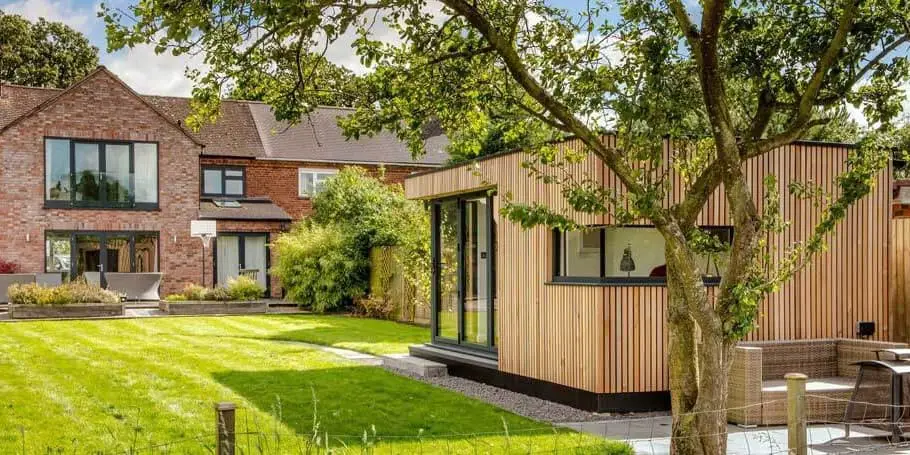 Is A Garden Office A Good Idea?
The short answer is yes, having a garden office is a great idea, and it can add value to the house. Garden offices increase the space in your house. In some cases, the garden office can serve as a summer house. Garden offices add value to your house because they provide more floor space.
Office space is by definition reserved for office buildings. In exceptional circumstances, when working from home, one room in the home or part of it can be transformed into a place to work. However, a rather interesting solution is a garden office.
At the same time, the compact and visually appealing design is a great addition to any backyard, while also freeing up space in the home for office supplies. The garden office is multifunctional – some also include a bed located next to a desk that can serve as a place to relax.
You can even add toilet facilities to avoid that trip back inside the main house!
Check out this article that discusses garden offices and toilets!
The advantage of a garden office is working in a quiet place near the house, but away from household noise. It gives you the opportunity for uninterrupted work and concentration.
The green environment and human connection have always gone hand in hand and are necessary for us to feel good. The natural environment will help you relax. You will eat healthier, home-cooked meals, homemade products, and you will not pollute with the waste left behind by the fast-food we eat on the go.
Garden offices can be pre-made or built on the spot. Premade ones are more cost-effective, but there might be a problem finding the right spot in your garden where the office can be placed.
Don't shy away from building a garden office. They are built very quickly and easily. It will be easier to build than an extension as it's not a direct addition to your house. It takes about two weeks to build a garden office, but you can live your life normally while it's constructed.
The garden office will have a great effect on your mind. It will decrease your stress levels since you're working in the comfort of your home. This means that your meetings will have a better result. Being in nature will offer its natural calming benefits, and you will be more relaxed, making it easier for you to think more clearly.
For many small business owners, having a home office provides them with a space to work without being disturbed. If any emergencies happen, they are close to their family. Having a garden office spares time and money that is spent traveling to work.
One of the biggest advantages of a garden office is that it improves the look of your house and garden. Garden offices are usually small, but visually attractive. They come in various designs, but the most popular is the wooden garden office. It complements the look of the garden.
Having a garden office will increase the value of your property. While some people may not use it as an office, it offers an extra room. It is even better if your garden office is quality-made, meaning that there is good heat and sound insulation.
Most garden offices don't need planning permission, but there are a few exceptions to that rule. You need to obtain planning permission if your garden office is higher than 2.5 meters. My Eco Space says that the garden office is classified as an outbuilding, which means that they don't need to follow building regulations. However, My Eco Space says that here lie some other exceptions.
If your garden home is more than 30m2, needs water supply for a bathroom, or electrical work must be done by regulations, you need to apply for planning permission.
How Much Value Does A Garden Room Add To Your House?
When garden offices are built, they have a lifespan of 60+ years, so they become a permanent part of your home. Since they add up to more floor space, real estate agents base the value of the home on total floor space. So naturally, the bigger the garden office you have, the bigger the value.
Halifax UK conducted research in which they found out the average cost of a house per square meter. They found that the average price of a square meter in London costs $6,911. If you build a garden office that is 20m2, it will add $138,222 to the value of your home.
On average, the garden office adds 5% to the value of the house. Garden offices themselves vary in price. Their value is determined by the size, design, and complexity of the building. The exact value also depends on the location in the country.
A garden office adds a 'wow' factor to the garden itself. Since they are visually appealing, they lure you out into nature. Most garden offices have big windows, allowing natural light to guide you through your work. This is a big plus since you won't strain your eyes too much working under unnatural lighting.
A quality garden office will especially attract business owners. Self-employed people and small business owners usually look for an office room when they are buying a house. The Garden office will add to the value since it's isolated from the house, but still in close proximity.
Garden offices can help speed up the sale of a house. Nowadays, many people search for additional space they can use. Since the building of the garden office is multi-purpose, people will be more interested because they have more space.
The most important part is the quality of the garden office. Having a high-quality garden office will add the most value to your home. Garden offices are easy to maintain. It's like any other room in your house.
If you have an office made of quality materials your only worry will be wiping the dust.
Here's a list of various suppliers for all kinds of garden offices. Take a look through them all for inspiration!
https://www.supertinyhomes.com/
How Much Do Garden Office's Cost?
Standard garden offices come in a dimension of 4m x 4m. The price of that garden home is around $15,000. Of course, increasing the size means increasing the price. Pre-made garden offices are much cheaper than building a home office. Their price ranges from 6,000 dollars to 8,000 dollars.
The price of the garden office depends on the size and complexity of the design.
A budget of $8,000 will get you a 2,5m x 2,5m garden office with insulation, quality windows, and a door. This size of an office is perfect for one person. If you have a much larger budget, for example, from $17,000 to $25,000, you could get a reasonably larger garden office with a complex design and special features.
In the long run, if you want a highly insulated garden office, expect to pay more. Remember that a garden office can last for more than 60 years, so you need to think about being secure and getting quality materials.
If you don't have a lot of money to build a garden office from the ground, you can reconstruct your shed to serve as a garden office.
You can find information online to equip your shed to be an office and how to use it during winter. The trickiest part here will be insulation. Find the best material to insulate. If you want to renovate your shed, it will cost you around $2,000.
To break down the total price of building the garden office, here are all the factors that depend make up the price.
The Garden Office Foundations
The Foundation system is based on on-site conditions. The foundation for the office is a concrete slab. It removes the vegetation and the depth is dictated by the size of the garden office you want to build. Check with your builders/supplier if they offer the installation of the concrete
The structure of the garden office
The garden office needs a sturdy floor and like the walls, it should be insulated. The floor foundation and the concrete need to sit well together, since they hold the whole building. If this is not done correctly, it can result in additional costs.
Wall and roof structures are best made out of wood since the wood is a natural insulator. Traditionally, timber frames are used to make wall structures in garden offices.
Insulation
Insulation is crucial for a garden office. Good insulation will prevent cold air from coming inside the office during winter, but it also keeps the warm air outside during the summer. Most garden offices will have insulated walls, floor, and roof.
There are many materials you can use to insulate. Choosing the best material for insulation may cost more, but will save you money and problems in the long run. If you put in bad insulation, after a few years, you will need to tear down the walls to put new insulation.
 Doors and windows
The price of an outdoor office also depends on what kind of doors and windows you want to use. You can choose between single doors, French doors, sliding doors, and many more. Each one of these has pros and cons. Think about how many times a day you will use the doors and if the design is important.
Windows also come in a variety. Their role in the garden office is very important. Windows allow natural light inside your garden office, all while protecting you from cold or warm air. If you want to insulate your office well, make sure you get great insulating doors and windows.
Interior and security
The interior design can be very expensive if you're not careful. Think hard about what you need in the office and what you don't want inside. Many stores offer garden office furniture and while it looks amazing in the store, maybe you don't need everything off the shelf.
Inspect your day-to-day habit and see what you need the most.
After everything is done, you want to secure your garden office. As you can see, a lot of factors go into building a backyard garden office and it can be quite an expense. If you have an alarm system in your house, think about installing one into your garden office.
Another great idea is to get insurance for your garden office and everything inside it.
Although this seems like a lot of expense, you can build a perfect garden office on a budget. You need to focus the majority of the money on the base and insulation.
Materials you want to use play a big role in your budget and the quality of the office.
Plastic material is inexpensive, easy to clean and maintain, and is weather resistant. The main disadvantage of plastic garden office furniture is that it fades very quickly in the sun and the fact that it is easily damaged. Metal material is the most durable, and we distinguish between wrought iron and aluminum.
Aluminum has an advantage. It does not rust, is resistant to weather conditions, does not fade in the sun, is light, which makes it easy to move, and requires minimal maintenance.
The best material is considered to be wood, especially teak. It is an extremely strong and resistant wood that, with proper maintenance, can last up to 50 years. So, this is a long-term investment that will pay off over the years.
How Do I Choose A Garden Office That Will Add Value To My Property?
Having a garden office will improve your working life since you will have a room dedicated to that. You will have a calmer and more fulfilling place as a working environment.
The first thing that will determine what kind of garden office you choose is your budget. The amount of money you are willing to spend will decide what size you need and what materials to use.
Decide if you want to use the garden office as a multi-purpose space.
Depending on how much time you spend inside of it, think about putting a small kitchen, enough to cook meals to give you energy for working. Some people use the garden office during winter, and turn it into a relaxing place during the summer.
Think about what you need inside your office. If you put unnecessary components inside the office, you will have a cramped place, and working inside can be stressful if you don't have enough space.
If you're going to spend a lot of time inside your garden office, make sure you have a sturdy building. This means that you will need quality insulation. There are also different items and supplies you have to put inside to satisfy your day-to-day needs.
To know how to choose the perfect garden office, think about the size of your garden.
This is the biggest factor that leads to buying or building a garden office. If you have a big garden, your possibilities are somewhat endless. Don't rush into buying your perfect garden office. Remember you're building a structure that will last you a lifetime. You want to make sure you have the most efficient supplies and materials.
Is A Garden Office Tax Deductible?
You can get a deduction from an employer who works from home.
It's usually a deduction for expenses such as electricity, phone, and internet expenses. But the garden office is classified as a structure (or a building) and every expense made for building it, counts as a part of the building and is not tax-deductible. Decorating also falls into this category.
You can claim a deduction for capital allowances since the normal tax rules apply to the cost of furniture. Insulation is also a part of the capital allowance. The cost of electricity and heating is also tax-deductible. Briefly said, the whole office is not tax-deductible and cannot be claimed as a business expense. However, additional fixing, furniture, and fittings can be deducted.
So, office and computer equipment, electrical systems, air conditioning, and heating systems can be claimed and the tax relief is allowable. If you work for a company and you work from home you can claim back VAT on all your costs.
Adding a garden office can add value to your home but be sure to do a great job with design, structure, and particularly insulation, if you get these main factors correct you will add value to your property, and if you are looking to sell your home this may be the extra luxury the buyer is looking for.
Sources:
https://www.hbdonline.co.uk/news/will-a-garden-office-add-value-to-my-property/
https://www.gardenofficeguide.co.uk/construction/
https://www.quick-garden.co.uk/blog/wooden-garden-offices-choose-right-one.html
https://rodliffeaccounting.com/garden-office-business-expense/
https://kwaccounting.com/can-i-claim-tax-relief-for-a-garden-office/