Having a garden office with storage gives you a great functional place to work plus space for keeping your valuable, equipment, tools, and anything else that needs to be stored. These garden office with storage ideas will get you inspired to plan, design, build, or renovate a shed so you have storage plus a practical place to work.
If you need to build on a slope, want to maximize backyard space with a triangle shaped shed, or want to 2 story garden office, this article will inspire you to get started.
Inspiring Garden Office With Storage Ideas
1. Sloping Site Garden Office with Storage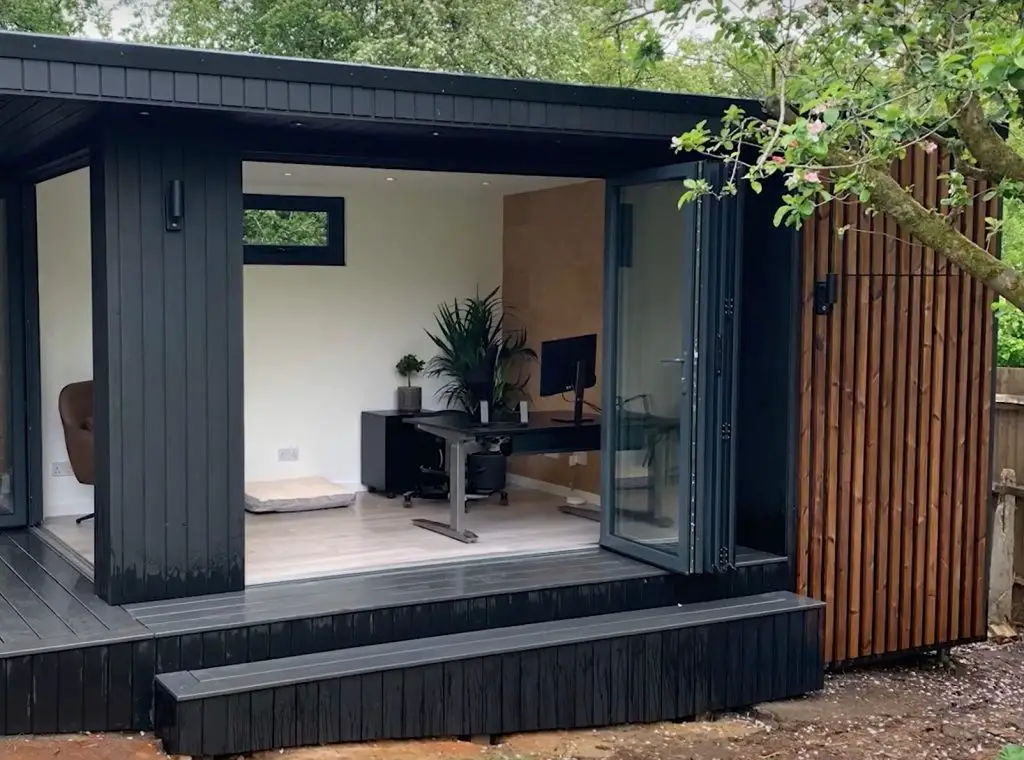 A garden office with the right design can be built in to a sloped landscape. This idea from Ark Design Build uses the natural landscape of this yard to build a modern garden office with storage.
2. Small Garden Office with Separate Storage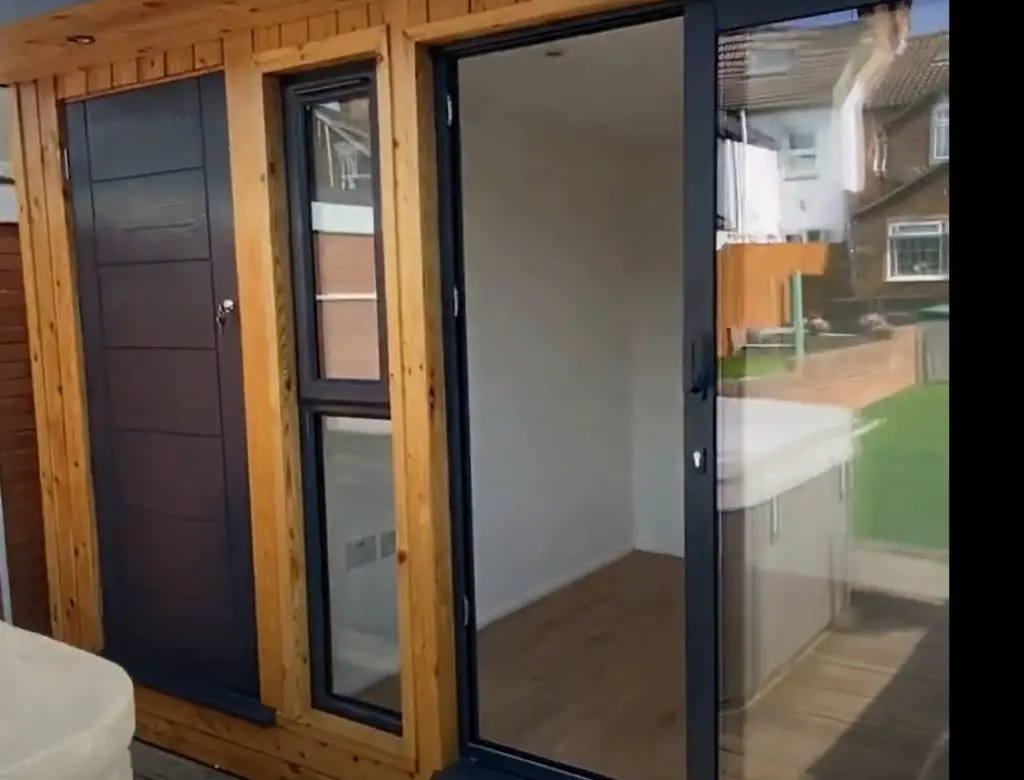 This 3.7 x 2.5 square meter (12 x 8 square feet) shed has a place to work and separate storage space. There is enough room for a desk, shelves, and a minifridge. This design is perfect for a small backyard or any yard with limited space for a shed.
3. Large Garden Office with Storage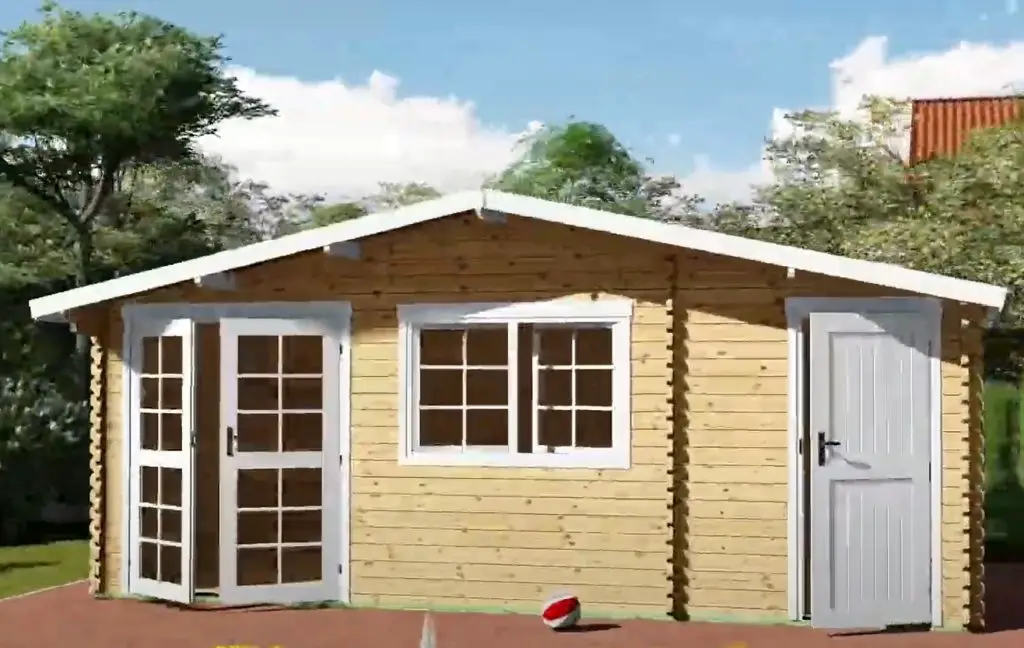 This garden office is 6 x 3 meters squared (19 x 8 square feet) with about 2/3 of the space dedicated to the office and 1/3 for storage. It has a nice balance of workspace and storage space.
4. Garden Office with Storage and Veranda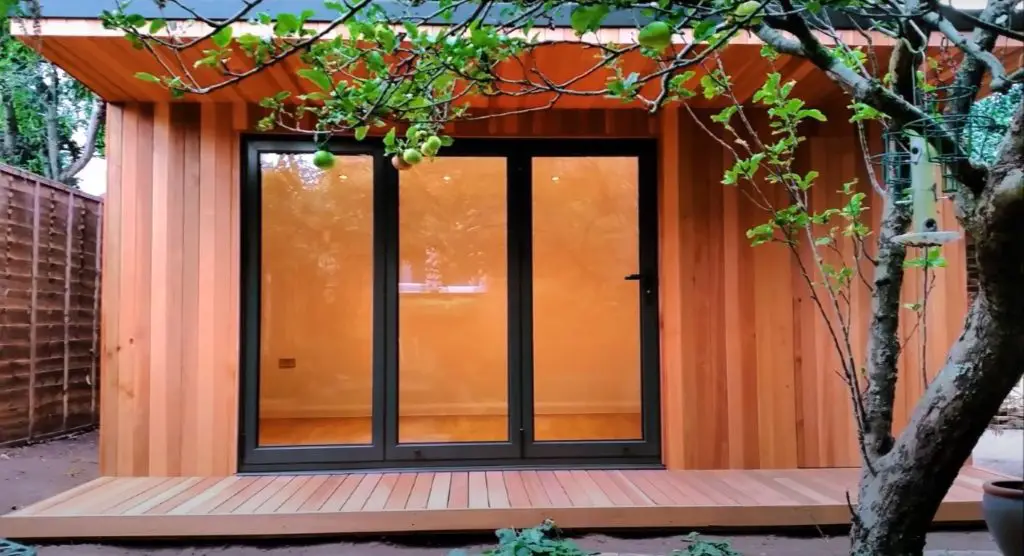 This garden office with storage is 5 x 3 meters squared (16 x 10 square feet) and features underfloor heating, bi-fold door, interior LED downlights, and a veranda. The bi-fold door is large enough to make sure you can get your office furniture in the shed.
5. Upcycled Garden Office With Storage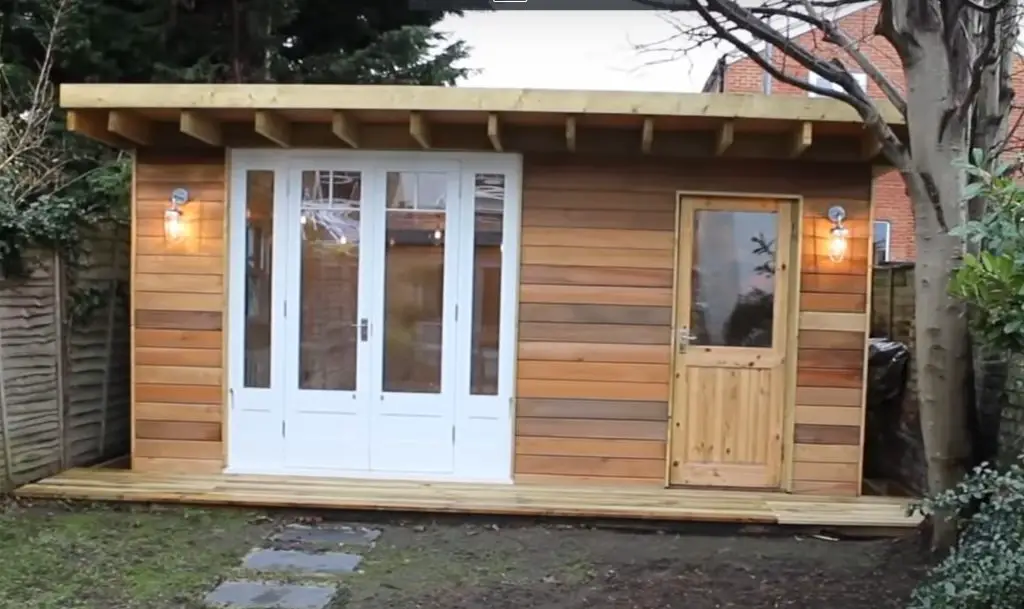 Building a shed with upcycled materials is a great way to save money and prevent more trash from filling up landfills. Pallet wood and using second hand windows, doors, and hardware can help you build the shed you want for cheap. This shed has a great space to work plus a lot of room for storage.
6. Solar Powered Garden Office With Storage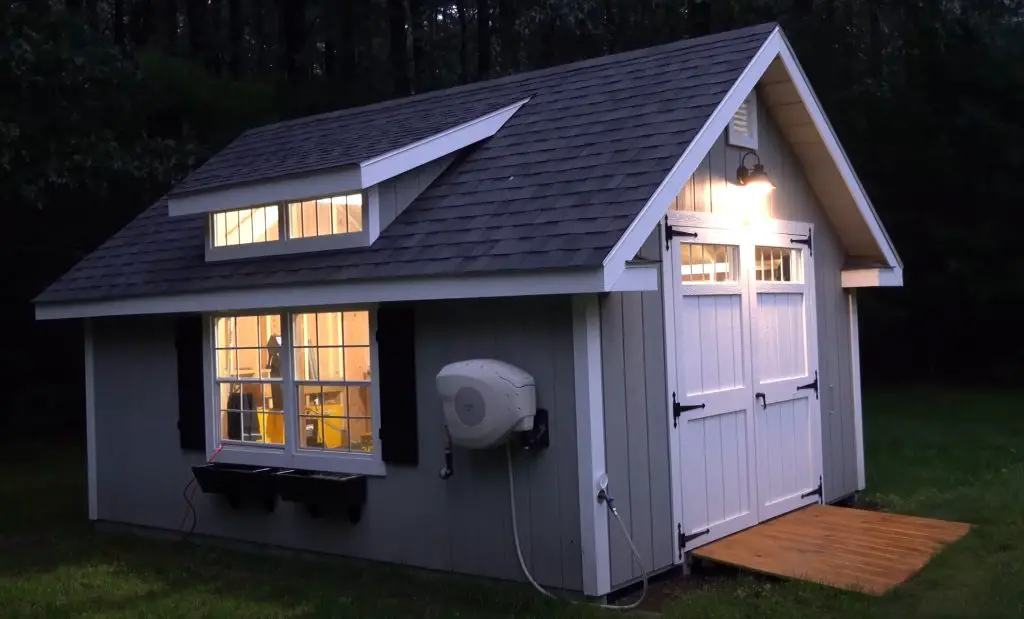 Adding solar power to a garden office doesn't have to be as complex as it is with a house. Since these tiny home sheds can get away with only 1 light, it's cheap to install and doesn't require complicated wiring. Using a pancake box, electrical wire, LED light sensor, and a solar generator, this shed with storage uses 100% solar power. Just buy the generator, plug it into your wiring, and you have lights!
Sale
BougeRV Portable Power Station 1200W, 1100Wh Solar Generator, Lithium Battery Backup Power Supply 1500 Cycles, 3x110V/1200W Pure Sine Wave AC Outlet for Outdoor, Camping, Emergency
【2X LONGER LIFE】: With Aluminum Shell Battery Pack, BougeRV Portable Power Station can be recharged over 1500 times, 2X longer life than normal batteries. Ideal for home backup battery and outdoor power
【POWERFUL PERFORMANCE】: This Power Station has a large capacity of 1100Wh, and 1200W rated power (2000W peak), which exceeds many similar products in the market. A single charge can power your home and critical devices for up to 2 or 3 days when facing an emergency blackout. Supports PASS-THROUGH CHARGING
【10 PORTS FOR ALL】: Features 3*110V Pure Sine Wave AC Outlets, 1*USB PD 60W (Input/Output Supported), 1*USB QC3.0 ports, 2*USB-A ports, 2*DC ports, 1*12V car charging port, great for AC household appliances or large electrical devices on trips, camping or work sites, such as full-size refrigerator, CPAP machine, TV, heater, electric grill, heated blanket, coffee maker, mini fridge, smartphone, laptop, etc.
【STRONG BUT QUIET】: Aluminum housing can withstand harsh environments, protecting Power Station from damage by drops and bumps. Good heat dissipation of Aluminium shell leaves you little noise
【WE HAVE YOUR BACK】: Bright and dynamic LED display, easily keeping track of charging status, recharging status, battery capacity, and error information. Prevent your power station from Overcharge, Over-discharge, Over Current, Over Voltage, Overload, Short Circuit, or Overheat
7. Shed with Built-In Storage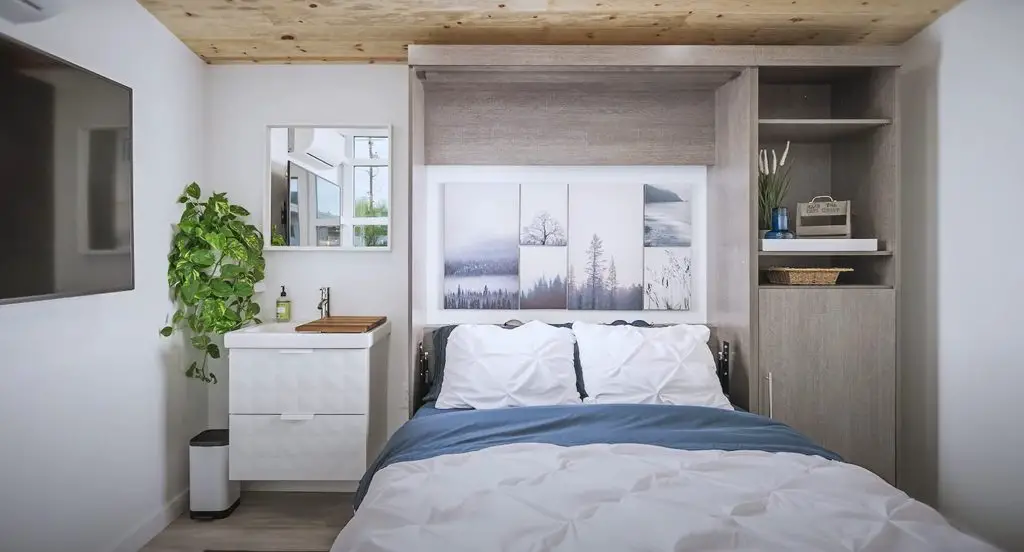 This shed has beautiful built-in storage units. The floating nightstand doubles as a sink for easy washing up in the morning and at night. And the bed maximizes storage on the sides and with additional storage underneath.
8. 2-Story Home Depot Garden Office With Storage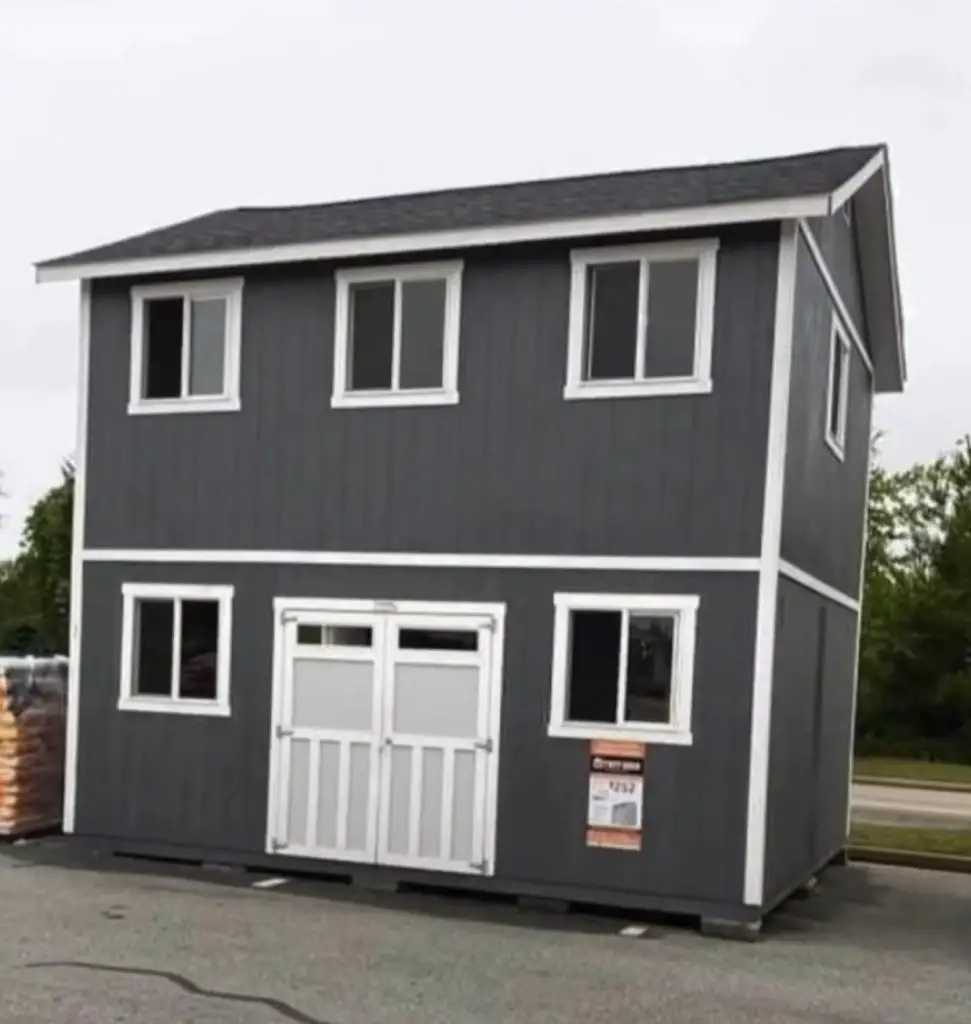 A 2 story garden office gives you so much more than just one storage area. You can maximize storage space inside by using the ample space available to have built-in's and shelving. There's plenty of room for a desk and office seating.
9. Garden Office with Outdoor Storage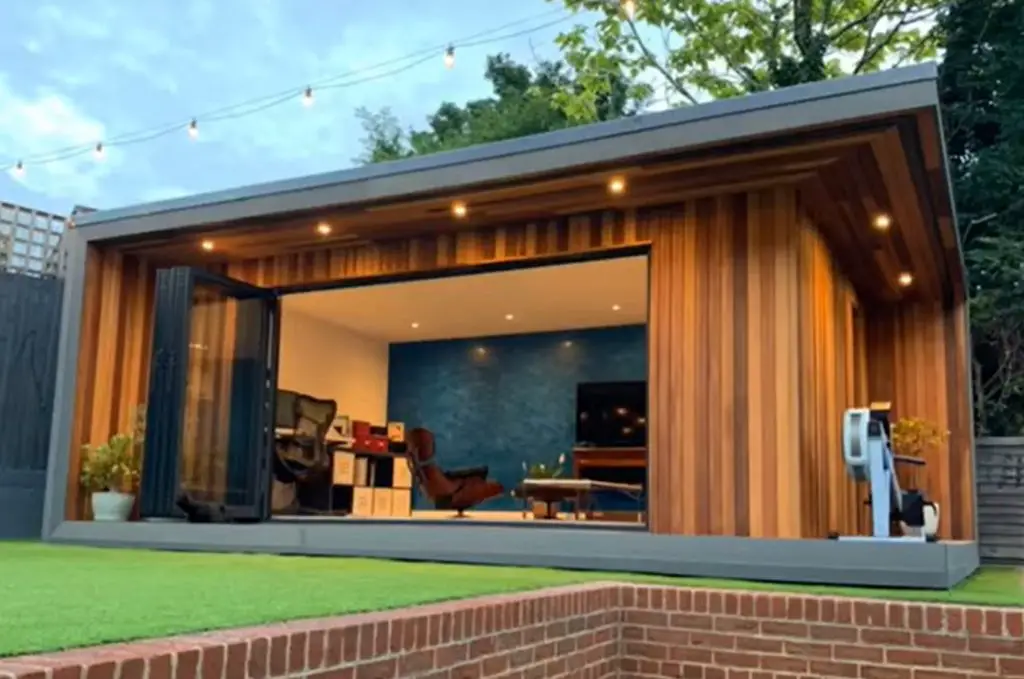 A covered outdoor storage area is great for exercise equipment and firewood. This garden office has a 4 foot overhang to keep outdoor storage items protected from rain. More square footage is available inside the home when you have storage space outside. This will increase your enjoyment of the space even more.
10. Triangle Garden Office With Storage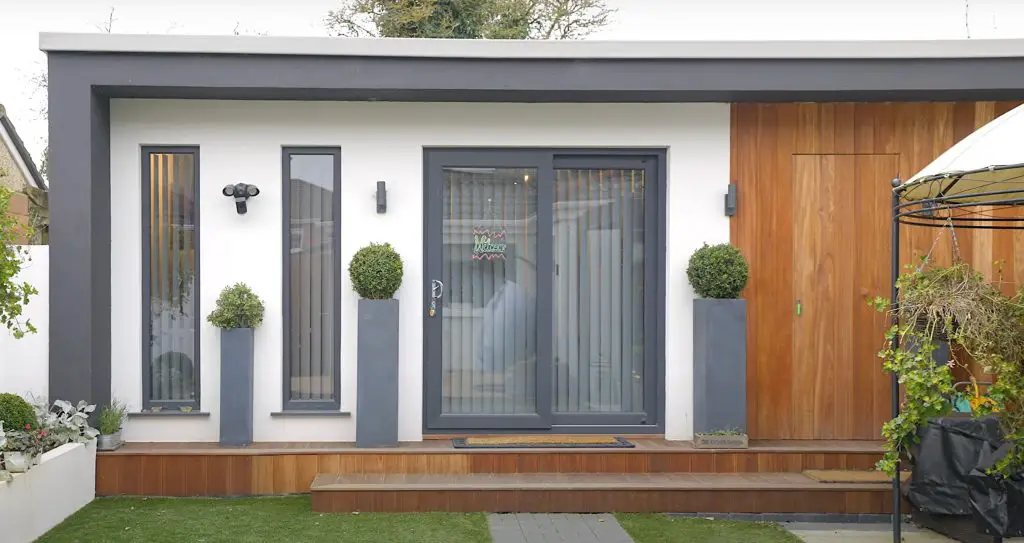 This triangle garden office with storage is laid out to fit the property and maximize space. It has a triangle design, contemporary look, and uses every available inch of property by not being square or rectangle. The storage area is a large portion of the livable space.
Final Thoughts
These inspiring garden office with storage ideas will help you get started on building the shed you need. These are great ideas for building a large or small garden office, building on a slope, maximizing space, and using upcycled materials. You can decide for yourself which design will work best for your backyard workspace.
For more ideas, check out 5 Inspiring Office Shed Ideas With Storage.