A couple years ago, I decided to move all of my work gear out of the office downtown, and I freaked out when I saw the insane prices for home office furniture; that was, at least, until I walked into my local Ikea in Centennial, CO. 
I have to admit, I was an Ikea hold-out for years. As someone who prefers solid, well-built hardwood furniture I just could not wrap my head around their modular, some-assembly-required aesthetic. 
I was pleasantly surprised by the quality of the office furniture I found at Ikea, although I did opt for some of their more high-end options. 
If you are designing a home office space with Ikea, start with one of their most popular desks like the Lillasen or Micke. Bigger projects will require a stronger desk like the Bekant or Idasen. Then outfit the rest of your space with one of Ikea's desk chairs, a storage unit, and other accessories. 
Read on for highlights about each of Ikea's most popular home office options, and to see the pieces I chose for my own well-appointed home office
The Most Popular Ikea Desks
Ikea is known for their sleek, no-nonsense designs and unwavering functionality, and their popular home office desks showcase that spirit. 
Their three most popular styles, in no particular order, are by far the Lillasen, the Micke, and the Linnmon. 
#1 Lillasen Desk 
The Lillasen desk is quintessential Ikea and has a ton of features to love: minimalist lines, the ideal amount of storage, and a small footprint that fits perfectly in a small apartment or bedroom office. 
The biggest complaint most buyers have with the Lillasen is the difficulty in assembling, but once it's put together it will become a timeless addition to your office space. 
Many people who buy the Lillasen are looking for a versatile desk that can handle a light workload, then perform  double-duty as a vanity or a gaming station.  
#2 Micke Desk 
No products found.
The Micke line of desks are possibly more popular than the Lillasen, if only due to the fact that they are available in more variations. 
Besides crisp, symmetrical lines that fit into any decor, all of the Micke desks feature an innovative cable management system at the rear of the unit to help hide the unsightly bundles of monitor, keyboard, and mouse wires. 
Consider purchasing one of the stylish matching add-on units to really dial in your storage. 
#3 Linnmon Desk 
No products found.
While the Linnmon desk doesn't win awards for its looks, it is one of the most popular Ikea desks because of its functionality and modular design. 
The Linnmon lineup can be customized with a variety of different-sized tabletops and extra legs to extend your work surface, or even to wrap around corners. 
The Linnmons are also lightweight and use less raw materials, making them Ikea's most environmentally friendly desk option. 
The Strongest Ikea Desks
The most frequent complaints about smaller Ikea desks are their tendency to sag under too much weight or their lack of space for large tasks. If you need a sturdy desk that can hold computer equipment and still have room to take notes, opt for one of Ikea's larger commercial-grade desks like the Bekant, Idasen, or Trotten.  
#1 Bekant Desk 
No products found.
The Bekant is as sturdy as they come, with a durable melamine surface that is easy to clean. 
If you have a large monitor and a keyboard, or possibly a desk phone, consider buying the L-shaped corner model. It has an elongated edge that will help manage all of your equipment.
A very similar desk, to this motorized standing desk that allows you to get up and stretch your legs while you work.
#2 Idasen Desk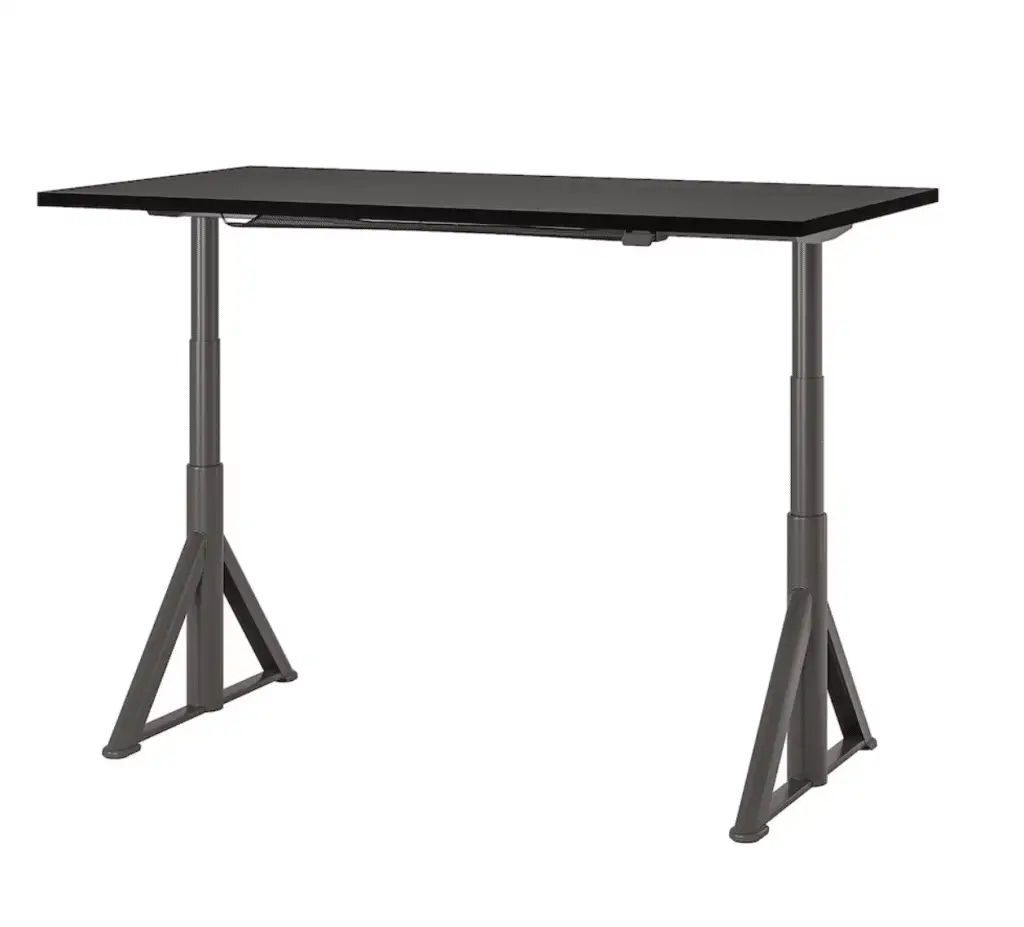 Reminiscent of a drafting table, the Idasen really speaks to its Scandinavian designers' roots. 
I've chosen to show the sit/stand model here. Although it costs nearly double of the base model, it can be raised to standing height in seconds with Ikea's built-in phone app! 
The ability to easily transition between sitting and standing led me to choose the Idasen for my own office desk. 
#3 Trotten Desk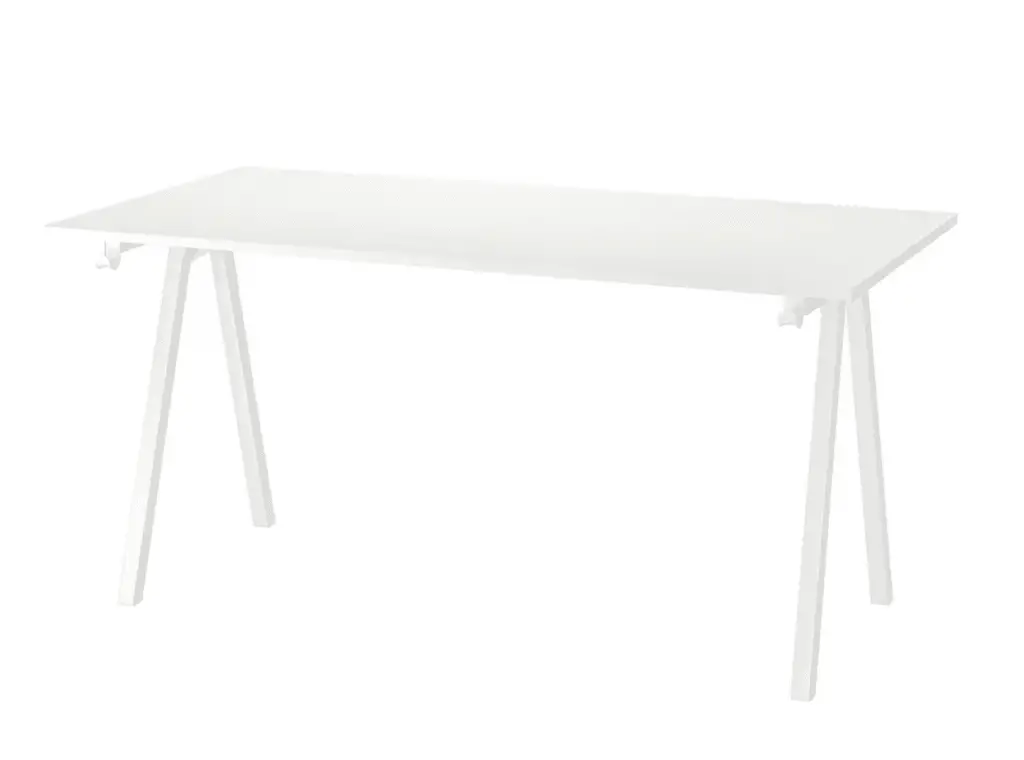 Don't let the simple lines fool you; the Trotten's A-frame legs allow for a ton of leg room and can swallow up most office chairs. 
If you're looking for more surface area, consider buying an additional unit and placing them back-to-back or side-by-side. The Trotten was designed to be placed in series without showing any seams. 
Added bonus: All of Ikea's commercial-grade desks come with a 10-year warranty! 
The Best Ikea Accessories 
Seasoned shoppers know how difficult it is to walk out of Ikea with only one item, and if you're shopping for your home office there is no reason to limit yourself. Once you have settled on the perfect desk, you will likely find a home for a Markus swivel chair, the Kallax bookshelf, and Skadis pegboard. 
#1 Markus Chair 
No products found.
The Markus chair is one of Ikea's most popular office accessories, and for good reason. 
Its base is more stable than most rolling chairs, the mesh back allows for comfortable airflow, and the foam seat doesn't bottom out. 
With many websites touting the Markus as their top choice for a budget office chair, I decided to roll with it as well. It's not quite as comfortable as I'd hoped, but it is holding up great so far. 
#2 Kallax Bookshelf
At 5 feet tall and 5 feet wide, the Kallax bookshelf may be a bit imposing for smaller home office spaces. 
It just fit in my area, and I loved having the extra storage space right off the bat. It may seem boxy to some folks, but I lightened up the look by alternating textbooks with smaller decorative items in adjacent slots. 
#3 Skadis Pegboards
Ah, pegboards. I grew up fascinated by them in my granddad's garage, and although they are abhorrent to diehard fashionistas, there is a reason the Skadis pegboards are a best seller for Ikea. 
After all, they fit into almost any workspace and provide a ton of storage and decor options in a compact package. What's not to love? 
I am not sure if my perceptions have changed, or if Ikea has started churning out some better quality products. I have a feeling the answer is somewhere in the middle. 
Either way, Ikea does their best to be an environmentally friendly company, and they have a far better return policy than most assemble-at-home furniture manufacturers. 
Final Thoughts
If you're getting serious about furnishing a new home office, or revamping your old space, I would encourage you to give Ikea another look. Just be sure to read reviews like this to find the best products before you walk in and get overwhelmed by their vast selection! 
If you enjoyed this quick look at Ikea's home office products, be sure to check out some of our other home office product reviews!