Once you have committed to the idea of a backyard office space, you will need to decide which model best fits your budget, yard area, and lifestyle.
Is it worth it to invest in a large structure, or does something smaller suit your needs? 
Looking for an all-day hangout spot, or just a quick getaway so you can knock out some emails?
Are you willing to sacrifice on insulation for lots of natural sunlight? 
Is an office pod even allowed by your local building codes? 
A variety of exciting options for backyard office sheds, or office pods, have hit the market. From bare bones to luxurious, we have compiled a list of the 10 best outdoor office pods to give you a great ideas to build yours!
Best Office Pods Under $5,000
If you don't have a ton of money to invest in your outdoor work space, or you aren't sure that you want to commit to one, choose one of the less-expensive entry models listed below.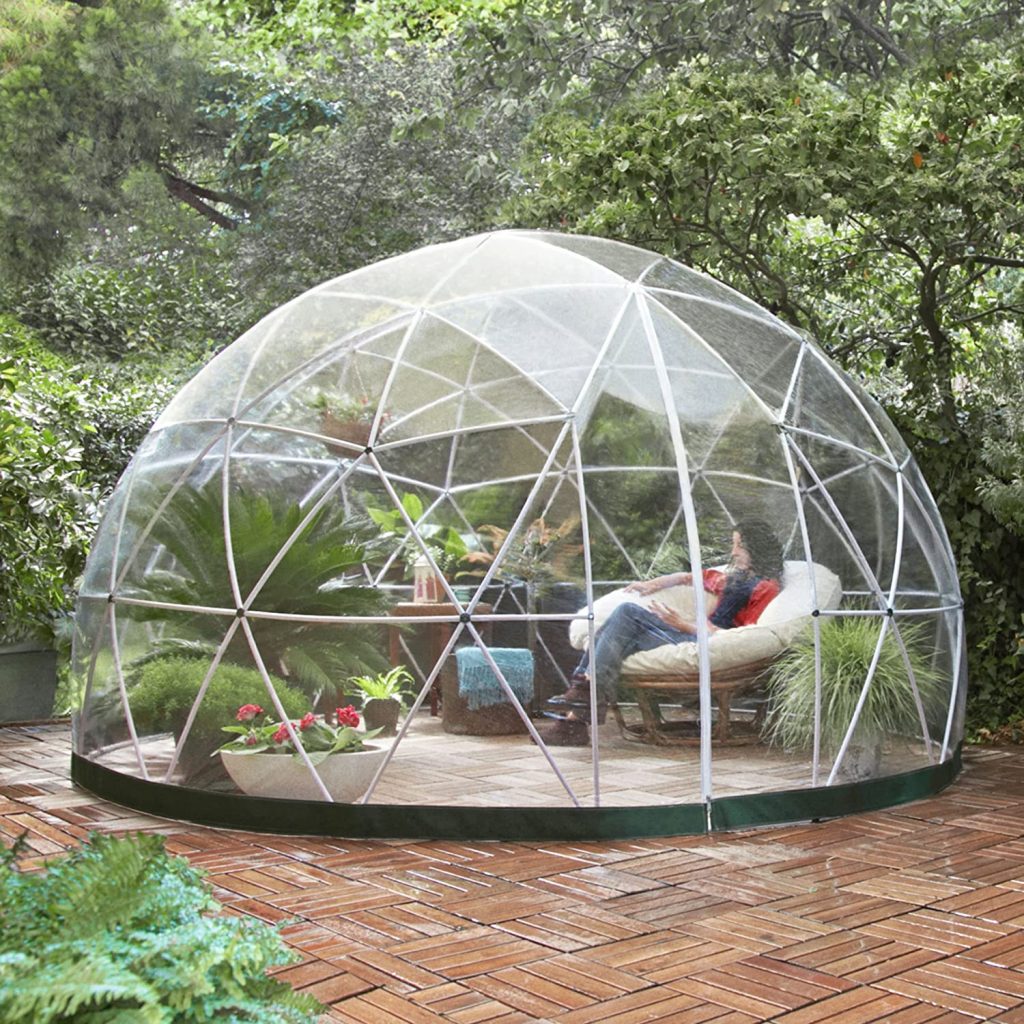 The Garden Igloo
You really can't go wrong with the Garden Igloo on Amazon. 
Made from a recyclable aluminum frame and transparent PVC covering, the Garden Igloo provides a well-lit work or hangout space with a diameter of a little less than 12 feet. 
Plant lovers will quickly see the benefits of the 360° sun exposure. Once outfitted with some hanging pots from the upper frame, and a few large ficus or corn plants along the edges, the Garden Igloo will become your backyard oasis! 
You will likely want to lay down a wooden subfloor or concrete pavers to keep your equipment off of the bare ground, but at such an inexpensive price point, you should be able to come up with some extra dough to outfit it exactly how you would like. 
Lifetime Storage Shed 
The roomy Lifetime "storage" shed has a ton of floor space in a more traditional frame design. 
This office shed's lightweight construction make it a cinch for two people to assemble in one day, and the metal truss roof actually caught our engineer's attention as a sturdy, efficient design. 
This unit comes with small skylights, a couple of vents for fresh air, and 2 polycarbonate windows. Lifetime also offers a 10-year limited lifetime warranty, something that is becoming increasingly hard to find in the backyard workspace market. 
Sure, it is made of plastic, and the small windows leave a bit to be desired, but considering the cost of $2971.00 it is an inexpensive option worth considering. 
Bonus points for the fact that you can easily convert it to a more traditional shed type if, say, you get called back into the office full-time!  
Best Office Pods Under $30,000
Work-from-homers seeking a more modern office pod will need to shell out a little more coin, but there are plenty of satisfactory options for less than $30,000. 
Studio Shed 
Bridging the gap between affordability and modern design, Studio Shed offers several prefabricated designs ranging from 8' x 10' to 12' x 24'. 
Based in Colorado, Studio Shed offers shipping to all 50 states, and can customize your build based on your climate and local regulations. 
Starting at $11,500 for a base model and going up to $30,000+, this innovative office pod manufacturer makes it easy to find a price point to fit any budget. 
They also offer a great shed design tool to help you dial in your office pod fantasies. 
Home Depot Hud-1
Just as they were quick to jump on rising material prices during the pandemic, big-box giant Home Depot has thrown their hat into the backyard workspace ring with the Hud-1 EZ Building. 
These modular structures come in a wide variety of traditional frame-and-siding designs, and are available for delivery between $17,000-$35,000. 
While they don't feature the most modern architecture, they are one of the few designs you can buy entirely online and have shipped directly to your door. 
Yard Pods
Based in the San Francisco Bay area, Yard Pods feature an affordable, simple design that will last for decades.
Although you have to be in their service area to buy one of these units, Yard Pods offers comprehensive site evaluation, design, permitting, and installation services. This eliminates any headaches with the process and lets you focus on your work and family. 
Autonomous work pods 
Featuring a modern design and innovative materials, Autonomous work pods are truly the wave of the future. 
They might seem a little cramped, but these office pods are soundproof and very energy efficient. 
These prefabricated units can be shipped assembled if desired, or shipped in pieces that can be assembled with the help of a friend in one weekend. 
YardADU 
YardADU started as a provider of ADUs, or Accessory Dwelling Units, before they took the plunge with their innovative office pods. 
The focus on letting in natural light, a modern feel, and maximized interior space make Yard Pods a great choice for any backyard! 
Grab a spot on their waitlist and you could find yourself working in one of the Productivity Office models featured above for only $28,900— a steal for an office pod with such a brilliant design.  
Office Pods under $75,000
If you really want to dazzle your neighbors, or make your co-workers on the Zoom call jealous, you will need to stretch your budget a bit further— Quite a bit further. 
Below is our list of dream backyard workspace projects with no budget restrictions. 
Office Pod 
Based in the UK, Office Pod is stretching the boundaries of what a small work space can be. 
Their main focus is on soundproofed interior pods for offices and shared work spaces, but it's the units they have placed outside that really caught our eye. 
While it is doubtful you could get one of these cool little units delivered to your door here in the States, we wanted to include their designs to give you some ideas of what is possible if you think outside the box. 
The Bunkie Co. 
Another manufacturer stretching the limits of imagination is The Bunkie Co.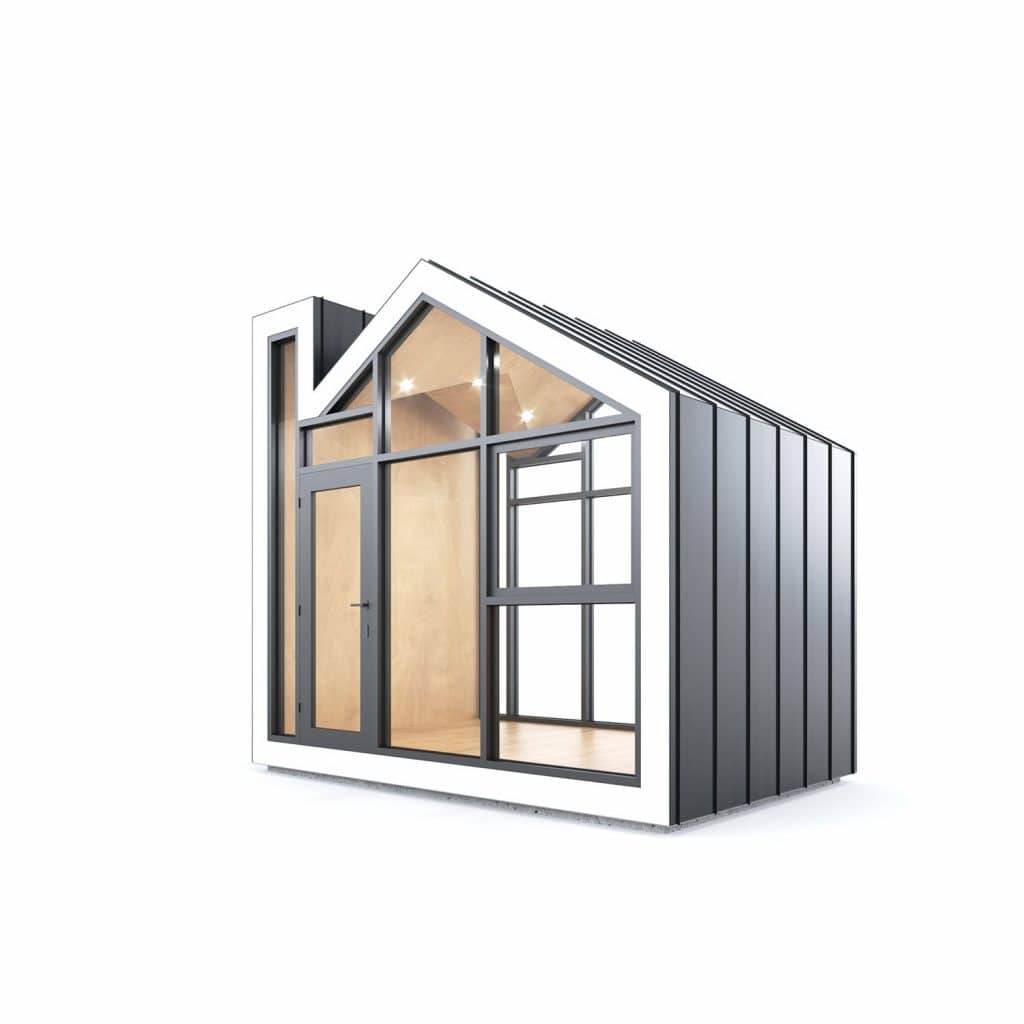 Their products are all intended to be assembled by craft DIY-ers, and are designed to slide in under Canada's permitting restrictions. 
Luckily for you, Canadian building codes are very similar to ours here in the US, and you can get a Bunkie unit delivered to your door and assembled within a week! 
Showcasing prefab designs that make beautiful combos of modern building materials and natural light, the Bunkie Premier can be installed on your property starting at $54,900.  
Cerca
Rounding out our list of the top 10 outdoor office pod ideas is Cerca, a California-based office pod manufacturer who offers prefab units from $25,000 up to $132,000. 
Cerca has so many models, at so many different price points, and they all look beautiful! They truly belong in their own category. 
As an added bonus, they feature free shipping anywhere in California. 
Final Thoughts
Finding the best office pod for your backyard starts with ideas. Get inspired with these 10 office pods and get started on building yours!