Cedar hot tubs are the perfect addition to your backyard. Get ideas to build your own cedar hot tub and start relaxing in a design of your very own. With or without jets.
Most designs are made with the very affordable and long-lasting Western Red Cedar because it's easy to find and affordable. The alternative is Alaskan Yellow Cedar which is known for being bacteria-resistant, durable, and more expensive.
Cedar hot tubs can be built round, oval, and square and be heated with wood, gas, or electricity. You can build one from scratch if you have the skills, buy a cedar hot tub kit and assemble it, or have it designed and installed professionally.
1.

Round Cedar Hot Tub
Round cedar hot tubs are the most popular choice. They don't take up a lot of space, have a beautiful traditional look, and are fairly straightforward to build yourself. With proper maintenance, a round cedar hot tub can last 10-15 years. They can be customized to fit many people, just remember the more water a hot tub holds, the heavier it is. And since it's round and not oval, it needs to be built deep enough so that you can be completely immersed.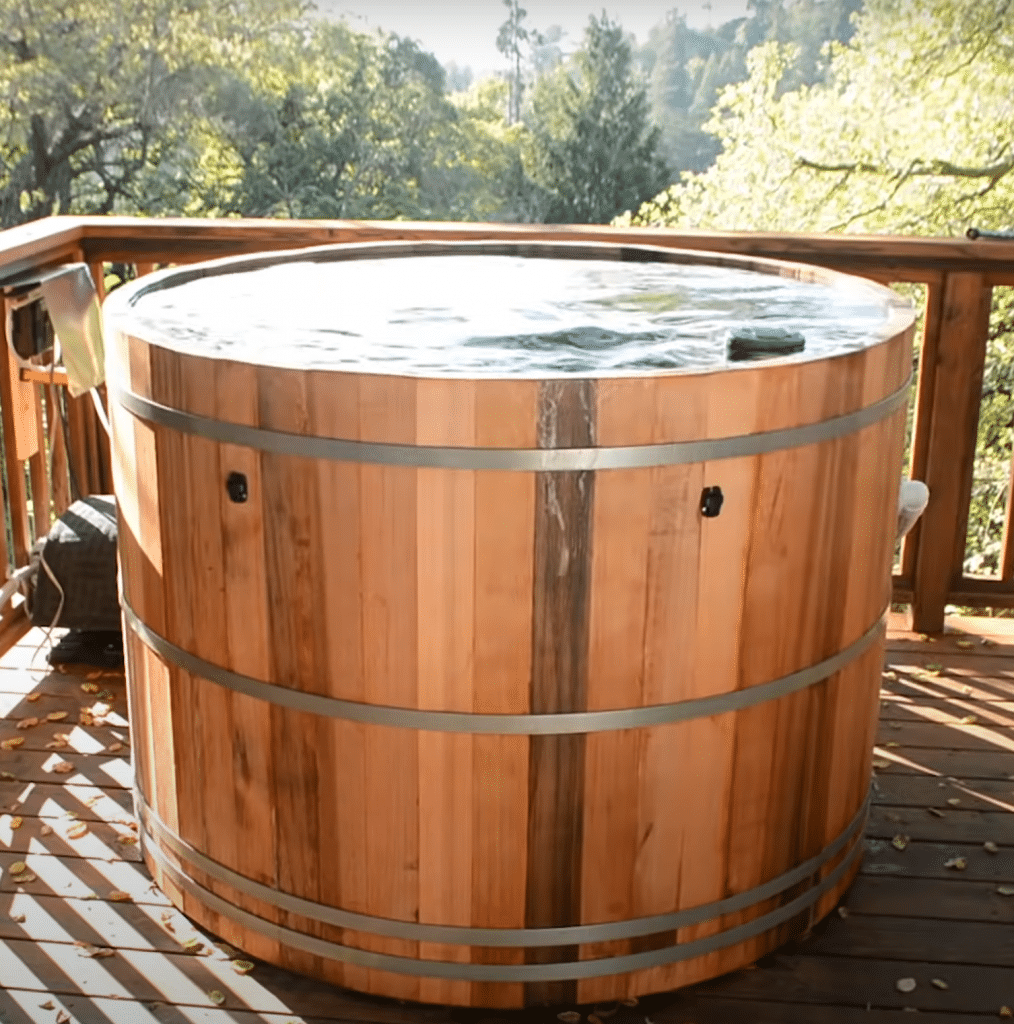 Round design makes the hot tub energy efficient with minimal heat loss
Popular choice for DIY because of it's straightforward design
Lasts 10-15 years with proper maintenance
Can be customized to fit up to 6 people, or even more
2.

Japanese Cedar Hot Tub
Japanese cedar hot tubs are more than just the way the tub is constructed. They're about how the soak is done. The idea is to make your soak a Zen like experience where you feel a sensual pleasure and sense of well being while being in nature. To accomplish this, traditional Japanese hot tubs, or Ofuro, are deep enough for your to sink up to your chin, have very hot wood-fired water, and are made of Western Red Cedar or Cypress, which smell amazing.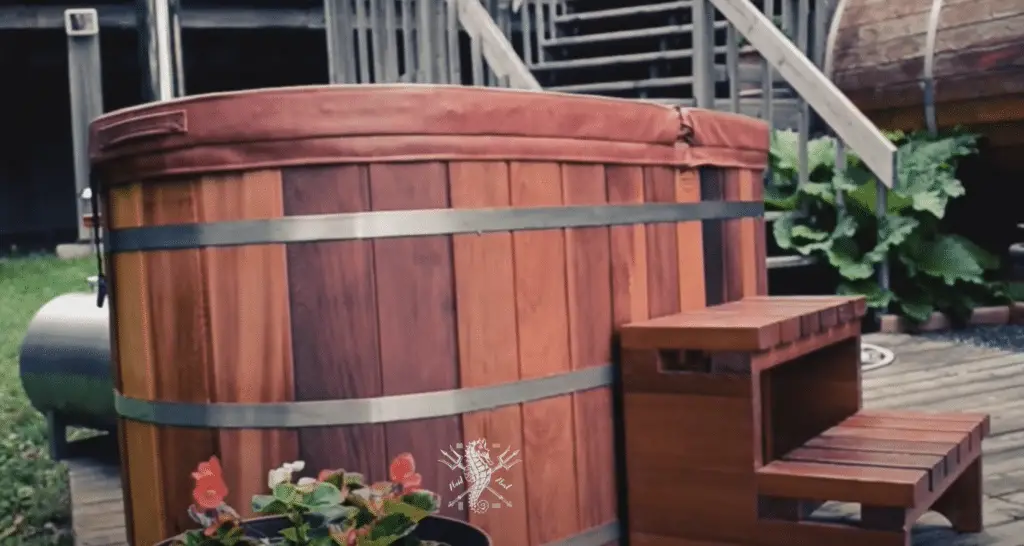 Require a chin-down soak
Very hot water heated
Wood-fired heater
Usually round or oval
2 Person Max for optimal relaxation
3.

Electric Cedar Hot Tub
Electric heating is more expensive than wood-fired or gas, but easier to use and great for warmer climates where you need as much time to heat the water. For cold water, an electric heater needs up to 24 hours to heat completely with the cover on. You'll need to place your hot tub where the heater can be plugged in, which limits the possible locations you can put it. But it is the easiest type of heater to use.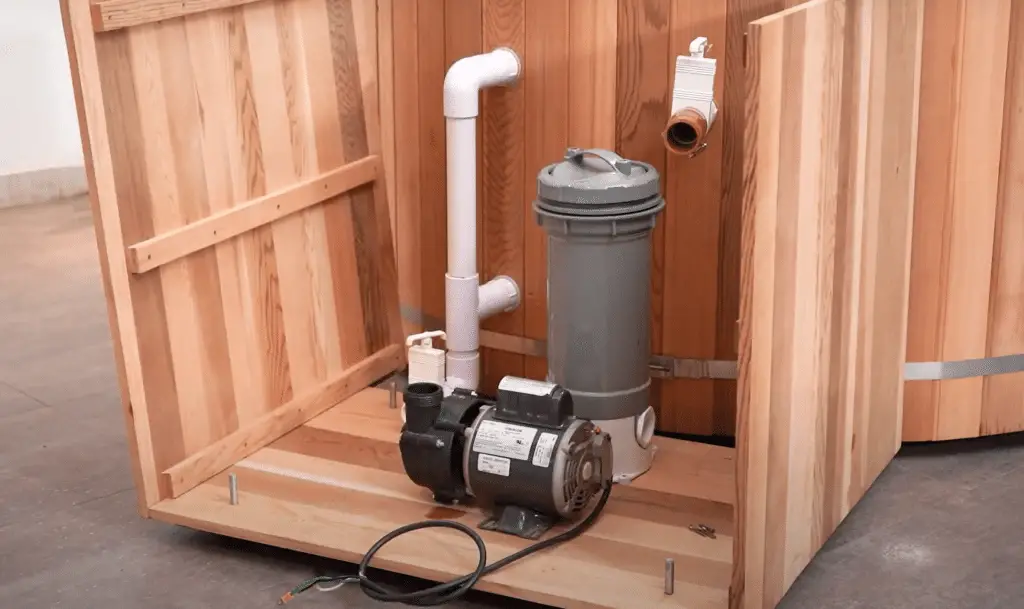 Easy to start, just push a button
Higher energy cost than wood-fired heating or gas
Standard electric heaters use 6kWh of energy
Requires 12-24 hours to heat 350 gallons of water
Needs to be connected to an outlet
Good for warm climates
4.

Wood-Fired Cedar Hot Tub
Wood-fired cedar hot tubs uses, well, wood to heat the water. You'll need 6-12 pounds of firewood to heat a 350 gallon hot tub. Locally sourced wood is much cheaper than the 12-24 hours of run time an electric heater needs, which saves you money. You can put your hot tub anywhere because it doesn't need to be plugged in. Wood-fired heaters are low maintenance and great for cold climates because of their low operating cost versus electric heaters.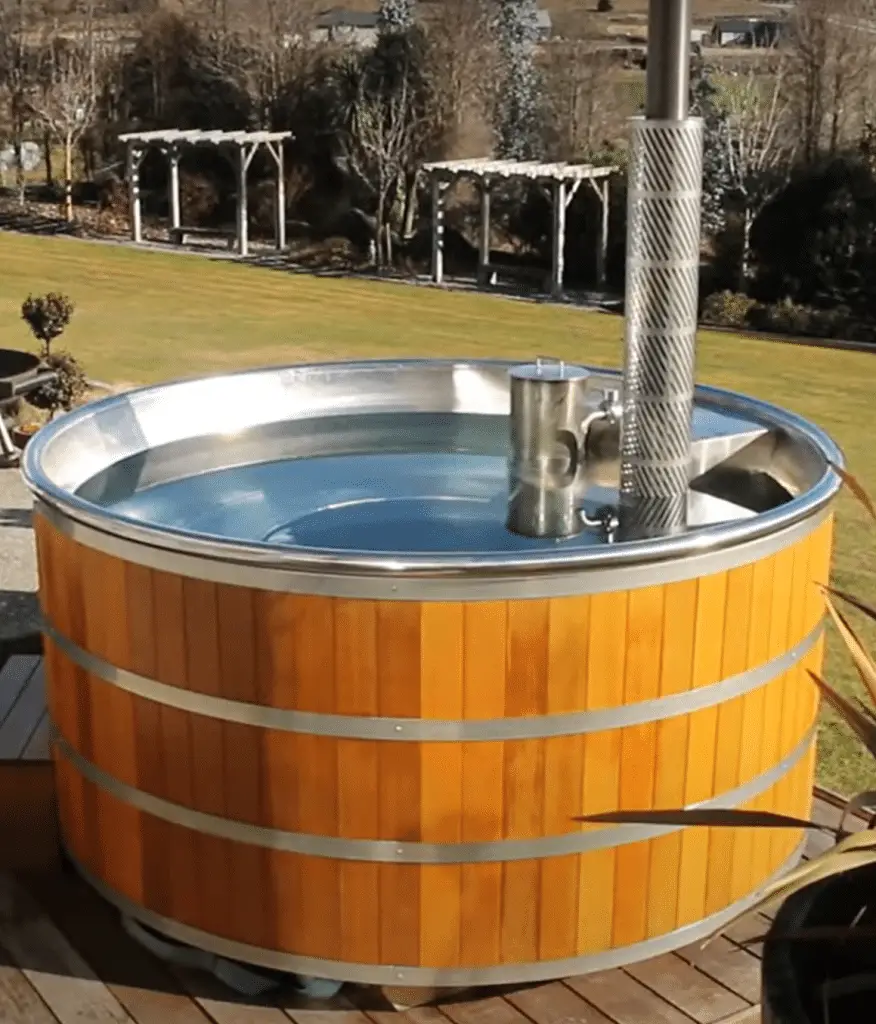 Low cost to operate
6-12 pounds of firewood for 350 gallons
Save money on electric bill vs electric heater
Only 2-3 hours to heat 350 gallons of water
Put your hot tub anywhere, no outlet required
Low maintenance
Good for cold climates
5.

Gas Cedar Hot Tub
Gas is cheaper to operate than using electricity, but about the same or slightly more than wood fired heaters. It heats up very fast compared to electric heaters, but costs more to install than the other 2 options. It has to sit out in the open air which can take away from the beauty of your hot tub. It is better for cold climates than an electric heater because of it's low operating cost.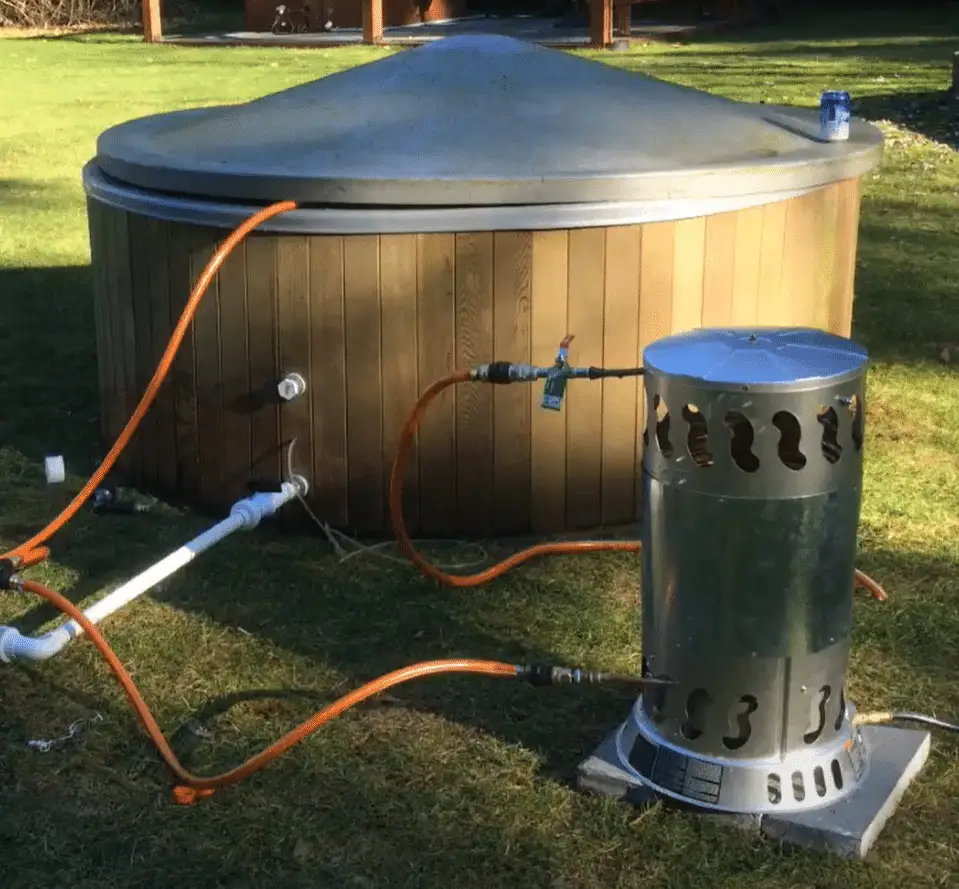 Low cost to operate
Only 2-3 hours to heat 350 gallons of water
High installation cost
Rare but possible gas leaks or carbon monoxide exhaust
Needs to be out in the open, not hidden
Good for cold climates
6.

Saltwater Cedar Hot Tub
Using saltwater in your cedar hot tub is not only great for your skin but it's a chemical-free way of keeping bacteria to a safe level. Chlorine degrades wood and can cause rot and tannin leaching over time, but salt water won't. It's also better for skin, hair, and eyes than using chlorine.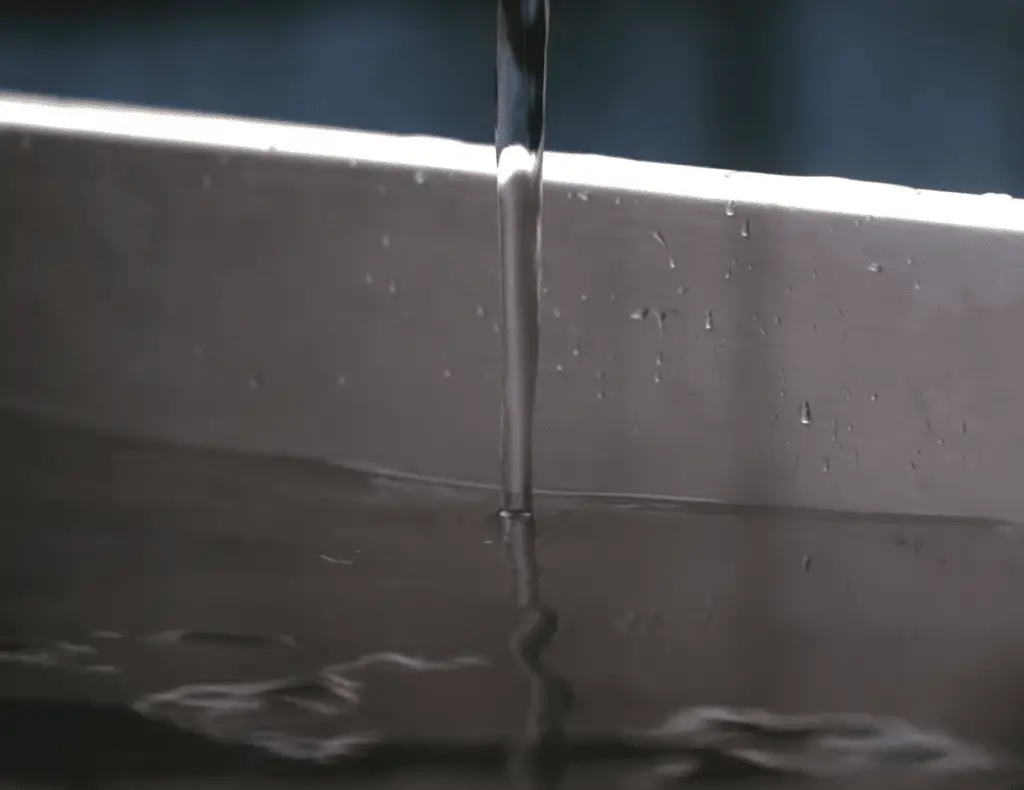 Keeps bacteria levels low without chemicals
Recommended for wood hot tubs
Use 2 pounds of salt per 100 gallons of water
Adds longevity to the wood
7.

Oval Cedar Hot Tub
Oval cedar hot tubs are the best shape to get a bathtub-like soak. You can sink in up to your chin, stretch your legs, and relax. The elongated shape allows for deep muscle relaxation, relief from arthritis and bone pain, improved sleep and reduced stress. Oval hot tubs are large enough for 4 people.
Allows total immersion, up to your chin
Room to stretch legs and be horizontal while soaking
Relaxes muscles
Reduces bone pain and arthritis
Improves sleep
Reduces stress
Fits multiple people
8.

Cedar Hot Tub with Jets
Cedar hot tubs don't bubble, unless they have jets. You can add jets and get some serious hydrotherapy. It helps relieve sore muscles and circulate water. Plus, bubbles add a certain something to your hot tub.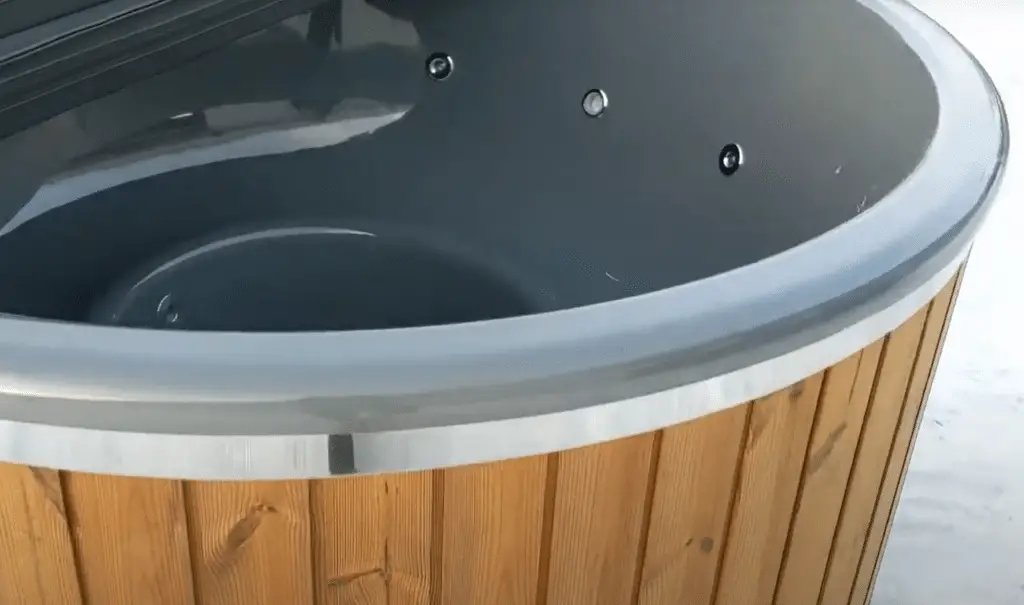 You can have jets in a cedar hot tub
Sometimes requires a liner
Relieves sore muscles and achy bones
Adds a luxurious aspect to your hot tub
9. Lined Cedar Hot Tub
Adding a liner to a regular cedar hot tub has a lot of benefits. It makes your hot tub easy to sanitize and reduces the likelihood of wood rot and tannin leaching. You won't run the risk of sitting on split wood or getting splinters in interesting places, either.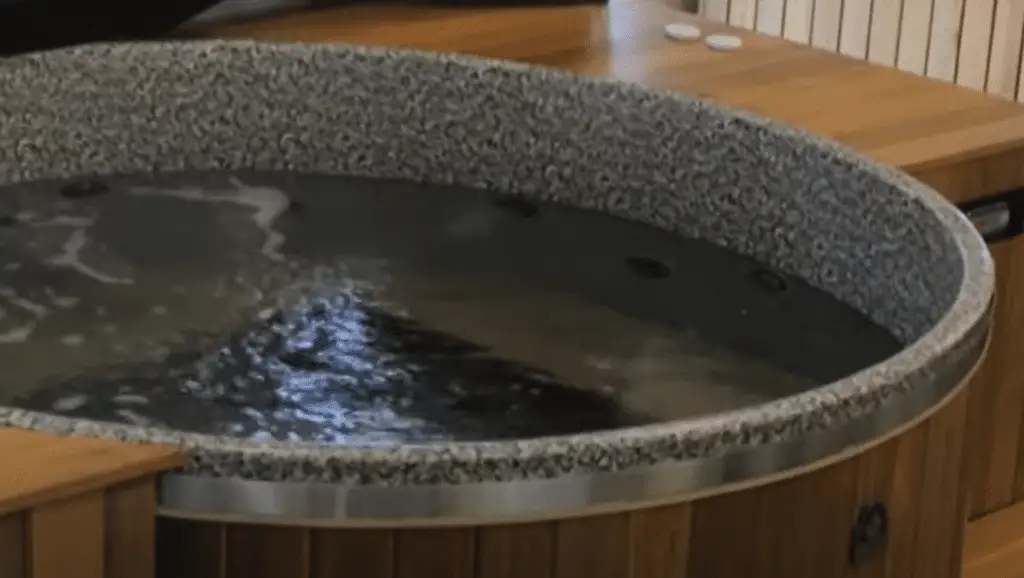 Easy to clean and sanitize
Reduces wood rot and tannin leaching
Additional layer of insulation for added heat
Gives your cedar tub a different look
10.

Cedar Hot Tub With Steps
Steps can be added to any cedar hot tub. They give you the chance to make a round tub taller so you can get more deeply immersed. Steps give your hot tub a unique look and help your kids to get in, too.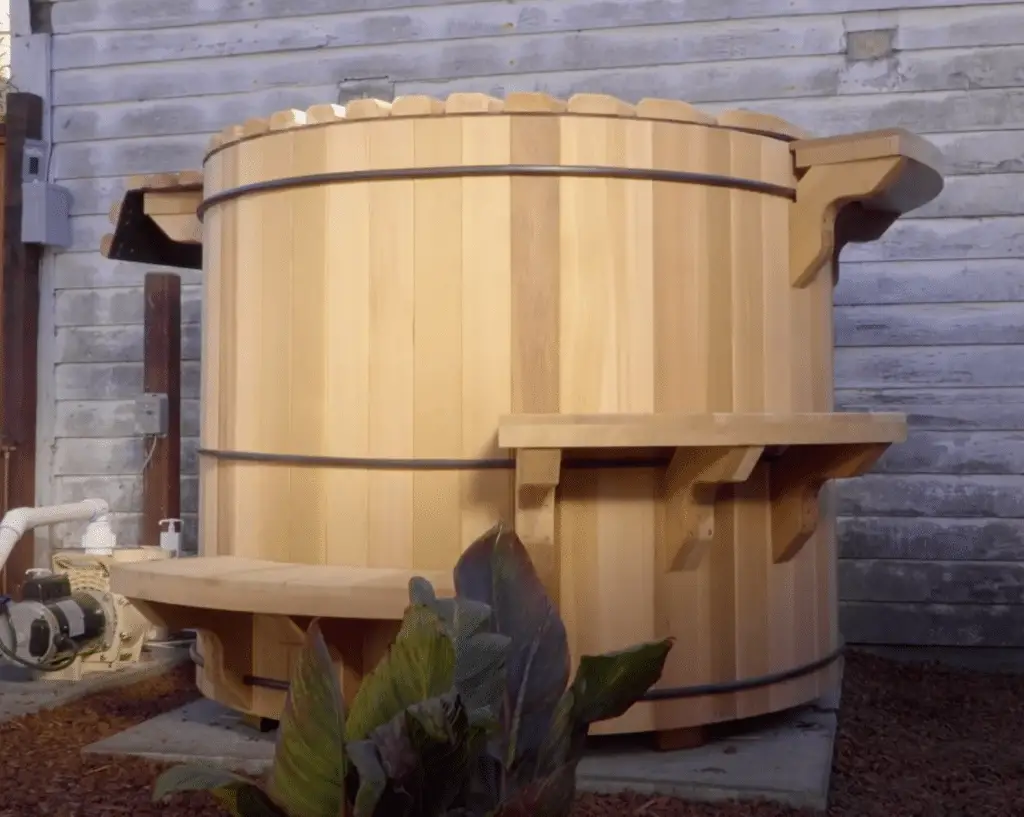 Can be added to almost any shape
Makes it possible to build a deeper tub
Great for families with kids
Steps create a unique aesthetic
11.

Square Cedar Hot Tub
A square cedar hot tub eliminates the dead space you get with rounded corners which can save time warming up the tub. You can stretch out longer in a square hot tub than a round tub and if you build it big enough, you can fit more people. Purchasing or building a square cedar hot tub might be harder than a round one because they're not as common.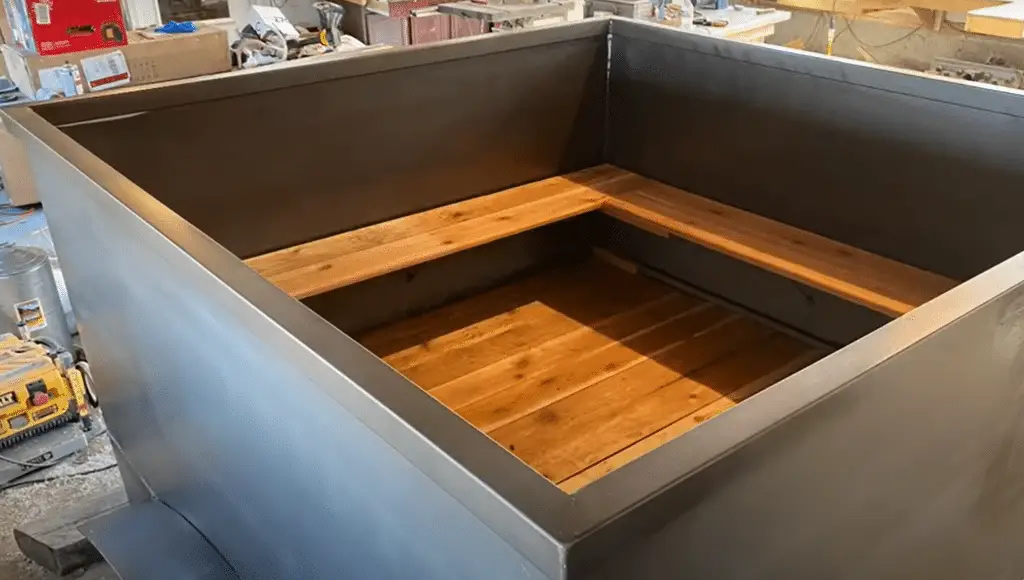 Eliminates the dead space rounded corners cause
Stretch your legs better than in a round tub
Fit more people
Might be difficult to find a square cedar hot tub
12.

Alaskan Yellow Cedar Hot Tub
Alaskan Yellow Cedar hot tubs are known for their more pale yellowish color and longevity. They hold up years longer than Western Red Cedar and have a lower risk of wood rot. Because it lasts longer, the cost is typically more.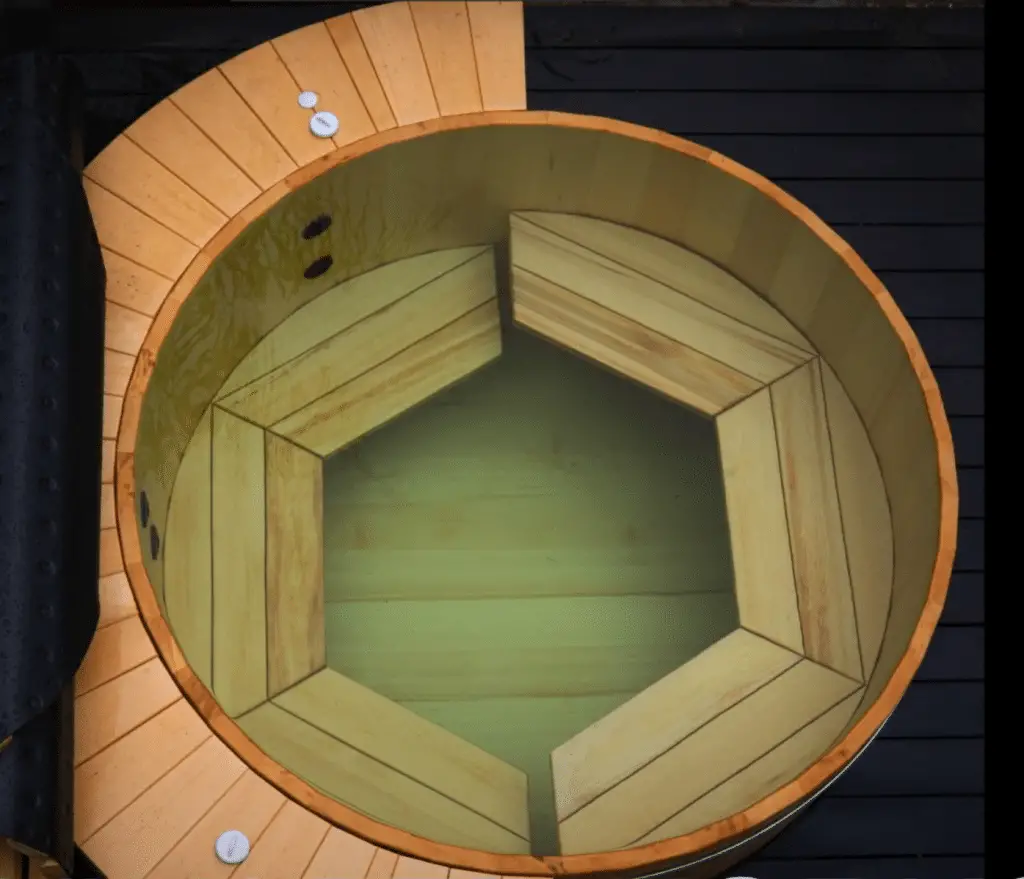 Pale yellowish color
Lasts years longer than Western Red Cedar
Lower risk of wood rot and bacteria growth
More expensive than Western Red Cedar
13. Therapy Cedar Hot Tub
Therapy cedar hot tubs are all about hydrotherapy. Soothing jets massage your body as you become totally relaxed. When designing a therapy hot tub, think about where you want the jets to focus on your body to relieve pain and stress, and install where needed.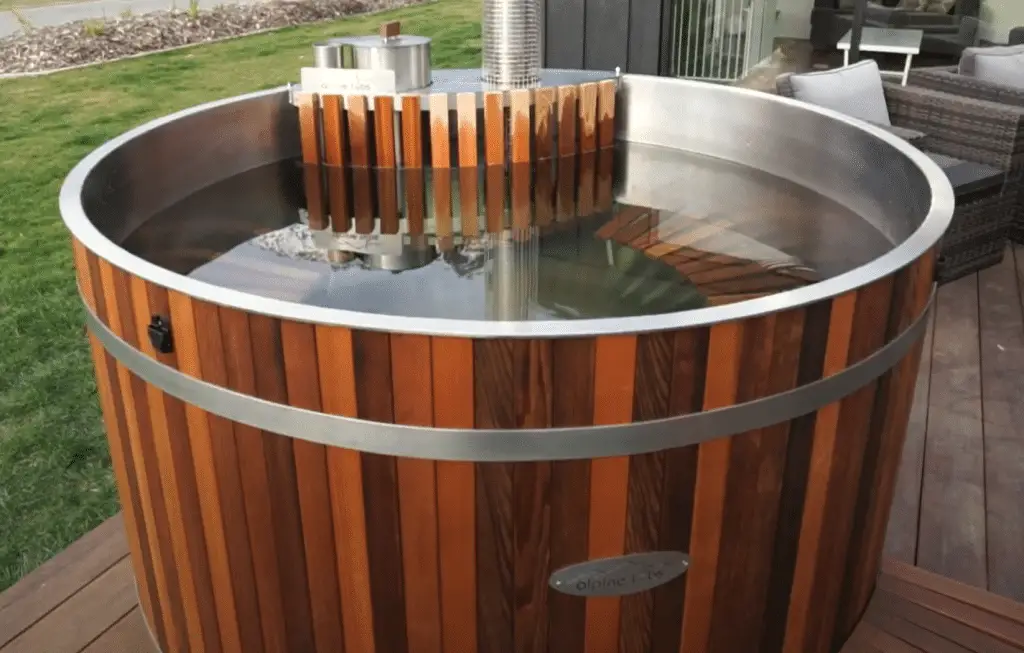 Focus on hydrotherapy
Lots of jets for tiny bubbles of massaging water power
Install jets to be focused on target areas of your body
DIY Cedar Hot Tub
Building a cedar hot tub from scratch requires a fair amount of skill in carpentry, plumbing, and electrical. You'll need to source knot-free, vertical grain staves from a lumber yard and have carpentry equipment available. The boards need to measured, cut, sanded, and have tongues and grooves so they fit together tightly. The floor and walls to be sanded and fit perfectly. Apply stainless steel straps, bolts, and washers to strap the walls together. Then you'll need to install the plumbing and heat source. When it's all done, expect the tub to leak for a few days until the wood swells. You can also fill in the gaps with marine epoxy.
If this seems like to much work to do from scratch, or you don't have the skillset or equipment, consider buying a cedar hot tub kit.
Cedar Hot Tub Kit
Hot tub kits are sold by manufacturers so you don't have to do as much of the legwork yourself. They come with everything you need except tools and a licensed plumber and electrician to install those components. You can follow step by step instructions and call the company for help should you run into problems during assembly. It cuts down dramatically on the amount of carpentry, measuring, and sanding you need to do, if you need to do any at all.
Final Thoughts
Find the right design for you cedar hot tub and decide how you want to get it built. While round cedar hot tubs are the most popular and easiest to DIY, oblong and square allow for more leg room and people. Japanese cedar hot tubs and therapy tubs focus on soothing muscles and relaxation in nature. Different heating sources have pros and cons based on your climate and what is important to you. But no matter which tub you choose, a cedar hot tub is always the right choice and you'll be enjoying a nice soak in your own backyard soon.