If the work from home phenomenon has got you thinking about how to make your home working arrangements more permanent, you'll be excited to know you are not alone. We are all looking at our homes in a new, and much more productive light!
Backyard Workspaces Are A Great Solution For Working From Home.
One of the hottest trends right now is the installation of a backyard workspace or studio or perhaps a shed on 'steroids'. These smart garden offices have been growing in popularity for years but with the culture-shift toward homeworking right now, property owners have all the reason needed to take the plunge and build a custom space for maximum productivity. 
What Is A Backyard Office? 
A backyard office or studio is a self- contained detached space, much like a shed, that you can erect in your yard for the purposes of working from home or running a business. Though habitable it is not residential but can have amenities like mains electricity or running water.
These structures are so much more than the humble garden shed, garage, or workshop.
These units have beautiful design, fabrication and often have utilities like water and electricity. Though smaller than a formal annex they have space, light, and comfort to make work a delight and provide owners with dedicated space for work away from the distractions of a busy household.
Benefits Of Creating Your Own Garden Studio.
Garden office homeworkers are enjoying some fantastic benefits including:
A dedicated workspace that enables you to be purposeful and focused on your workday.
No distractions or interruptions from family members who may not yet understand that staying home does not mean that you are not at work.
A properly equipped and organized office means everything necessary to do your job is right where you need it.
Create your own little haven. Unlike a sterile office cubicle, working in a garden studio provides plenty of light, fresh air, and a place to escape from the activity of a busy household.
Not only are these spaces highly customizable and a great creative project, but they also create extra space on your property which adds value to your property, making them an excellent long-term investment.
Many beautiful backyard workspaces are flat-packed and ready to ship.
Leading garden office design and build companies offer flat-packed structures to erect in your garden in the position of your choosing. Garden pods and cubicles typically use sustainable materials and have adequate insulation and ventilation to keep you comfortable all year round.
So whether you are scrapbooking ideas or already living the dream here is our top 21 list of the most remarkable backyard office builds we've ever seen. 
Kanga Kwik Room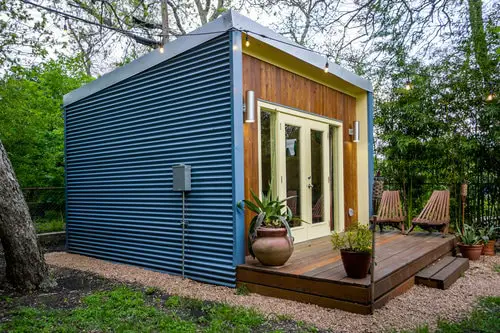 Company: Kanga Room Systems
Dimensions: 8′ by 10′
Materials: solid hardwood construction
Price: Shell kit starts at $7,200
Believe it or not, the Modern Kwik Room is an entry-level offering from this fast-growing US company that specializes in shell and turnkey tiny dwellings.
Its cuboid shape and cute, flat roof is compact and can probably work even where yard space is limited. The styling is ideal for the modern family who wants a plug-and-play workspace that is tidy and smart.
The front entry French doors can be thrown open in summer for lots of sunlight and fresh air, while strategically positioned steel frame windows punctuate the classic and colorfully painted lap sidings.
The design elements are incredibly modular and scalable with upgrades to include turnkey installation with utilities and additional glazing.
Prefabricated backyard office shed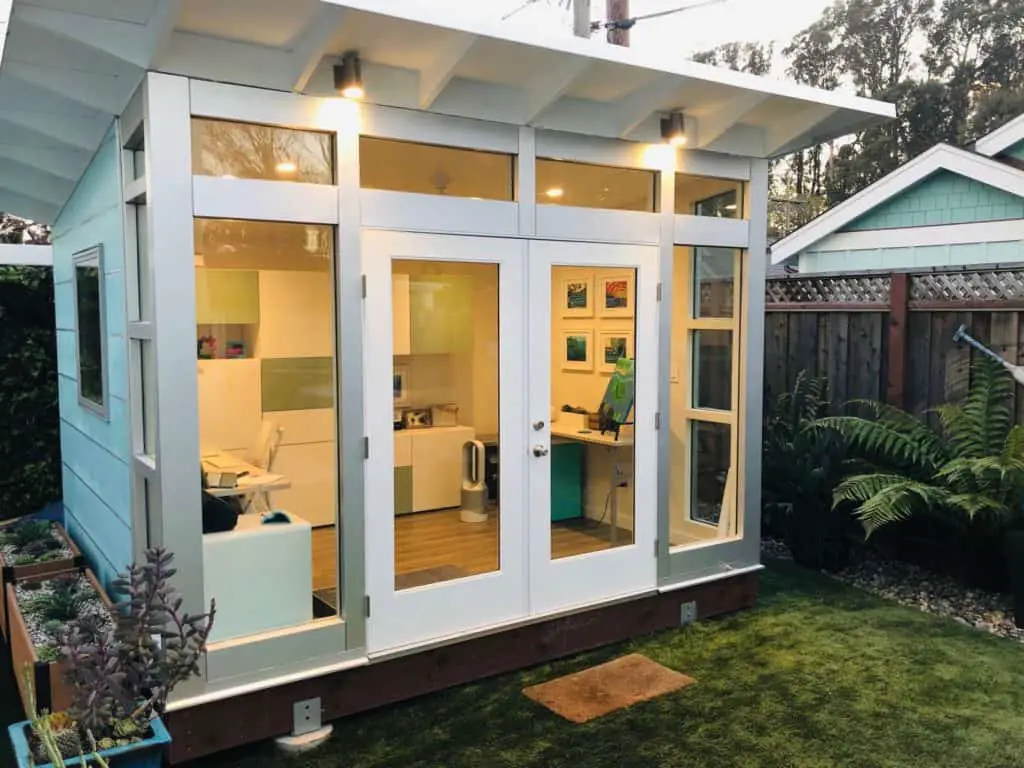 Company: Studio Shed
Dimensions: 10′ by 12′
Materials: solid hardwood construction
Price: Signature Series single room studio from $10,400
The clean lines and sloped flat roof profile of this shed office will smarten up any backyard, especially if you need to spend more time working than mowing grass.
This is a considered home office design with attention paid to good access, ventilation, and lighting. The basic design is also readily customizable which is great if you need to create a flexible space or install shelving, equipment, or other fittings. 
Garden office pod
Company: Warwick Buildings
Dimensions: 10.5′ by 8′
Materials: solid hardwood construction
Price: Signature Series single room studio from $7,890 (£6000)
If like us you are just looking to secrete yourself in a cozy nook away from the rough and tumble of family life. This garden office pod is ideal for your own off the beaten track retreat.
0Its timber structure has been tastefully adapted, with a clean-lined patio door and a single window. We love its affordability meaning you should have some change left to furnish it to your taste. A great pick for the 'corner office' executive in the house.
Large Shed by Modern Shed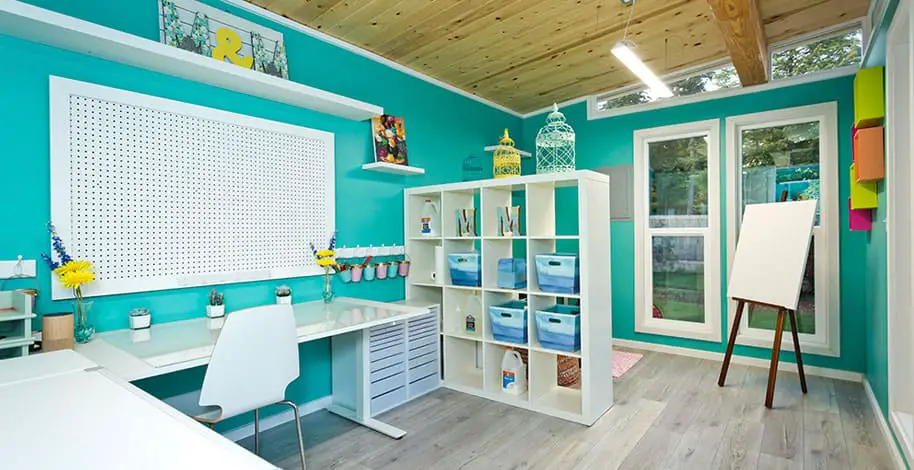 Company: Modern Shed
Dimensions: 12′ depth
Materials:  Maplewood construction
Price: POA
There will be plenty of he-said, she-shed in households who acquire one of these desirable upgraded sheds which ooze architectural design cool. It is no surprise that these structures have gained a cult following as their creators Ryan Smith and Ahna Holder are notable Seattle-based architects.
Their thoughtful, clean, concept spaces come complete with a glass door and large window with generous insulation beneath the Maplewood exterior. Browsing their custom sheds is a roll-call of great locations and designs, all complete with the contemporary flat roof styling. 
Patrick Bradley Shipping Container Office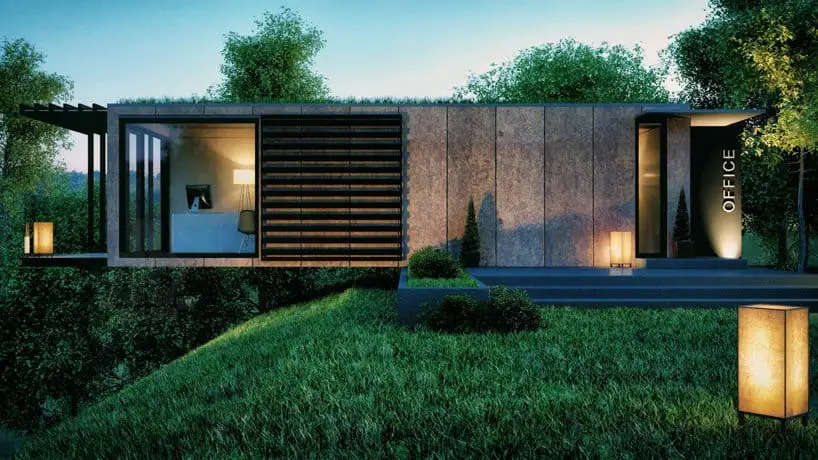 Company: Patrick Bradley
Dimensions: 42′ length
Materials: solid hardwood construction
Price: POA
If you are looking for something exceptional and dramatic, this shipping container conversion looks like the sort of base from which you could run a global empire!
This exquisite design is cantilevered above a cliff edge, which only adds to the ambitious and daring nature of this project. Designed by the eminent Northern Irish architect Patrick Bradley the design has been built by Thornton Modular, experts in the conversion of disused shipping containers. Learn more about the project here.
Modern Studio/Dwell
Company: Kanga Room Systems
Dimensions: 14′ by 14′
Materials: solid hardwood construction
Price: Shell kit starts at $24,900
It's easy to see why creatives like artists and designers have been ahead of the curve in eking out a place of productive solitude.
The interiors and amenities that can be achieved can be fully plumbed, powered, and made ready for an overnight stay if you have guests. One of the most satisfying things about having a space like this is that you can really furnish it beautifully, perhaps with a comfortable chaise lounge or recliner to relax on your breaks.
This structure makes an ideal artist in residence backyard workspace that is clutter-free and tasteful. Outside the front door can be landscaped with paths and steps leading up to this delightful cabin. 
Luxury Garden Studio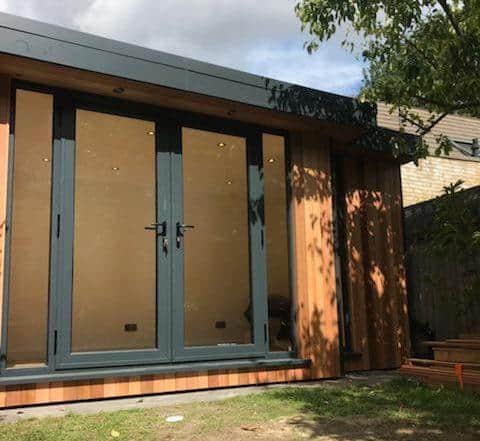 Company: Eden Garden Rooms 
Dimensions: custom design
Materials: solid hardwood construction
Price: from $18,350 (£14,000)
UK company, Eden Garden Rooms produce luxury garden studios which are perfect for kitting out as a high-specification home office.
This L-shaped design boasts elegant stepped decking, hidden storage, and a thriving living wall that keeps it in harmony with its surroundings. Other designs include beautiful features like bifold doors and stylish paneling.
These shedworker studios are delivered on a design and build basis. 
A-frame garden office by Avrame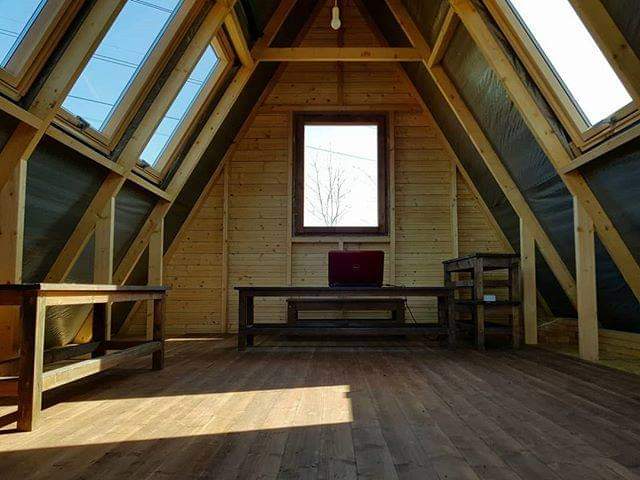 Company: Avrame 
Dimensions: 12.8′ by 13.8′ by 18.7′
Materials: strength graded timber
Price: from $2913 (2475€) for Solo 57 structural kit
This quaint A-frame structure is full of old-world character and charm, though when minimally furnished as a home office it is refreshingly modern.
It has been created by Estonian A-frame specialists Avrame. This simple kit structure is a great choice for a self-build project and the pitched roof could be used for mounting solar panels to power your off-grid office.
Ivy-covered shed office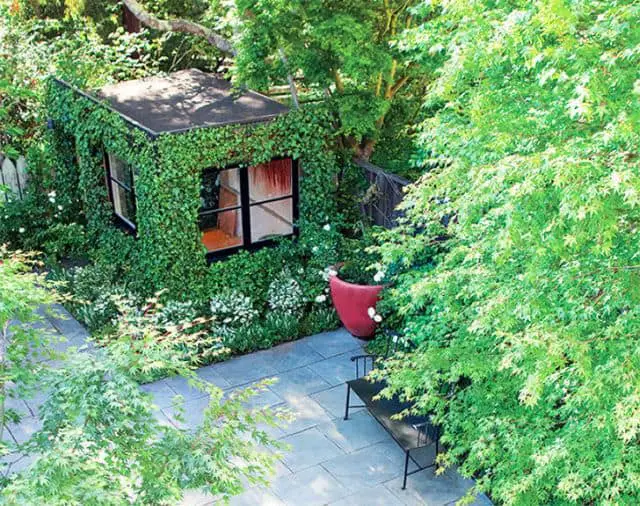 Company: Scott Lewis Landscape Architecture 
Dimensions: Unknown
Materials: timber and steel 
Price: unknown
This award-winning secret garden escape has been made from a wooden shed encased in a metal frame on which luscious, verdant tendrils of ivy have been allowed to spread.
Inside, a clean contemporary studio space has been fitted which would be ideal for an imaginative creative professional. Large windows let the light in and give picturesque views of the well-landscaped 50 by 25-foot garden. Ingenious!
A garden room that is fit for royalty.
Company: Crown Pavilions 
Dimensions: 13.1′ by 9.8′
Materials: timber and steel 
Price: from $25,230 (£19,280)
Crown Pavilions claim to produce the world's finest garden rooms which are the preserve of celebrities and business leaders.
Their small, medium, and large garden rooms are built with fine craftsmanship and their timber finish is known to age beautifully with a bold 30-year guarantee. These insulated garden rooms are built to a residential standard and are able to be used all year round comfortably with high-quality additions like double glazing, heating, and security.
Expansive office space like this may well become multi-functional, with use as a gym or entertaining guests alongside your workspace.
Farmer's Cottage Deluxe Garden Pod
Company: John Lewis 
Dimensions: 8.8′ (height) by 11.1′ (diameter)
Materials: laminated pine and stainless steel 
Price: from $24,863 (£18,999)
British retailer John Lewis offers this dramatic pod that will add an air of exclusivity to any outdoor space.
This cozy nook is available pre-fabricated and its unique spherical design will become a centerpiece of your garden. Inside it is comfortably upholstered with wiring for a 240-volt electrical output, meaning that you can use your laptop comfortably all summer long. 
The extensive glazing is tinted to prevent glare.
The Studypod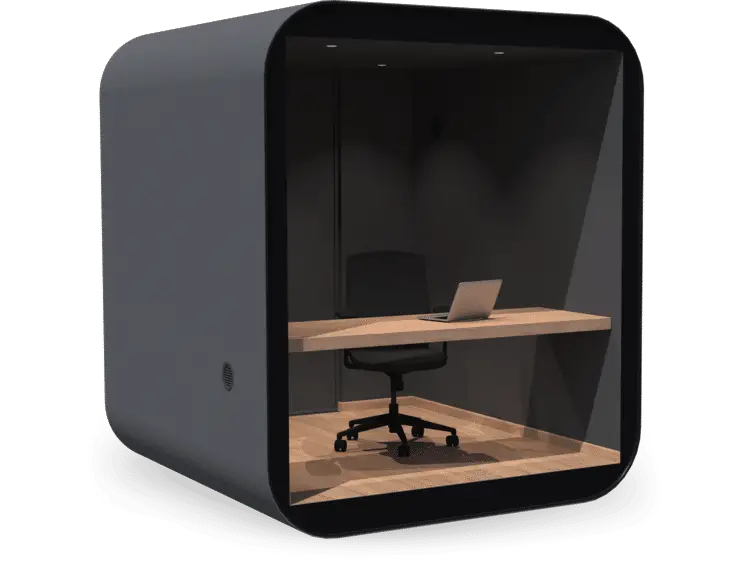 Company: Livit 
Dimensions: 7′ by 7′ by 5.9′
Materials: composite materials with oak laminate flooring and tinted glazing
Price: from $14,015 (€11,900)
This is an incredibly simple design, that you can literally move anywhere. It comes with a detachable full-width deck that makes it a very practical workspace. Lighting and power sockets are covered as this pod has 4 lights and a socket integrated.
The main USP is its portability. Castors can be mounted to the base of this pod to move it to wherever you want in your garden for a real room with a view!
Shepherd's hut home office
Company: Greentown Shepherd's Huts Ltd.
Dimensions: 12′ by 7′ 
Materials: hardwood
Price: from $21,196 (£14,015)
This decidedly British garden office trend takes its lead from former British Prime Minister David Cameron who wrote his political memoirs from the comfort of a shepherd's hut on the grounds of his Cotswolds home.
These popular primitive dwellings were traditionally used by shepherds during times of lambing or shearing and can be generously furnished to your taste.
The eDen Hub
Company: Eden Garden Rooms
Dimensions: 2′ by 2′ 
Materials: aluminum frame with cedar cladding and melamine walls
Price: from $14,392 (£10,999)
If you have a smaller garden or patio area, you shouldn't have to miss out on the shed working revolution!
The eDEN Hub garden office is a compact structure, reminiscent of an office cubicle. Just bring your laptop and your work ethic! If you don't mind being enclosed in a small space, it provides a smart powered workspace, perhaps with room for a plant and a percolator.
It is competitively priced and would work in yards that are too small for a regular shed.
Los Angeles minimalist garden dwelling

Company: Cover 
Dimensions: unknown
Materials: light gauge steel
Price: from $81,000
Cover is a Los Angeles California design and build company that specializes in sleek low-profile dwellings that are highly desirable and on the design radar of many of the industry's leading publications.
These are extremely luxurious spaces that have been architecturally designed to occupy a backyard. Great details are everywhere: LED track lighting, multiple power outlets, concealed storage, and recessed desks to mention a few.
Even the smaller workspaces and home gyms have a sense of airiness and scale that would make working from home quite a glamorous affair. Add to that Cover's expertise and know-how on adding all the plumbing and wiring needed to make these structures habitable, it is clear that you will want to spend a lot of time over in the office!
Vintage Airstream home office
Company: Edmonds and Lee Architects
Dimensions: 15′  
Materials: Airstream Bambi II 
Price: POA
If you are an adventurer at heart, you can live out your dreams in your backyard in a classic shiny Airstream trailer conversion.
These beautiful trailers have been known to lend themselves to conversion with a number of companies that can assist in the process. San Francisco architects Edmonds and Lee have done an excellent job of making this caravan office reno fit for its tech entrepreneur owner. 
Green Studios home office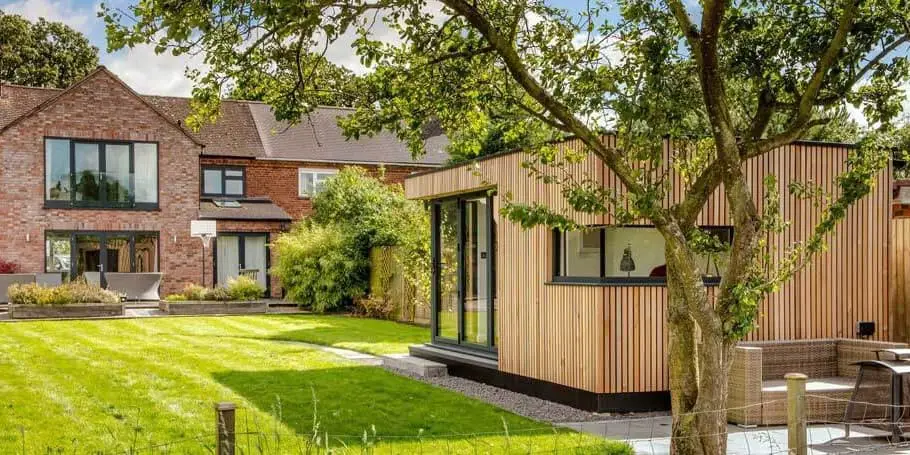 Company: Green Studios
Dimensions: 8′ by 12′  
Materials: metal frame with cedarwood cladding
Price: from $25,195 (£19,255)
This smart home office perfectly complements it's tidy garden setting and functions as the base for a marketing agency and keeps work and family life helpfully separate for its owner.
The aluminum-framed structures let plenty of light via its bifold doors and the combination of horizontal and vertical cladding is a great touch too. 
Backyard workspaces self build
Company: self-build
Dimensions: 8′ by 12′  
Materials: wood frame, metal roof insulation, and sidings
Price: from $3500
Kudos to this motivated blogger who took the plunge and built himself a very cool garden office of his own. This self-build garden studio looks just as good on the inside as it does out, and if you can believe it, it only cost him 3500 bucks to build!
Definitely a project to brag about.
The Cornelia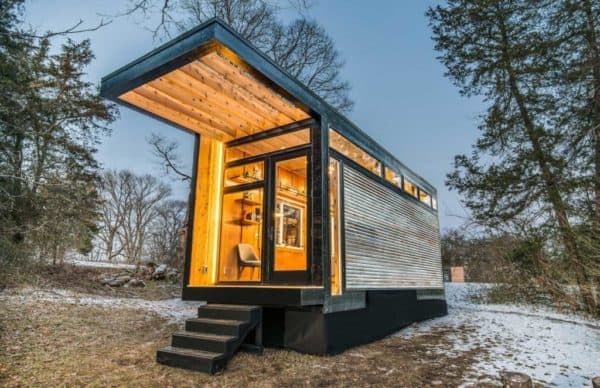 Company: New Frontier Tiny Homes 
Dimensions: 8′ by 12′  
Materials: aluminum, cedar and EPDM roofing 
Price: from $110,000
If you are a writer in residence, a night owl, or someone who struggles to leave the office, the Cornelia will give you serious thoughts about just heading right on and staying there!
This tiny house with an integrated workspace is beautifully balanced and fully equipped with a loft bed, shower, and kitchenette. Plus lots of great shelf space and well-discerned storage means you have no excuse to be sloppy! 
Cottage Kwik Room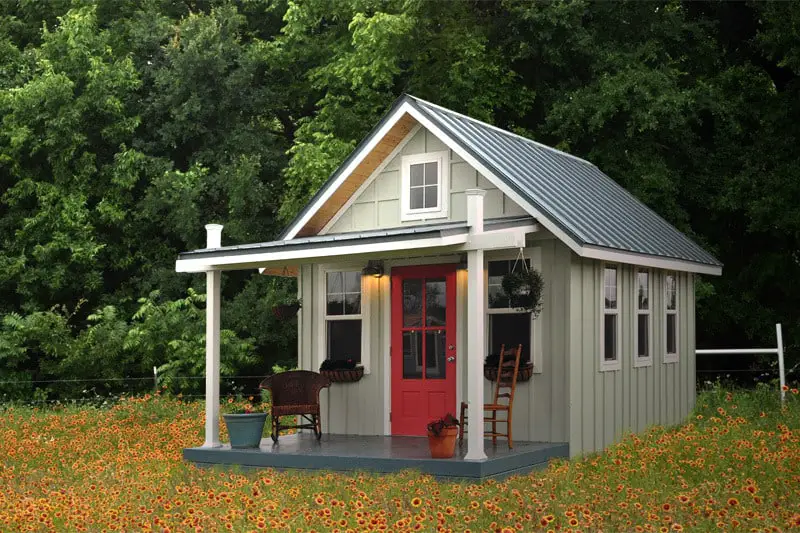 Company: Kanga Room Systems 
Dimensions: 10′ by 12′  
Materials: aluminum, cedar and EPDM roofing 
Price: from $14,400 for shell
Unleash your inner Laura Ingalls and embrace the prairie life with this pitched roof Kwik Room from Kanga Room Systems.
It is a sweet alternate she-shed version of the Modern Kwik Room we looked at above. Accessorize with a white picket fence.
The Ultra garden office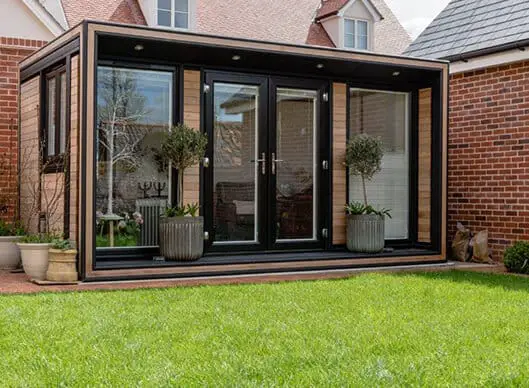 Company: Smart Garden Offices
Dimensions: 10′ by 12′  
Materials: aluminum and cedar
Price: from $13,154 (£10,012)
This modular workspace has great lines and a superb combination of wood and metal that sets off its upscale appearance.
Floating cedar panels and inserts along with floor to ceiling windows and doors tick all the boxes for a stylish contemporary office. The walls are well insulated and thick meaning you will be able to work in this space all year round.
Rounding Up
We hope you have enjoyed browsing these amazing backyard offices as much as we have. There are so many options for creating a custom backyard workspace and it is great to see what can be achieved with even limited space and budget. 
If you are making plans for building a garden studio orf your own, you may find the following articles helpful:
"Cost to build a backyard office workspace | 2020 Latest Costings"
"Do you need a planning permit for a backyard office?"
We would love to hear your thoughts on these outstanding workspaces. Perhaps you have a completed project of your own you would love to share. Simply reach out and share via the comments section below.