Shipping Container Office Conversion 
You spend so much time working from home that it needs to be a space that you feel comfortable in and that is uniquely yours. Doing a shipping container office conversion will give you a huge separate space where you can have all the comforts of home, right in your own backyard. 
You can convert a shipping container into an office in about 10 steps and will end up with a large space with multiple living spaces, like a kitchen, bathroom, TV, and everything you need for a great day's work. 
This article explains how to convert a shipping container into an office in 10 steps, the cost, what to place underneath, and what a shipping container office really is.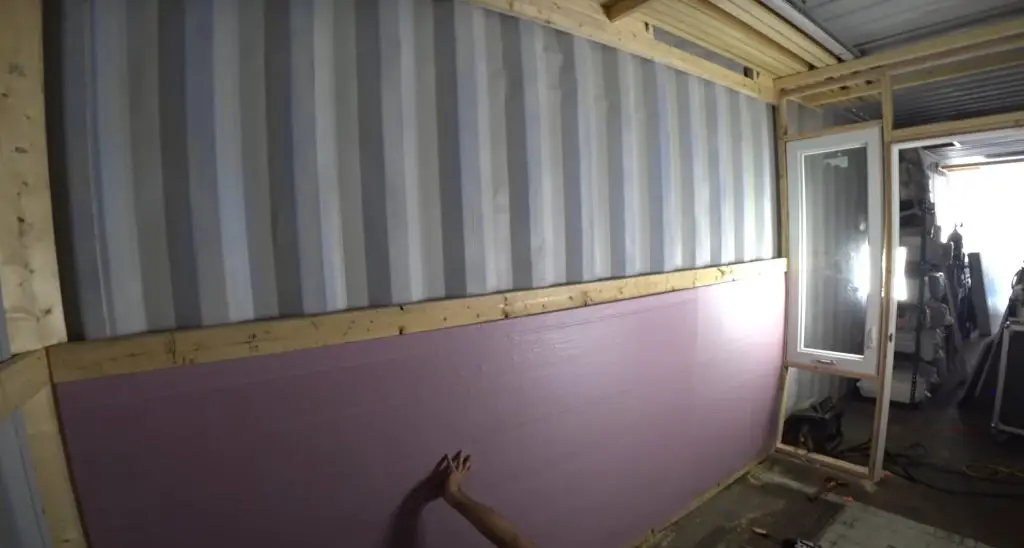 How to Convert a Shipping Container into an Office
To convert a shipping container into an office, cut windows and doors, apply spray foam to walls and ceiling, insulate floors, install framing, install insulation, install electrical wiring and plumbing, install plywood walls, paint walls and floor, install finishings, place furniture and decorate.  
After you've bought a used 20 foot shipping container, gut it, sweep it, inspect it for leaks and cracks that need to be repaired, and follow these 10 steps to convert it into an office. 
10 Steps to Convert A Shipping Container Into An Office
Cut out windows and doors
Insulate the walls and ceiling with spray foam 
Insulate floors with marine insulation 
Install framing
Install electrical wiring and plumbing
Install plywood walls and ceiling and tape joints
Finish electrical and paint walls and floor with 3 coats
Install finishings, like lighting fixtures, cabinetry, window finishings
Install furnishings and decorations
What are shipping container offices?
Shipping container offices are 10, 20, or 40 foot durable 14 gauge COR-TEN steel structures that have been converted into an office.They become a fully functional working space once renovated, insulated, wired, and plumbed. Install kitchen, bathroom, electronics, AC, heating, desk, and office furniture.  
Using a shipping container instead of a shed will give you an  extremely durable and watertight office. They are more secure than regular sheds and give you a larger workspace with room for a couch, kitchen, bathroom, and large desk for less than the cost of a shed.
How much does it cost to turn a shipping container into an office?
The average to turn a shipping container into an office is $19,200 – $28,800 at $120-180 per square foot. To buy a used 20' shipping container, the cost is $1,200 – $2,600 and a new 20′ shipping container costs $2,550 – $5,800. Add this to the cost to renovate. 
If you're planning to renovate, it is still cheaper to buy a shipping container and convert it into an office than to buy a shed and convert it. Mainly because you shouldn't buy a used shed, but you can definitely buy a used shipping container. 
Sheds are made of wood and tend to have more structural damage over time due to moisture and pests. A storage container doesn't have these issues, but is prone to rust.  
Does a 20 foot container need planning permission 
A 20 foot container may only need planning permission in a county if it will have electricity or plumbing. Since a shipping container is less than 1 story tall and less than 200 square feet, it does not meet size requirements. But any structure that has electricity or plumbing requires a permit.
These general rules vary by county, but generally you'll need a building permit to have a detached structure on your property when it meets any of the following criteria:
Larger than 1 story high, or 14 feet tall
Greater than 200 square feet
Has electricity 
Has plumbing
A standard 20 foot shipping container is
8.5 feet tall
170 square feet
Therefore, in many counties, a standard shipping container will only require planning permission if it will have electricity and plumbing. But before you buy, make sure to check your county's website for specific rules and regulations regarding shipping containers. 
Your home owners association (HOA), if you have one, most definitely has rules and regulations about having a shipping container on your property. Usually you need to submit a request in writing and wait for approval.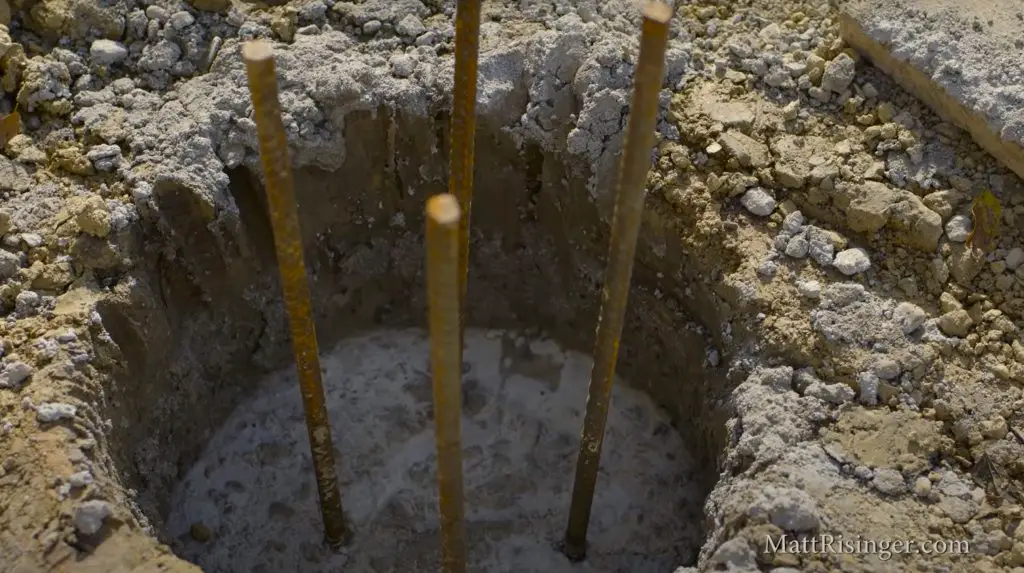 What do you put underneath a shipping container? 
Put a concrete mat or slab, stem wall, or pier foundation under a shipping container if it will be placed long term. This will prevent it from sinking and deteriorating. It is not necessary to place anything underneath a shipping container if it will be placed for less than 12 months and the ground is even and dry.
A shipping container office can sit on dry dirt for about a year, but then it needs to have some sort of foundation placed underneath. If you don't, you run the risk of the container sinking and not being level and also moisture exposure which leads to rust. 
Keep It Elevated
When putting the container on bare dirt, asphalt, or crushed stone, put pressure treated 6′ x 6′ x 8′ timbers along the front and back. This will keep it up off the ground and reduce the amount of maintenance it needs later.
Put crushed stone on the ground instead of just bare dirt to allow water to drain underneath the container to prevent, or delay, rusting.
Even Ground
If the ground is uneven you may need to hire a professional to level the ground, or rent the equipment yourself. Any rocks, plants, and debris need to be cleared, too. Check for gaps or holes which may fill with water and attract insects causing infestations and rust.
Foundation
There are 3 basic types of foundations for shipping containers and you should decide which one based on the type of soil you'll be placing the foundation on. 
Mat or Slab 
Stem Wall
Pier  
Matt, Slab Foundation
A Matt or Slab foundation is basically a concrete slab reinforced with steel and are best for soil that is prone to shrink and swell. 
Stem Wall Foundation
Best for firm soil. A stem wall goes all the way around the perimeter of the shipping container which prevents rodents from getting underneath your storage container. . It's poured concrete with rebar or Concrete Masonry Units (CMUs) which are rebar reinforced masonry concrete blocks. Be sure to put the bottom of the footing the stem wall is on below the frost line and on firm soil. It can have rigid insulation and a drainage board, a pipe, and stones, which allows water to get away from the stem wall. Sort of like a gutter underground. This helps prevent soil erosion. 
Pier Foundation
The piers only go on the 4 corners of your container where the load is the heaviest. It's less expensive than the other 2 types because you need to buy less supplies. The piers are made with concrete and a round cardboard form that is placed in a hole in where the 4 corners will go. Be sure to place the pier below the frost line to prevent it from moving when the soil freezes. Then a metal base plate is set onto the concrete after it has set.
Final Thoughts
Converting a shipping container into an office can be done for less than $30,000 in about 10 steps, you will most likely need planning permission from the county you live in, and if it will be placed long term, will need a foundation placed underneath. Shipping container offices make a great place to work and having a great workspace will make you happy to work from home.