These shipping container shed ideas will get you inspired to buy or build a space of your own. They're so versatile, you can come up with some really surprising uses. Everyone has heard of a she shed, man cave and office.  But, have you ever heard of a doomsday bunker, double decker barn, gun room, or resistance swimming pool? 
These 9 shipping container shed ideas might just surprise you.
9 Surprising Shipping Container Shed Ideas
Take Your Boring Shipping Container Pool and Make It Amazing!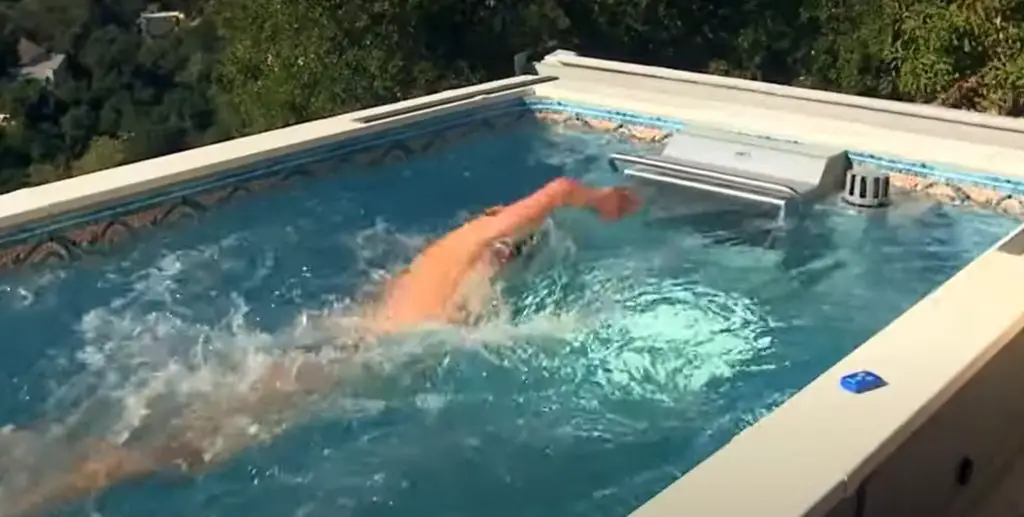 1. Resistance Swimming Pool
One of the best things about shipping containers is their versatility. You can build an above-ground pool or an in-ground pool, fill it with water, and hooray you have a pool. Which is great. But you can do so much more. 
Your shipping container swimming pool can be transformed into a low-impact exercise machine… all it needs is a little current and you're boring swimming pool feels like the ocean. 
You don't have to swim laps, either. 
A resistance swim spa lets you have a low-impact walk, run, jog, and swim without hurting your joints. And the best part is you don't need to buy running shoes. 
2. Doomsday Bunker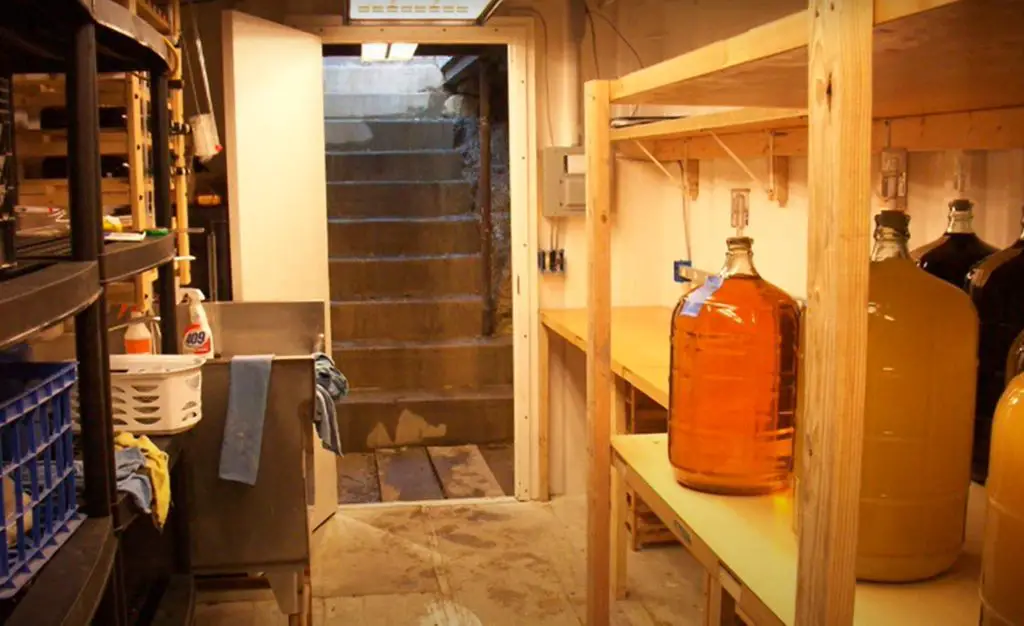 For Disasters and Emergencies 
If you haven't given emergency planning much thought, maybe you should. Reinforced shipping containers are a popular choice among preppers and survivalists. who know about these things. Shipping containers are built tough. They are designed to move goods across the open ocean and withstand a lot of abuse.  They have strong corners for a solid foundation, are rust-resistant, and are built to last.  
But, since the walls are made of 0.075-inch corrugated sheet steel panels, they need to be reinforced. On their own, certain disasters like, say, a nuclear blast or flying bullets, may penetrate. But, reinforce them with thick steel and you can create a sound space to house your family.    
3. Ultimate She Shed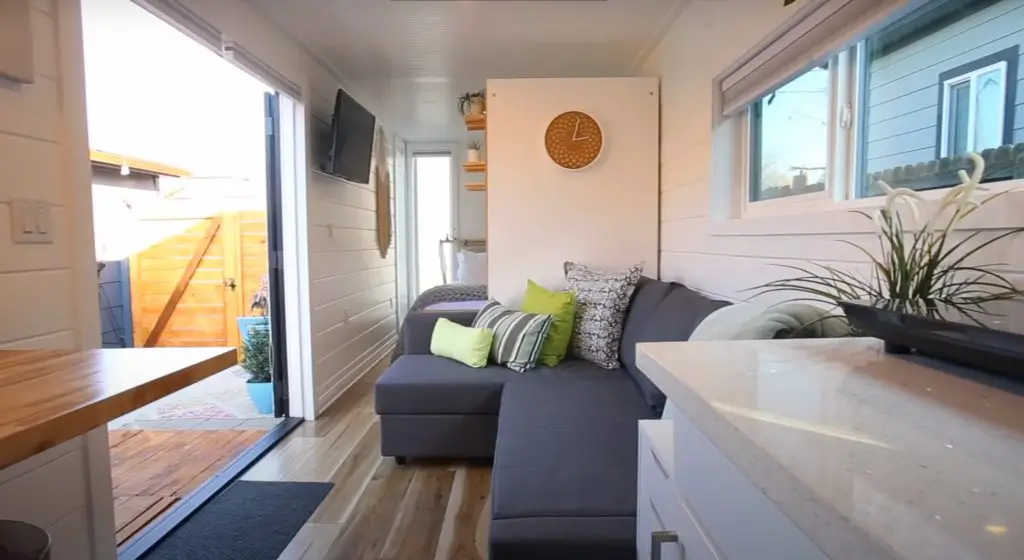 For Anything She Wants To Use It For!
A She Shed is a space created just for her. And whatever she does there is really none of your business.  If she wants you to come over, she'll invite you, but otherwise, this is her very private space. 
Her space will be painted, have cute throw pillows, smell good, and have whatever white fluffy things she wants in there. She might read, paint, draw, work out, watch TV, work on her computer, meditate, listen to music, or just sit there in the glorious silence away from …. well.. everyone in the house. It's a magical space that is uniquely hers and she'll do whatever she darn well pleases, with or without you!     
4. Decked Out Man Cave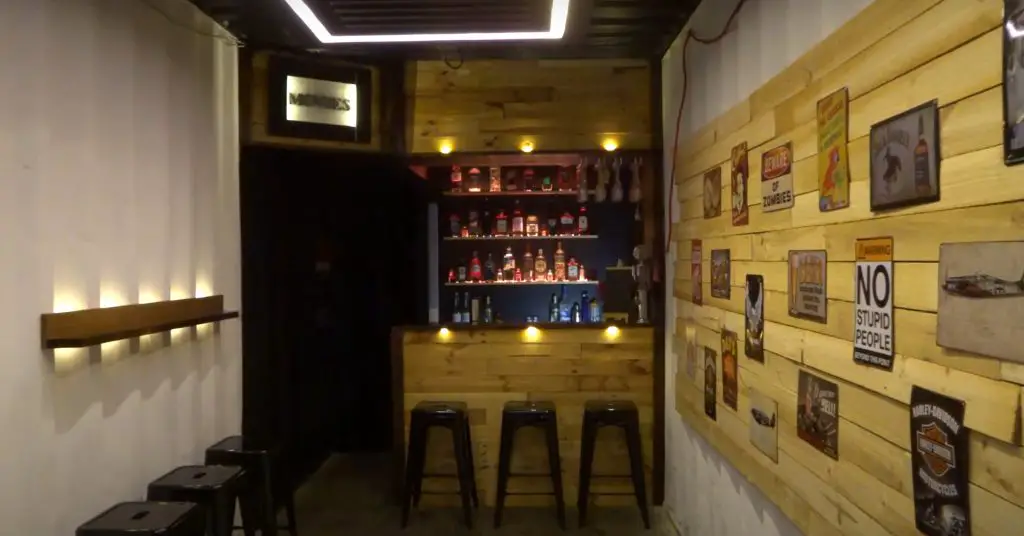 Bar, Sports, Entertainment, Guns, Tools, or Anything Else He Wants
A Man Cave is made to be just a space for him, and maybe his buddies. It might be decked out like an Irish pub or sports bar where he can just relax and have some beers with friends, or it might not. There might be sports on TV, or maybe not. He gets to decide. 
This is an adults-only space that is made for whatever he wants to do. Maybe he wants to use it as a gun room because shipping containers are really secure or set up a sweet home theater with a massive TV. 
Locking tools up in a shipping container shed keeps them organized and safe from thieves, or neighbors who want to borrow a tool without asking. This is a space that can be used for whatever he wants and when you're allowed to come over, he'll let you know!
5. Secure Recording Studio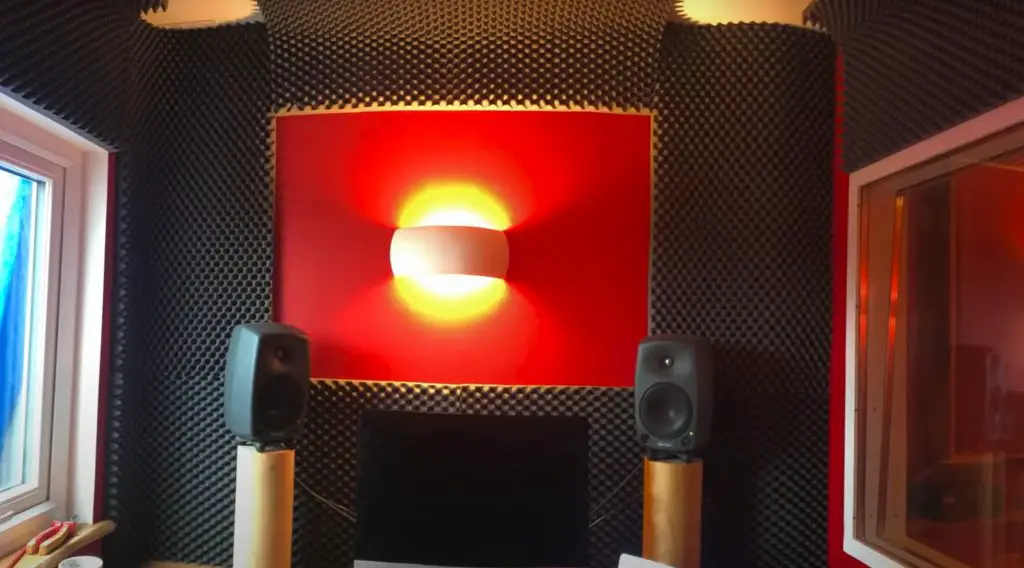 Expensive Equipment Has Never Been Safer! 
Shipping containers make a great recording studio because they can get real quiet, real fast. Install soundproofing on the walls and a wall to separate the musicians from the editor. It's a small enough space that when properly sound proofed, it makes a high quality recording, reducing reverb, and annoying recording issues.
Plus, it keeps your expensive equipment safe and secure. Media equipment, music, photography, art, and other expensive habits can be fully customized and kept hidden and locked up tight. You can build an entire wall of computer screens, TVs, sound bars, and cameras, if you want to.
And when you leave your container shed, lock it up tight with a good quality lock and don't worry. No one is breaking through COR-TEN steel without a blow torch. 
6. Customized Garden Office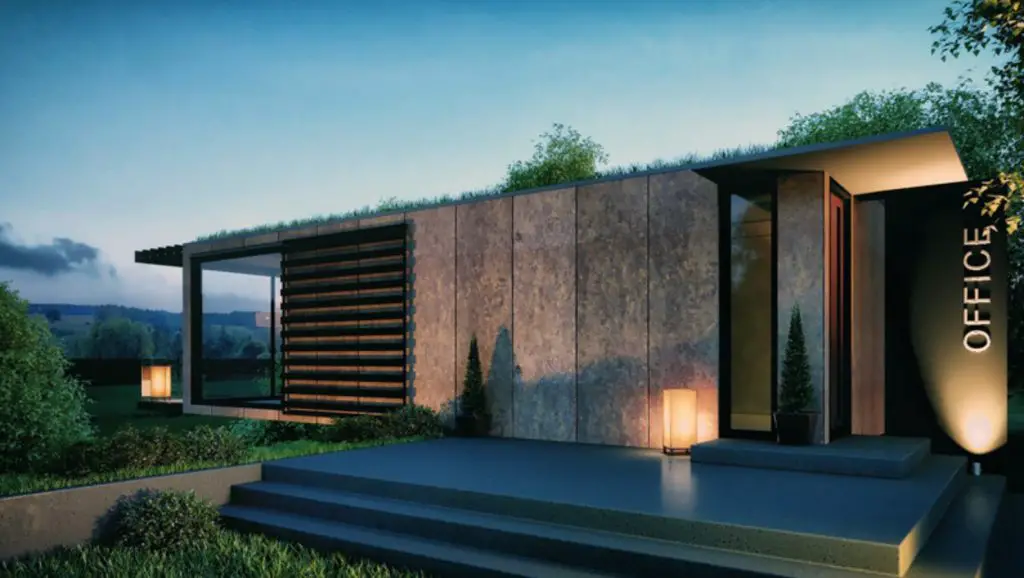 Remote Work and Meeting Clients Just Got Easier
With so many fun ideas for shipping container sheds it's hard to remember that sometimes you have to earn a living! Set up your computer screens and giant desk just how you like them. Get yourself a nice roller chair and wheel yourself over to that kitchenette you've installed for a cold drink. Head to the porch for a breath of fresh air and get ready to meet your clients who are coming over for a meeting. And in April, go ahead and use it as a tax deduction. 
Plus, a shipping container office costs less than a regular shed. The average cost per square foot for a backyard shed is $55 – $92 plus renovation costs. And the average cost per square foot for a used 20′ shipping container is $7.50 to $16.25 plus renovation costs. With the massive difference in cost per square footage, you have more room in the budget to do what you want with it.  
7. Single Story or 2-Story Barn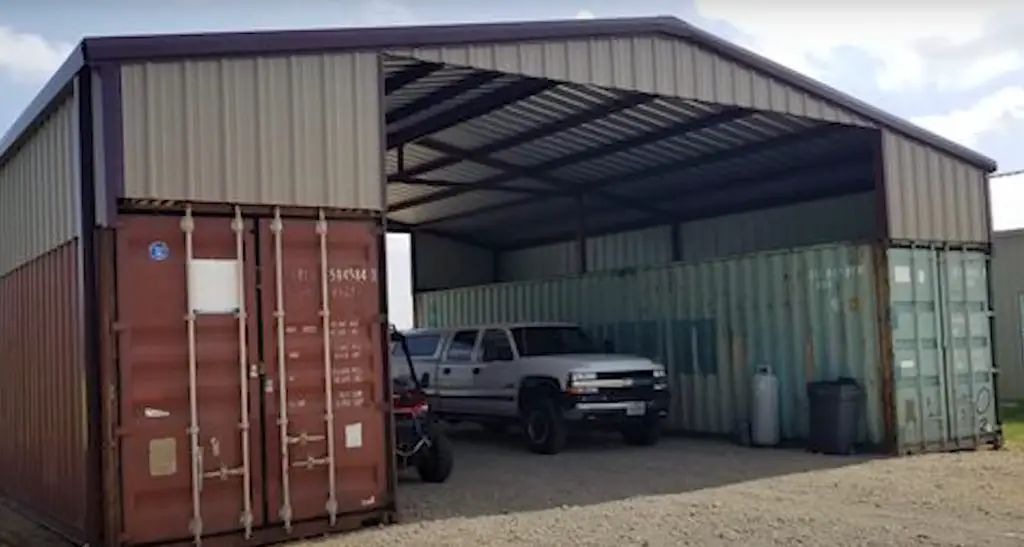 Build a Small or Large Barn
Barns made out of shipping containers are really cheap and easy to do. They can be as large or as small as you want. You can save space and add square footage by adding a second story or keep it to a single level and just add a roof. 
For large barns, use two 40′ containers and add a room. For small barns, use two 20′ containers and add a roof. If you want to add a level, this involves a bit more work, heavy equipment, and usually a professional. 
8. Detached Garage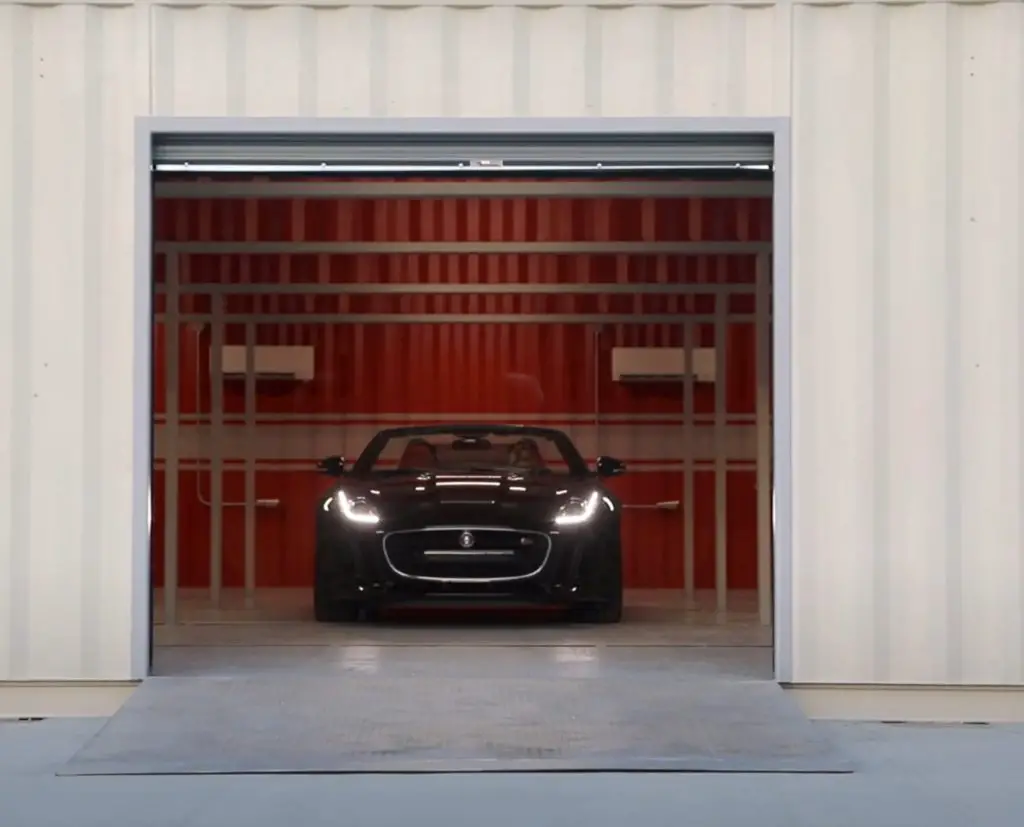 Perfect for Vehicles, Tractors, and Recreational Toys
Shipping containers are 8' tall which makes them tall enough to fit most vehicles. They're also very secure, making it easy to park and lock the door behind you. 
There is space for your tractors, ATVs, Dune Buggies, dirt bikes, motorcycles, and lots of other toys. A 20' container gives a good amount of space but weld two of them together and now you have an extra 8' x 20' of space. Or more. 
9. Gun Room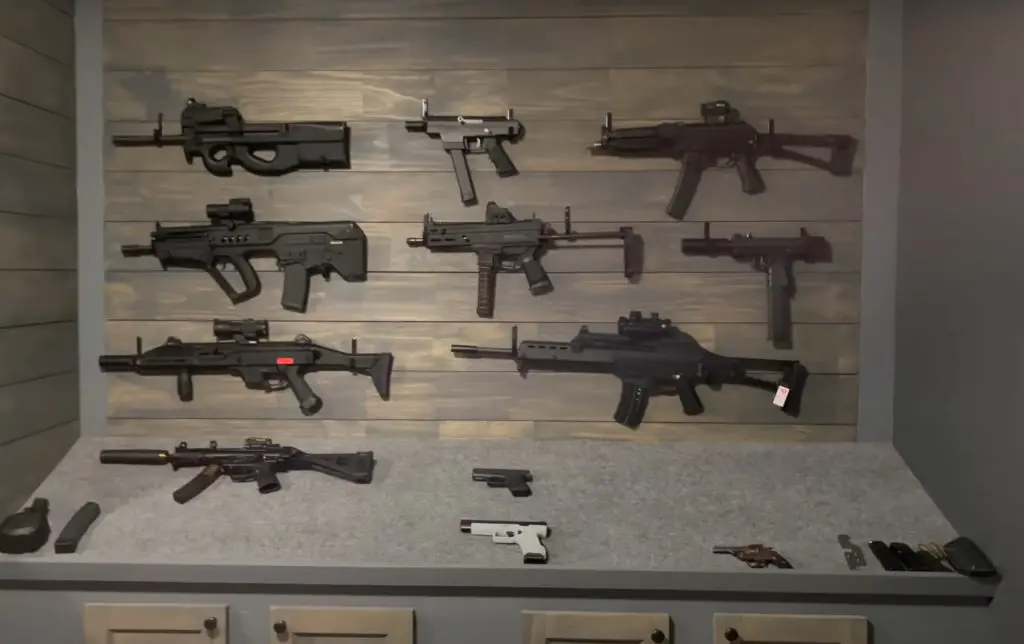 Securely Stores and Displays a lot of Guns
Converting a shipping container into a safe display space is easy, even if you have a lot of guns and ammo. Obviously, security is a huge concern with guns and other weapons. Since shipping containers are built tough with COR-TEK steel, no windows (unless you install them), and come standard with only one door, they make an ideal place to keep guns and weapons safe and secure. Install shelves, hooks, and drawers to display your guns and weapons for easy access. 
Final Thoughts
We hope you feel inspired to start designing your own shipping container shed. These ideas may have been totally new and surprising. We look forward to helping you with your next steps. 
Related: How to Convert a Shipping Container to an Office and 21 Backyard Office Ideas.