To have a productive and inviting place for you and your partner to work from home, start by looking at these inspirational garden office ideas. The best office garden ideas include a workspace with enough functional space and light to get some work done.
Benefits for a garden office are eliminating the stress and hassles involved with commuting to and from a regular office, being near family, taking care of chores, and saving money on transportation costs.
On the down side, you may be quickly realizing you don't have enough space to create a decent home office for yourself, much less your partner who also works from home.
In this article, we will be taking a look at some of the best garden office ideas for two.
Getting Started With Garden Office Ideas
When creating a garden office idea for 2 people, you need to think about the direction or position you want the garden office to face. Strategically placing your garden office to face south is the best way to optimize natural light.
But a south facing garden office may also get hot in the summer. Having an air conditioner will ensure that it remains comfortable, even on hot days.
Get creative with your garden office by using your style and flair to make it stand out and also comfortable for you and your partner.
1. Modern Backyard Office
These days, people go for designs with corner glazings where both the sides of the house are opened up with glass doors, making the boundaries inside the house and outside not seem too boring. So, why not make your garden office just like this?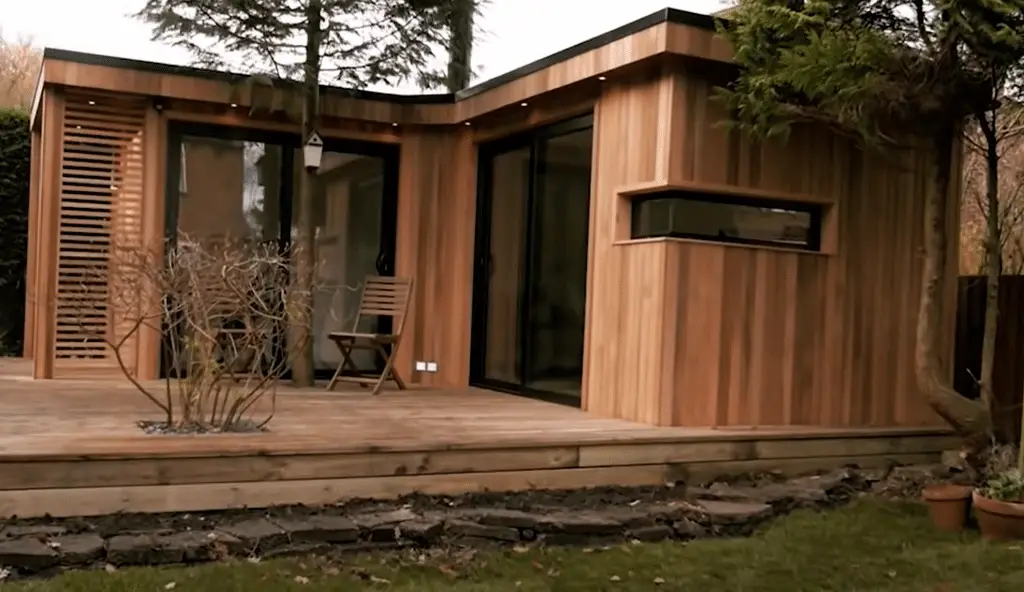 Nothing should stop you from making it more classy like your house extensions. Both sides of the garden office can be covered with floor-to-ceiling glass panels which are light. This model of a garden office looks so and comfortable for two persons.
2. Glass-Fronted Office
With a glass-fronted garden office, you will be able to enjoy from afar, the breathtaking view of your garden, the panorama, or the backyard while you and your partner are working. Even getting the walls of your garden office painted white will give whoever walks in, the impression that it is a spacious and well-organized workplace.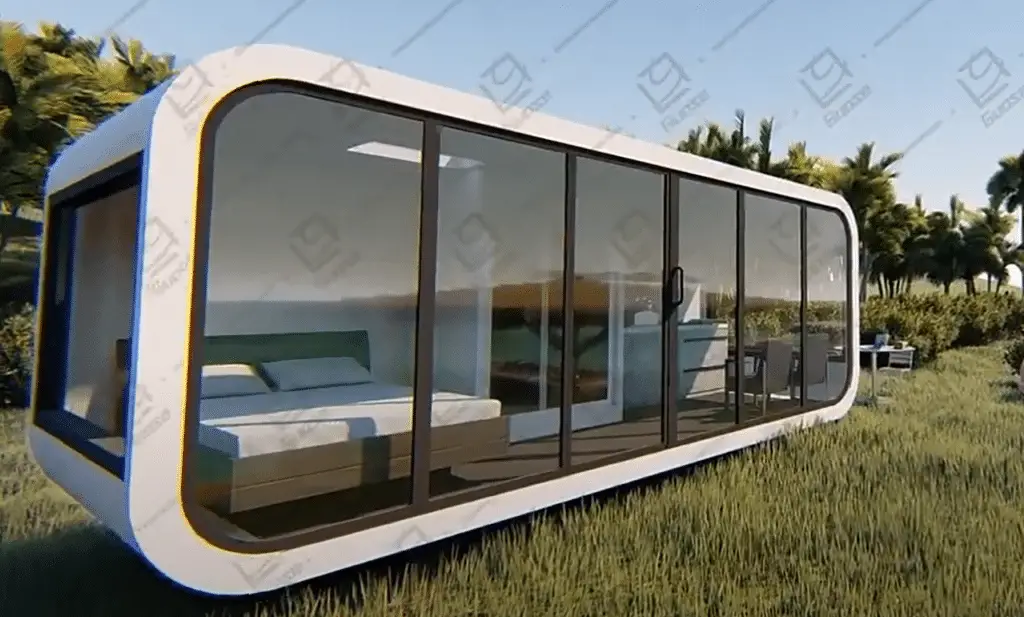 Add 2 chairs and a desk wide enough for you and your partner to work on, a couple of shelves, some paintings, and anything that will give the room a personalized look. Remember to throw in a couple of comfy seats in the garden office so you can be able to enjoy a short period of rest from work.
3. Converted Garden Shed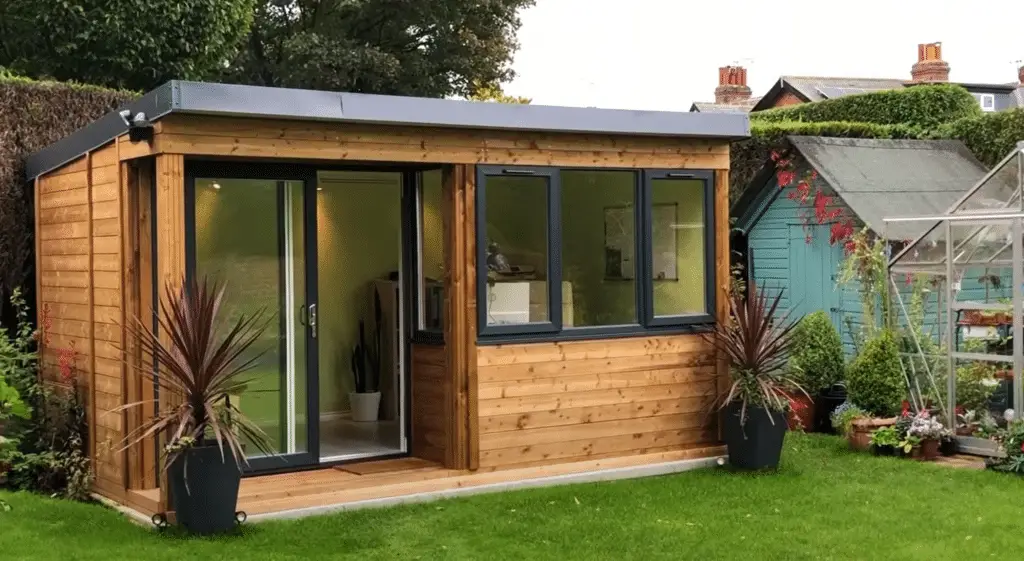 If you have a garden shed that is large enough for two, you can convert it from a garden shed to a garden office. While converting the shed to an office, try to show off your creative instincts by using different mementos you got from your travels, interests, and important experiences to decorate it.
4. Accordion Doors
If you are the type that does not like the normal, these accordion doors will open up to the outside of the garden office. With this garden office, you do not have to worry about space, because these accordion doors can open up the entire wall of your garden office thus giving you and your partner more space and a feeling of freedom.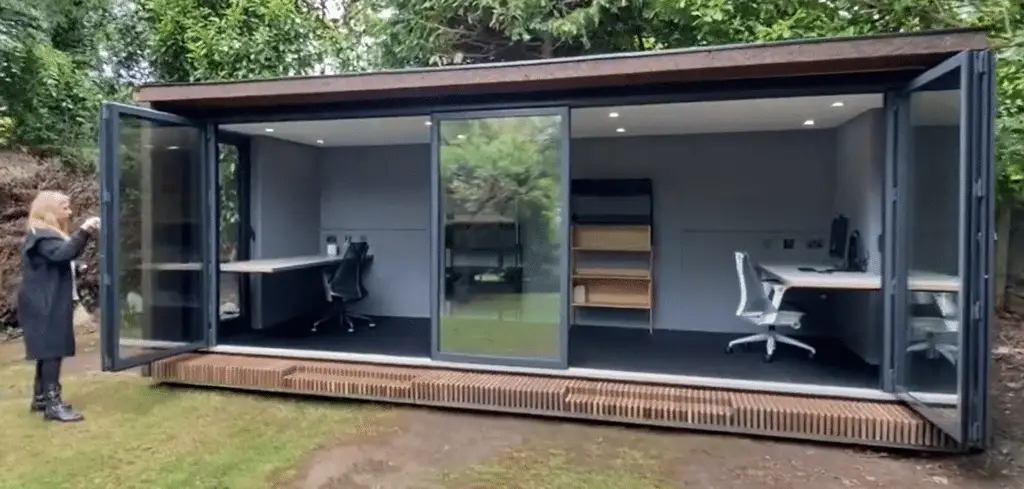 The looks of the accordion doors are sophisticated especially with its glass and grey steel frames. Since this garden office idea is not a normal one, you could also go as far as putting electronic signs on the accordion doors which will attract attention to your garden office and make it look a little bit serious and work-like. 
5. Space-Efficient Corner Hub
This garden office idea eliminates the image of a congested small space. Though this corner hub looks small in appearance, it is usually not a stuffy small space. It can carry about more than two chairs for more than one person. Its sliding doors are the entrance to this very simple workplace.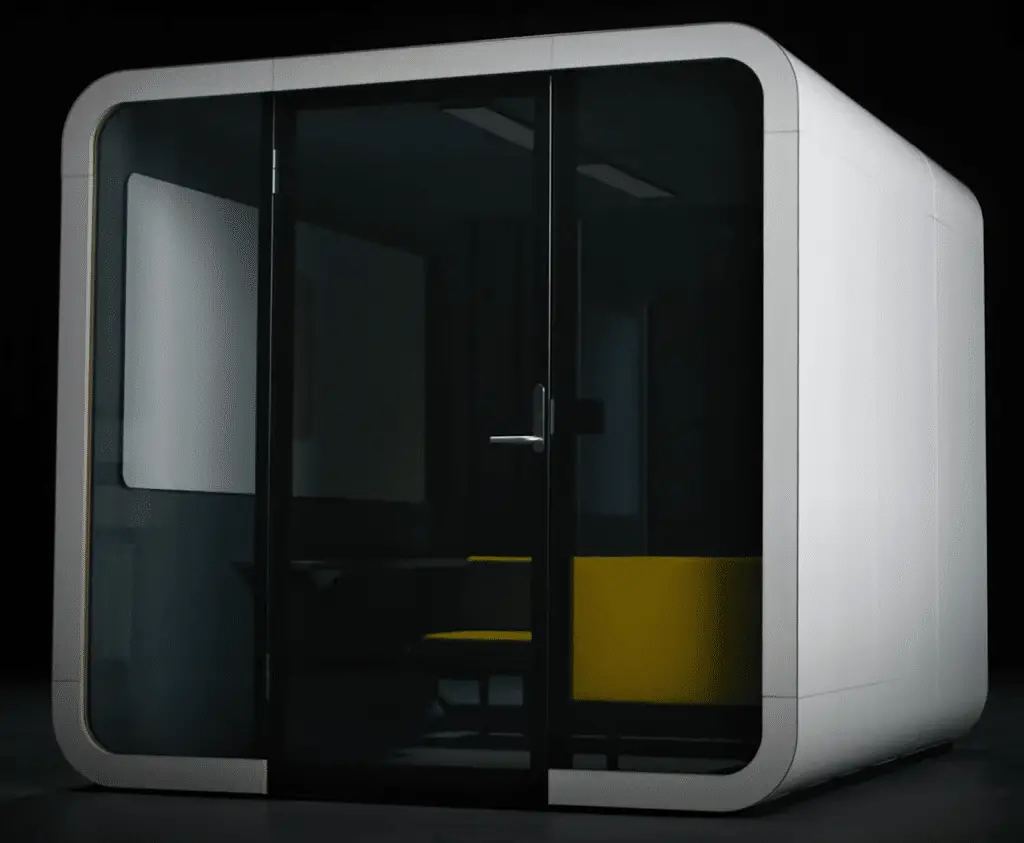 Also, the colors used to paint the walls are light in color giving rise to a feeling of a wider space. There are also high shelves installed in the room for better storage of office properties. It also helps in better usage of the vertical space and to avoid much traffic within the little space.
6. Shipping Container Shed
This looks sturdy yet sensational. This garden office design is done from what was once a shipping container now converted to form an office. The bright blue color brings out its uniqueness. It would look more stunning to add glass doors, a front deck, and wood panels as the wall.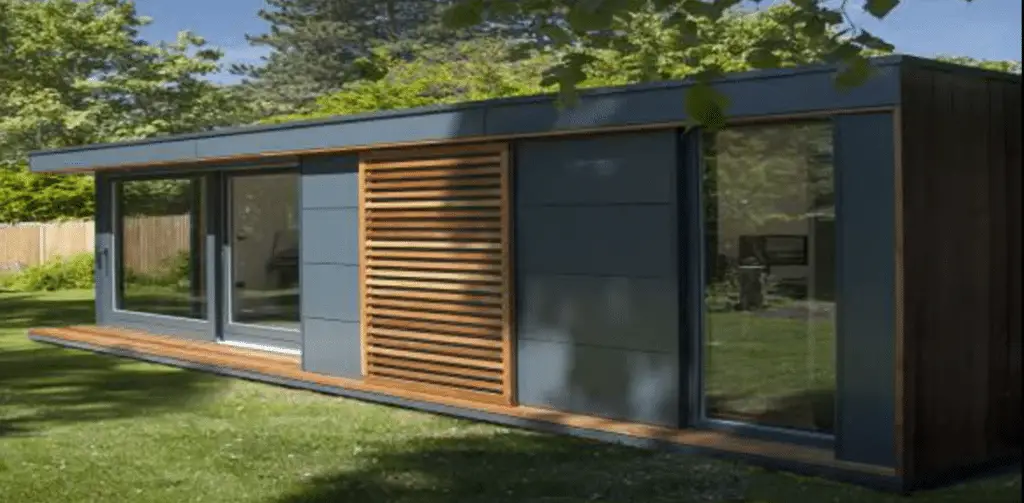 Plant the roof of the garden office to have a cool temperature indoors. The blue and orange colors blend well and set a working atmosphere for both of you. The orange colors are used as the interior lights. You could also add some more orange furniture inside the office if you wish. 
7. Shingled Garden Office Pod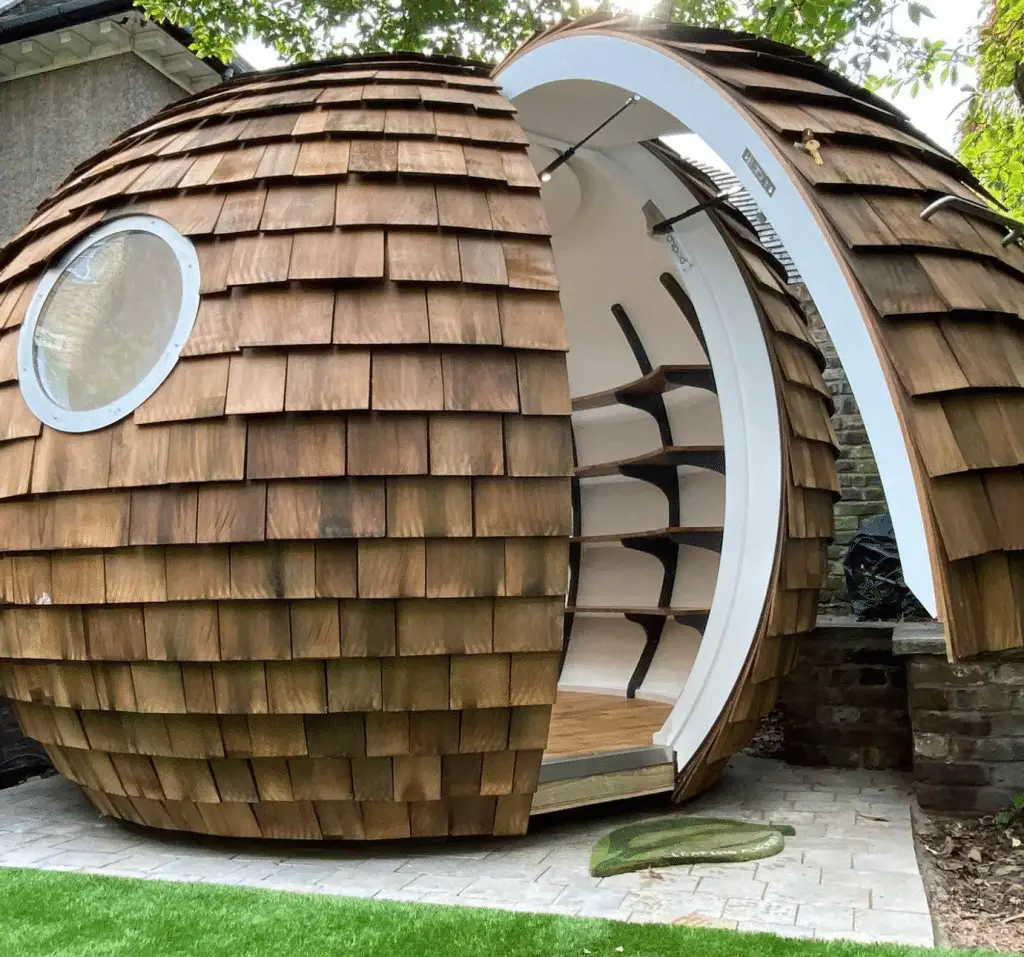 The interior of this backyard office idea or garden office idea will exude efficient and streamlined designs instead of the normal intricate designs that regular offices normally feature. This is to say that this garden idea is all business. For the walls, you can make use of asphalt shingles right up to the roof, and then you can pair it up with a perfect white interior and balance it all up by throwing in two black bentwood chairs for you and your partner.
8. Enclosed Gazebo Office
This garden office idea is the true definition of a garden office idea fresh out of a postcard. The garden office is a hexagonal shed that features clay roof tiles in warm terracotta with mint blue walls and some surrounding glass windows.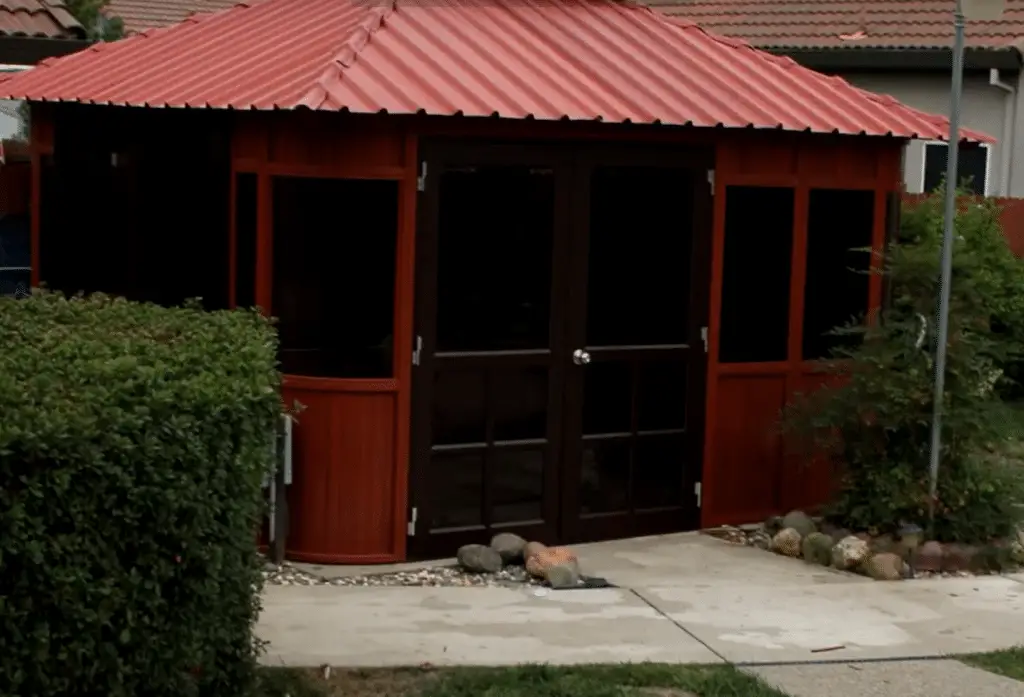 Throw in some rattan tables and chairs to this garden office to add some healthy dose of charm. Whenever you and your partner are working, you will always get this alluring feeling that will make both of you just want to sit down and work till late.
9. Green Cube Garden Office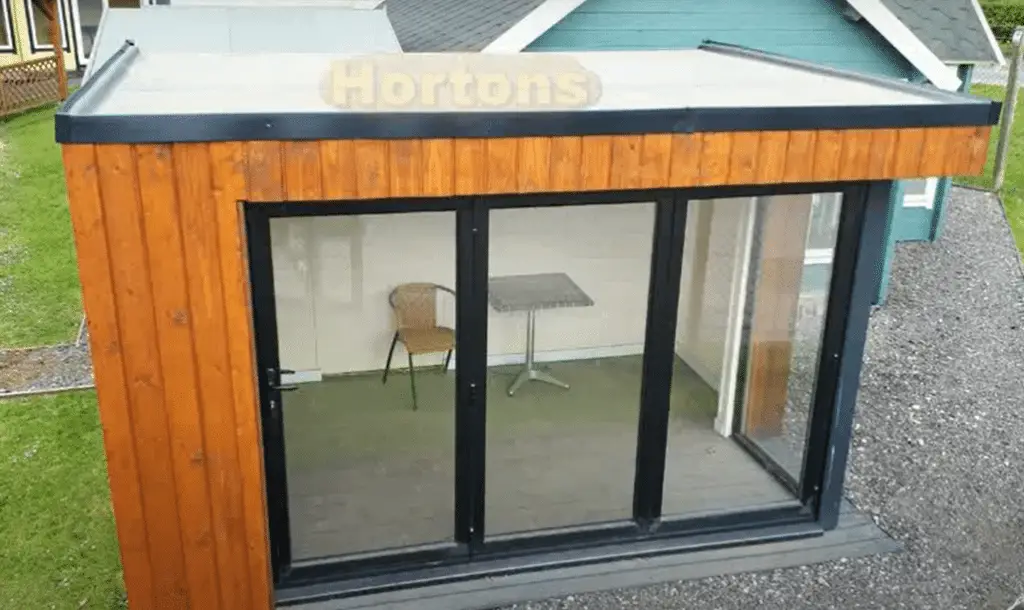 Having a garden office in a refreshing cube form with everything green is a way to explore your artistic side. This garden office will have some vegetation surrounding and embracing all four walls of its structure. This helps to ensure that the office has a lot of natural character and that the interior of the office will remain cool at all times.  
How to Get Started On Your Garden Office Ideas
Here's a great video of what it requires to get a garden office built, without any experience.