You can add a porch to a shed in 6 steps. Adding a porch on a shed is fairly easy to build and adds aesthetic and property value. This step by step guide will show you how to add a porch on a shed, how much it will cost, plus give you some ideas on how to design it.
Adding a porch to a shed requires a functional design, basic tools, and materials. The cost is about $23 to $110 per square foot depending on what materials you choose.
How To Add A Porch On A Shed
Once you have an idea of the design you want, find a blueprint with more specific information tailored to the exact porch you want to build.
What You Need To Build A Porch On A Shed
Measuring tape
Ground anchors
Ledger Beam
Rafter Beams
Plywood
Support Braces
Hangers
Metal Flashing
Roofing material
Nails
Screws
Drill
Screwdriver
Hammer
Level
1. Measure The Area And Clear Out Surrounding Space
Measure the front of the shed and decide how far out front the porch will go. Clear the area of any rocks, plants, or debris.
2. Install The Ground Anchors And The Ledger Beam
The ground anchors are the pillars that will support your ledger beam and the whole roofing structure. Typically, three anchors (on each side and in the middle) are installed to support the rafters evenly.
Anchors should be at least 3 feet deep in the ground. You should have the city come out and check for lines before digging. 
Once the anchors are positioned, pour concrete on them and give them a supporting framework to keep them in place. Once dried and solid, you can follow up by installing the ledger beam.
Use a level to make sure that the beam is perfectly horizontal. 
3. Add Braces For Support
Adding support braces is recommended to distribute the load of the roofing and the rafters. They will also make sure that the wind loading impact is distributed evenly among the upright posts.
Cut your braces at a 45-degree angle, adjust to the right position, and secure with nails or screws.

Attach your ledger board. This is where your rafters will be temporarily attached before securing them with a hanger. Make sure that your ledger board does not obstruct the door. 
4. Secure the Rafters
Attach the rafter to the ledger board. Most sheds have it attached just below the overhanging roof.
Then, secure the rafters to the hanger using screws. 
5. Add A Sheet Of Plywood To The Roof 
Install a sheet of plywood right above the rafters. It will be sandwiched between the rafters and the initial roofing material. Then secure it with screws.
Next, install your roofing material, as directed.
6. Patch The Gap
Attach a metal flashing right on top of the space between the shed roof and the new roof. This is to prevent leaks will be prevented to flow during rainy days.  
Cost of Adding a Porch to a Shed
You can expect to pay You can expect to pay $23 to $110 per square foot, which includes flooring, steps, posts, railing, roofing and more.
You will need lumber, hardware, and tools. You might be able to cut costs by finding repurposed wood like pallets, barn wood, doors, or even metal. Repurposed supplies not only look cool, they reduce trash in landfills, and are cheaper than buying new.
Ideas to Add A Porch On A Shed
How you choose to design the front porch of your shed depends on what you're using it for.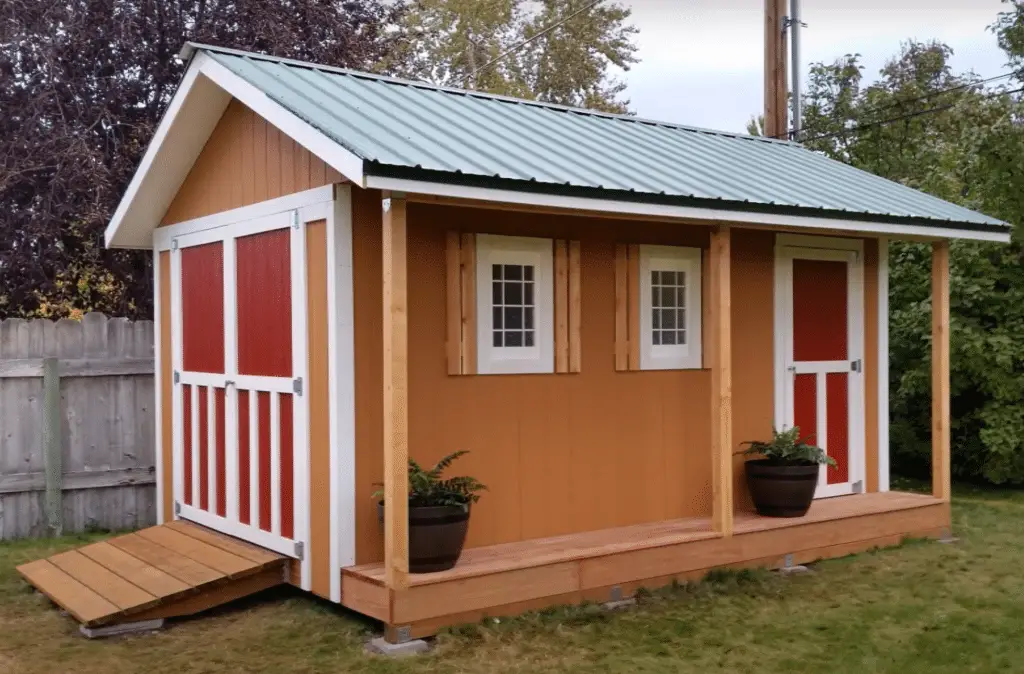 This small porch with a ramp adds curb appeal and functionality. Office furniture, arm chairs, tables, and other large items can be moved in by the ramp. The short porch is just enough space for a few decorative item. It's also wheelchair accessible.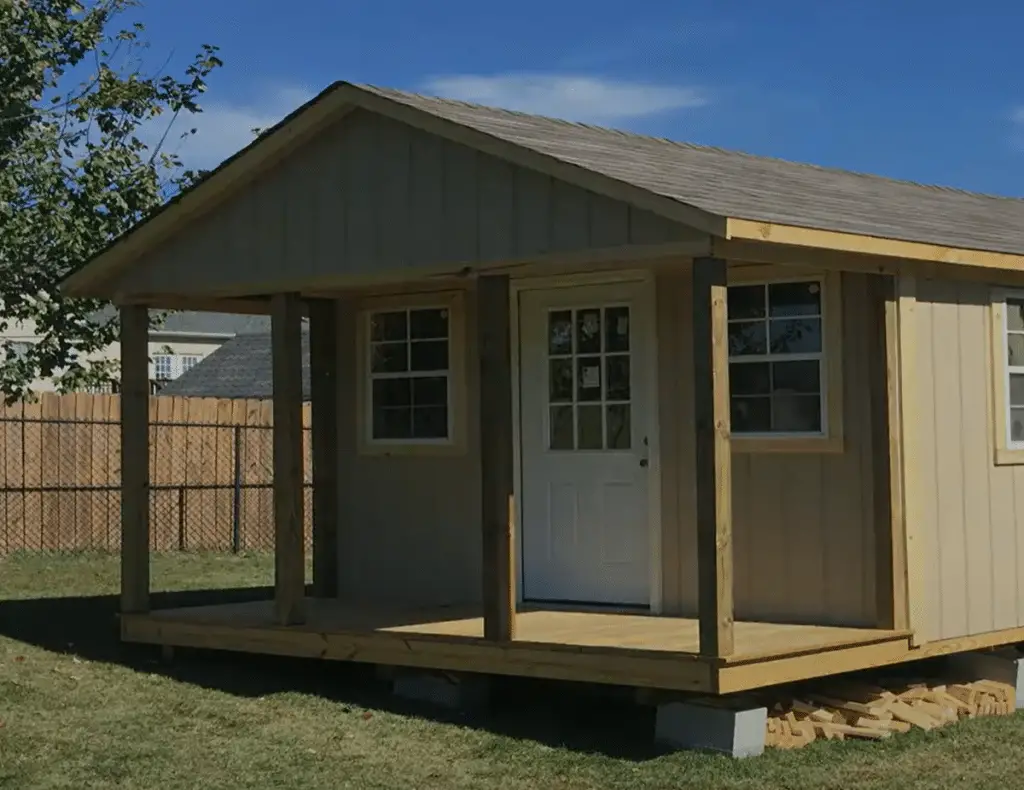 This 4 foot porch has plenty of space for a seating area plus flower pots and plants.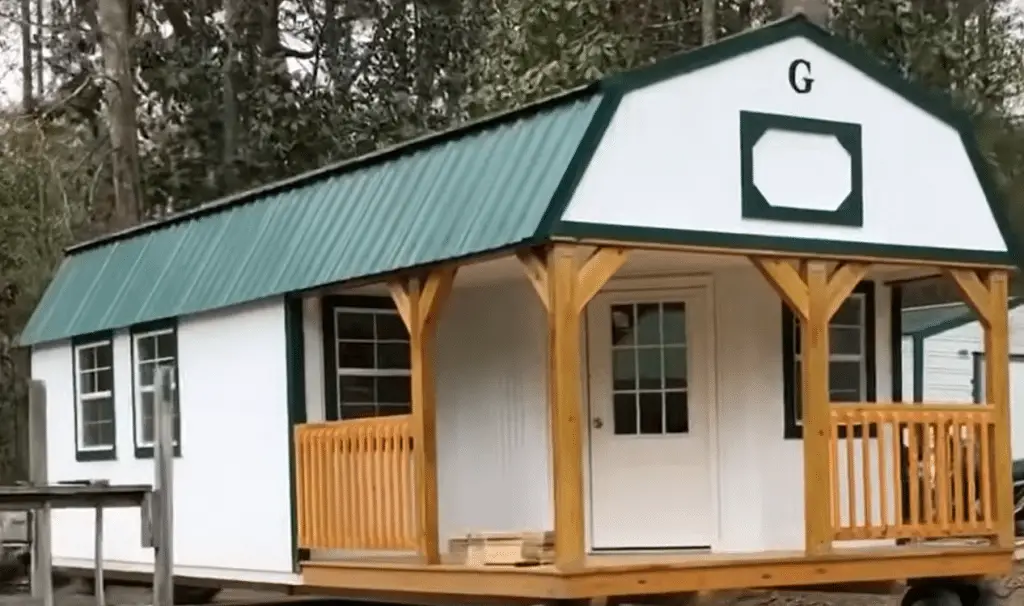 This corner porch adds to the aesthetic appeal but also is a great use of space and unique architectural design. There's plenty of room to walk around and put some nice chairs out for seating. There may even be room for a porch swing.
3 Reasons Why You Need A Porch On A Shed 
Whether it's the traditional wooden shed or contemporary modern build, a porch can make your shed a whole lot better.
1.
Work Breaks 
If your using your shed as a garden office, verandas are a great place to get a breath of fresh air and take a break from work. Imaging stepping away from the harmful blue light of your computer screen and into the great outdoors. You'll drink a nice cup of coffee, breath in the fresh air, and clear your mind.
2.
Fixing Uneven Landscape
If the landscape leading up to your shed is uneven, a custom built veranda can create a smooth entry right up to the front door. Adding on the front porch can flatten and fix the uneven landscape.
If your shed is sitting on an elevation, you can build out a staircase or ramp to make getting in your shed easier.
3.
They Look Good
A standard shed without a veranda can look boxy and generic. By adding a front porch, your shed will have curb appeal and look inviting. Put out some flowers, add a couple cool chairs and a little place to set your drink and you've created an outdoor space that will make the neighbors want to come over.
Final Thoughts
Adding a veranda to your shed will create added space and look good. You can do it yourself with a good blue print, some tools, and a great design. Decide what function you want your veranda to serve and get started!