Everyone's home office experience is different. Some people have an extra bedroom or a built-in office space, while other folks are scrambling just to find a quiet corner in their home or apartment to send out a few emails. 
If you are searching for ideas to carve out a small workspace, consider these creative ways to use the space you already have, or build a new space.  With a little creativity, you can designate an area for a small workspace in just about any dwelling
Office Nook Ideas That Work 
If you are looking for inspiration but are coming up empty-handed, check out these top 12 office nook ideas that just work. 
1. Repurpose an alcove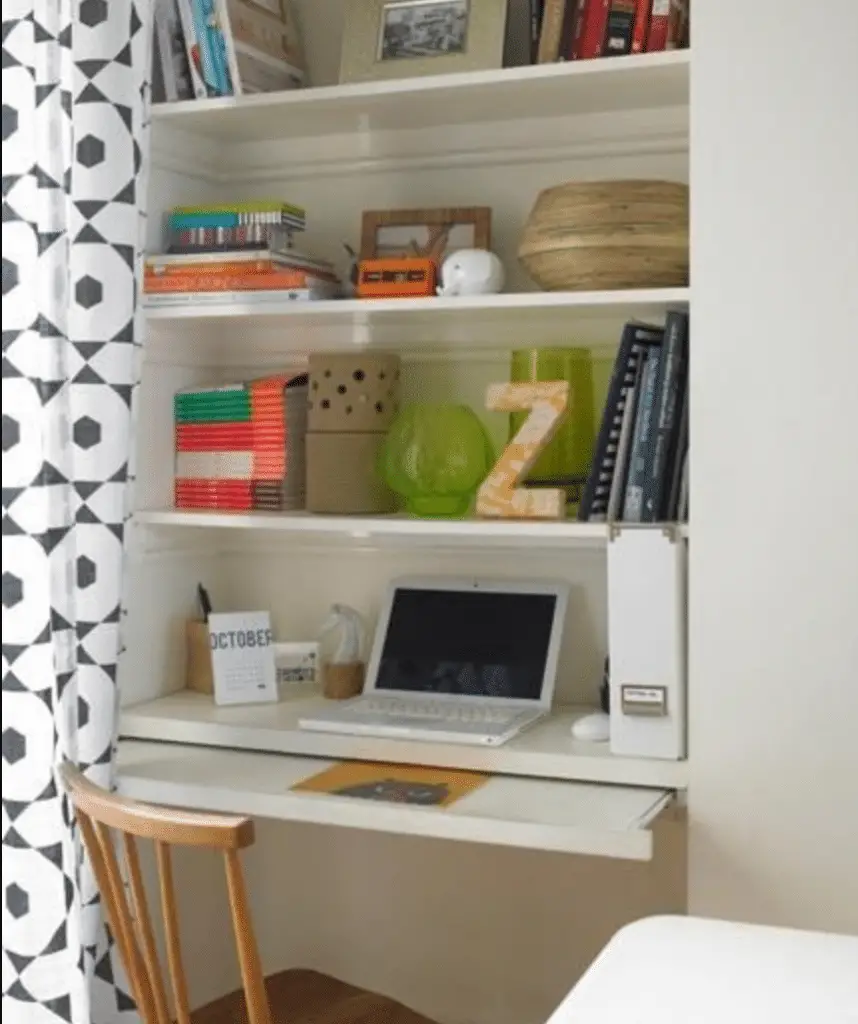 Alcoves that are built into your home's interior are one of the best places to add a small desk. Find a new spot to hang your car keys or stash your coffee maker, and turn your small alcove into a computer desk. 
2. Use the kitchen table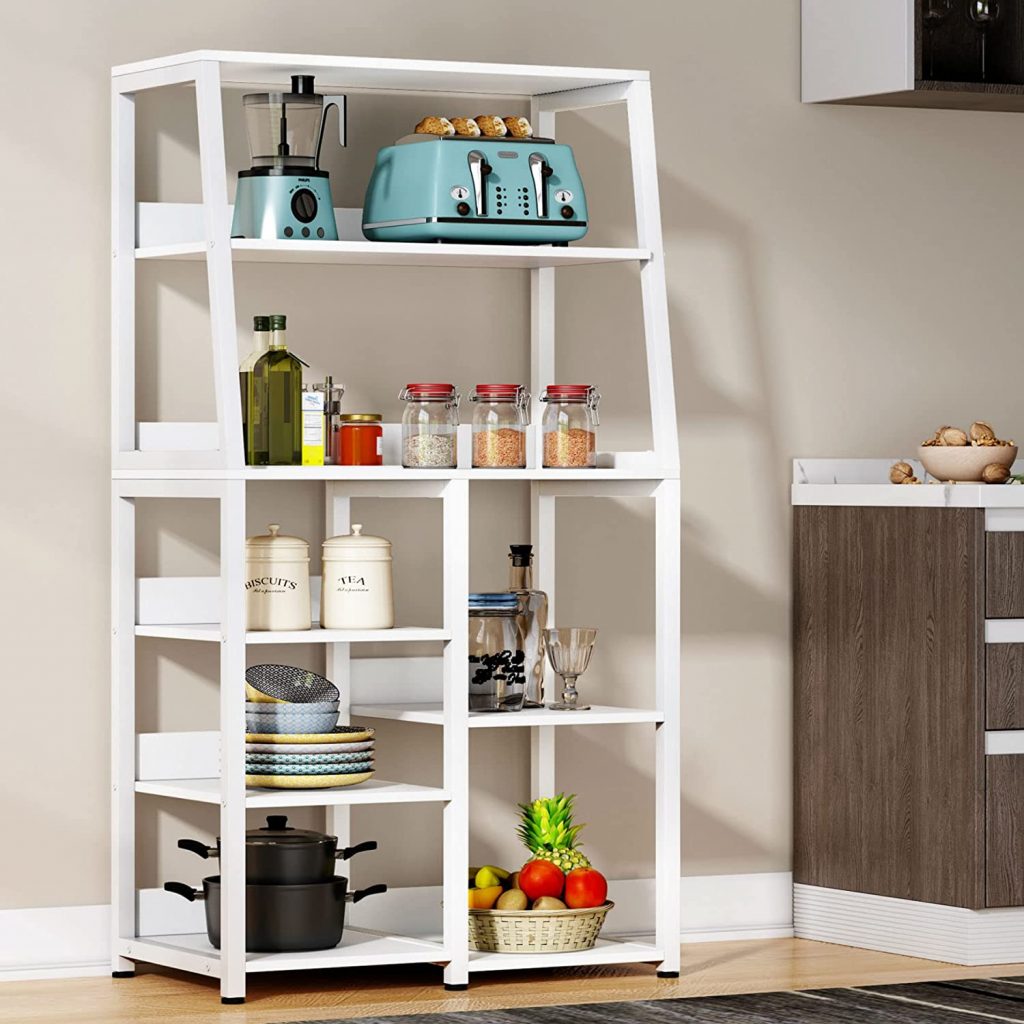 If you're really tight on space, why add any furniture? Place some shelves or a cabinet in the corner behind your kitchen table so that you can have an office during the day, then put your work life away in time for dinner. 
3. Look under your stairs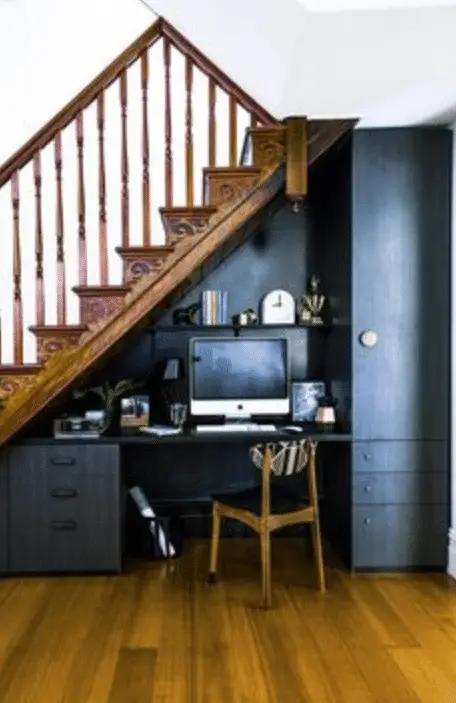 The staircase is the most under-utilized area of any two-story home. If you can't fit a small desk and chair directly underneath, convert the area under your stairs into a bookshelf and set up your workspace adjacent to it. 
3. Make good use of walls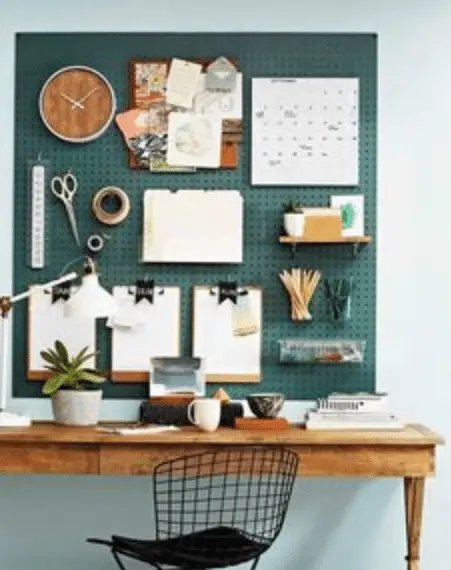 When you're working in a tight space, going vertical is often the only option. Pegboards, slim bookshelves, and floating shelves are all great solutions. Don't be afraid to go all the way up to the ceiling with your shelving!
Pegboards are a stylish way to make good use of your walls.
4. Create a work cupboard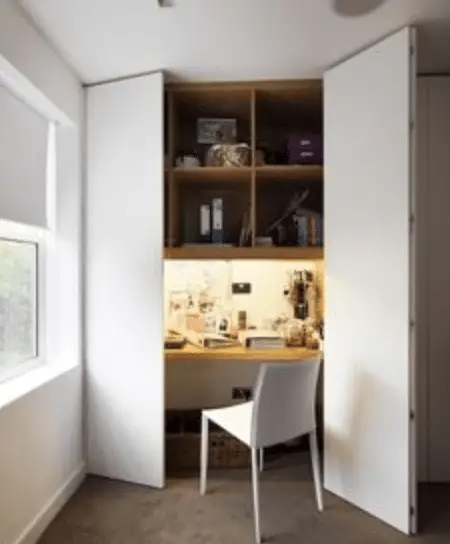 Many people want to be able to conceal their workspace. After all, an errant laptop or pile of work papers can really detract from a small space. 
Convert an old cupboard into a workspace by leaving one or two shelves in the top portion, a monitor or laptop  in the middle, and add a runner to hold a keyboard. The cupboard doors can easily be covered with a pin board, or decorated with family photos. 
5. Make a media console into a desk 
If you only need enough surface area for a laptop and a couple papers, why sacrifice all of the space that a desk takes up? A floating shelf or media console can easily double as an office nook.  
A floating media console works well for a desk. that can be adjusted to the space you have. Even if you have a small wall, building out a desk with floating shelves is totally possible.
6. Dedicate a corner as a workspace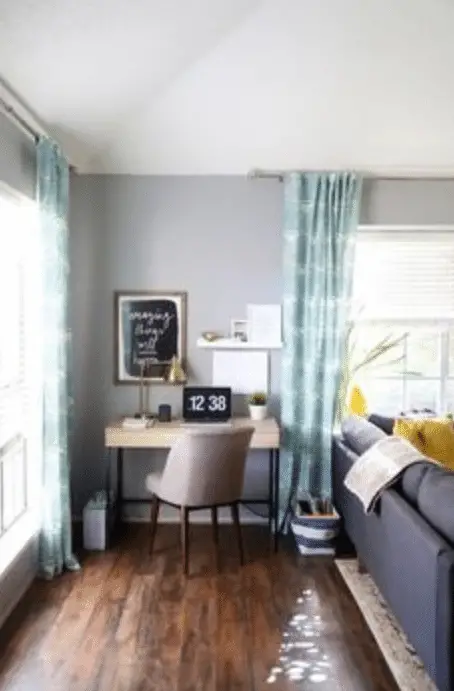 Don't be afraid to use a corner of your living room or bedroom as a home office. With a little creativity, you can arrange your furniture to section off a small work area.
This is a great idea for people who still want to interact with their roommates or family while working. 
7. Convert a shed into an office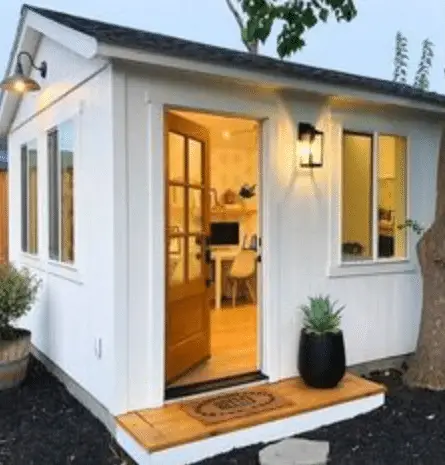 8. Find space in the attic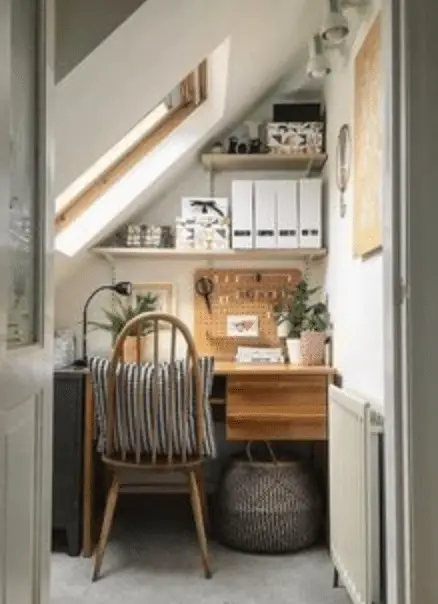 The angled eaves in your attic might seem like a tight space, but if it's already finished out with drywall or wooden planks, why not paint the space, add a rug, and turn it into an office nook? 
Many attics even have small windows at one end so you'll get plenty of natural light. 
9. Keep clutter behind closed doors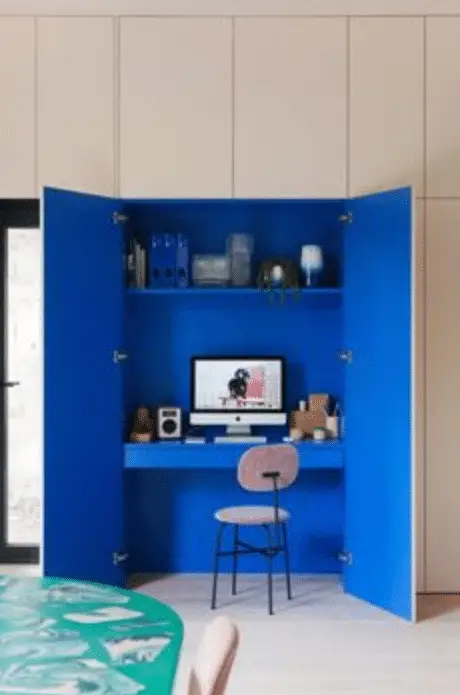 Even the most organized workspaces can draw one's attention away from other activities. Designate a hutch or wardrobe to conceal all of your office gear.
10. Upcycle existing furniture
If you have some family furniture that you are dying to use but it doesn't quite fit in with your interior decorating, consider upcycling it into a desk or shelving unit. Sewing machine treadles, end tables, and old chest-of-drawers are all great candidates. 
11. Define your workspace with color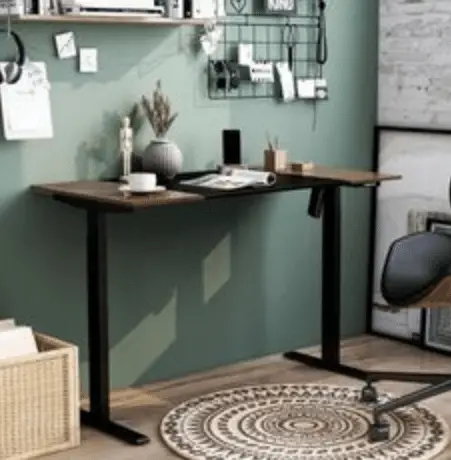 Designating a specific color scheme is a great way to make your office nook feel like its own separate space. 
Either paint the walls around your workspace in a bold color, or select decor and desk accessories that adhere to a certain theme. 
12. Make a multipurpose desk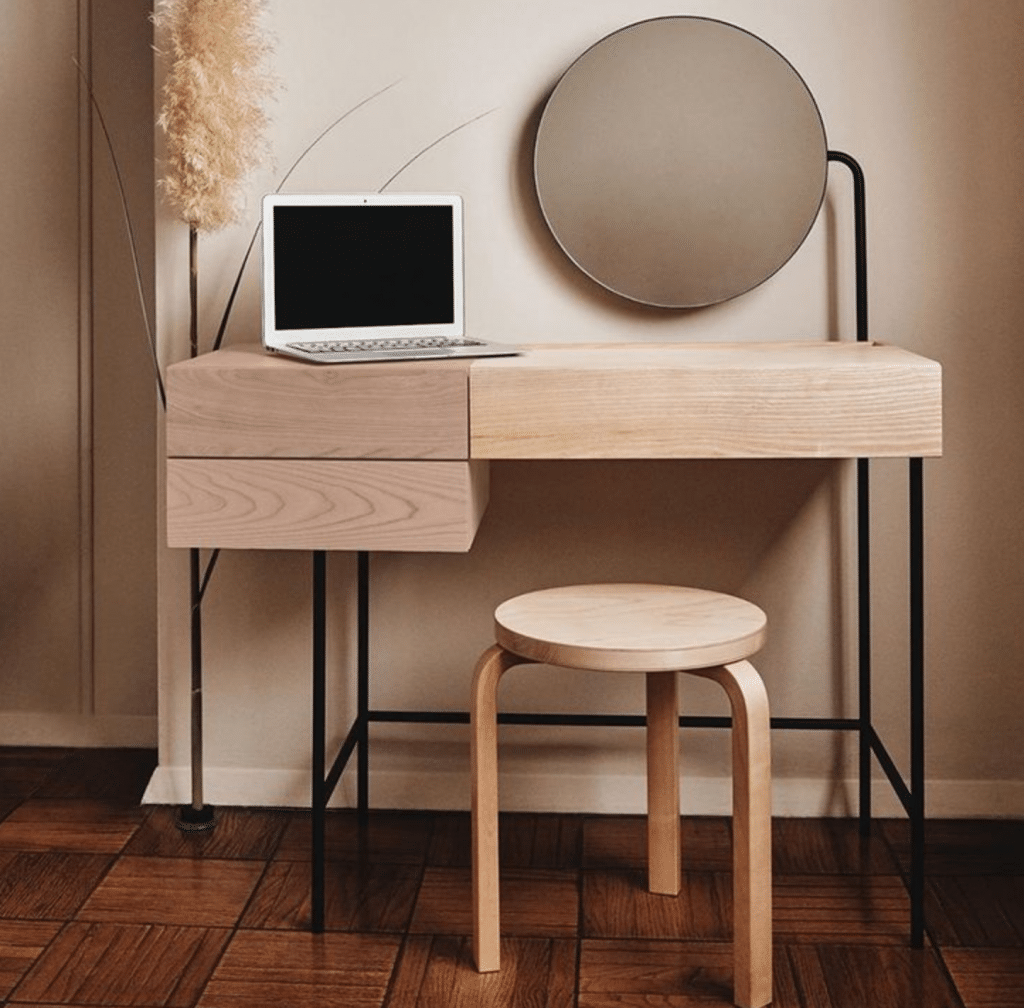 When you're living in a small space, you need to be flexible. If you already have a makeup table or vanity, why not use it as an office nook as well? 
The same goes for any surface dedicated to holding decorative objects. Put your decor in a bin and use it as a workspace during the day, then put it back out before company comes over. 
Consider a Mobile Office 
If you can't spare the space for an office nook, purchase a folding table and set up your office equipment on that. Store your laptop, keyboard, and mouse in a messenger bag along with your pens, notepad and stapler. This mobile office will allow you to work from any quiet corner, at home or on the road. 
Remember that no matter what space you designate to work in, be sure to provide plenty of light to keep your brain active. Keeping an organized workspace is also a key to productivity, so be sure to clean up at the end of each day, and don't forget about cable management solutions.