These garden room ideas will merge the house and garden together. Each brings a feeling of being surrounded by greenery and nature even when inside the walls of a garden room. Contemporary, modern, green roof, succulent roof, and fully equipped mother-in-law garden rooms will inspire you to make a fantastic place to have an indoor outdoor feel in your garden. 
Garden Room Ideas
Garden rooms are designed to be an indoor outdoor space that allows the beauty of nature to be intermingled with the comforts of home.
Imagine looking out into your own backyard's natural surroundings while working from your garden office, painting a beautiful painting in your studio, relaxing in your She Shed, running on your treadmill, or having a beer with your friends in your man cave pub shed.  Or better yet, having a completely separate place for guests to stay or using it for extra rental income. 
With these 20 garden room ideas, you're going to be inspired to build your own. 
1. Modern Garden Room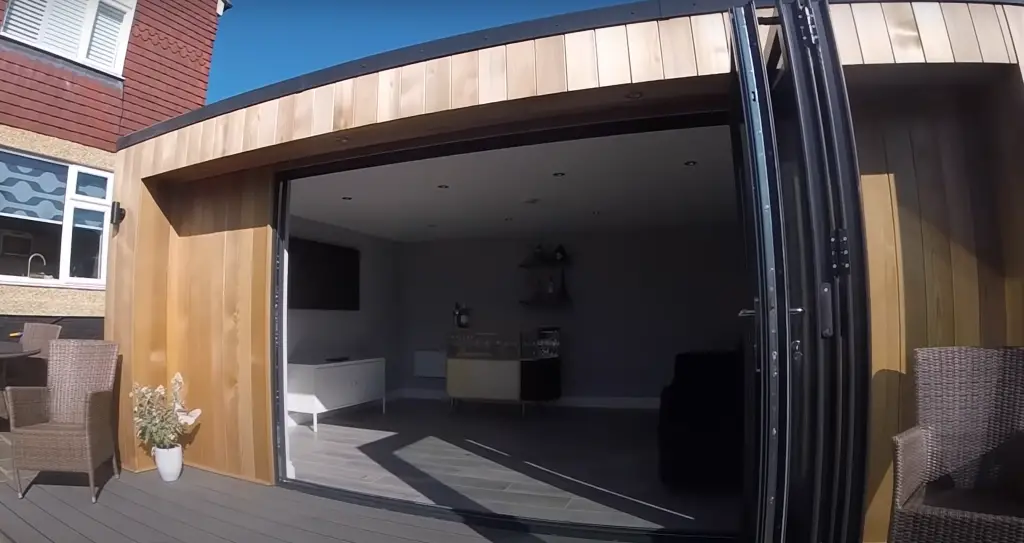 This modern garden room is 6 meters x 4.5 meters (19.6 x 14.7 feet) with aluminum bifold doors. The large wide open doors give the impression of the outdoors merging with the indoors. It was decorated with ample seating and a place to relax. This is perfect for entertaining. 
2. Man Cave Garden Room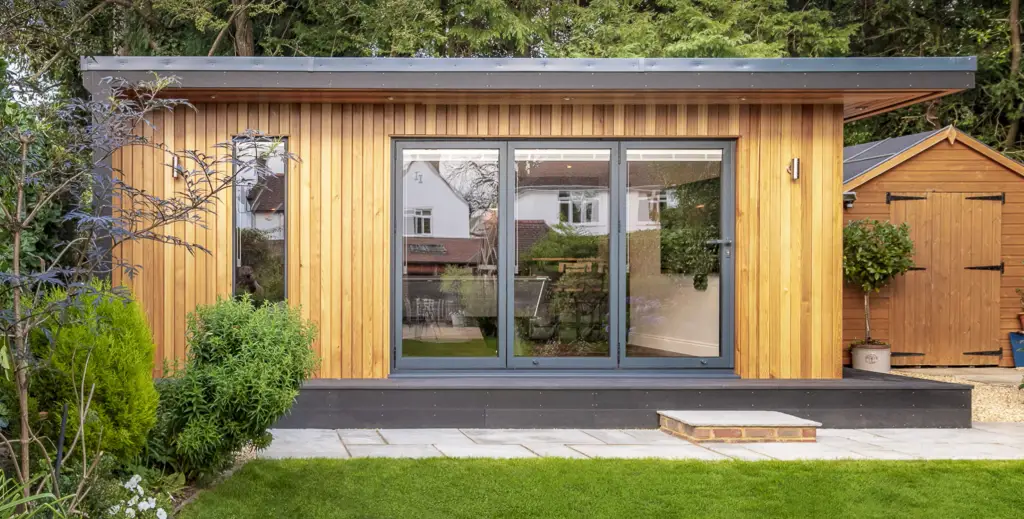 With a pool table, bar, and exercise equipment, this garden room was decorated to be a man cave or just a cool place for anyone to hang out. It's 6 meters x 5 meters (19.6 x 16.4 feet) and designed to have a space to socialize. 
3. Mother-In-Law Garden Room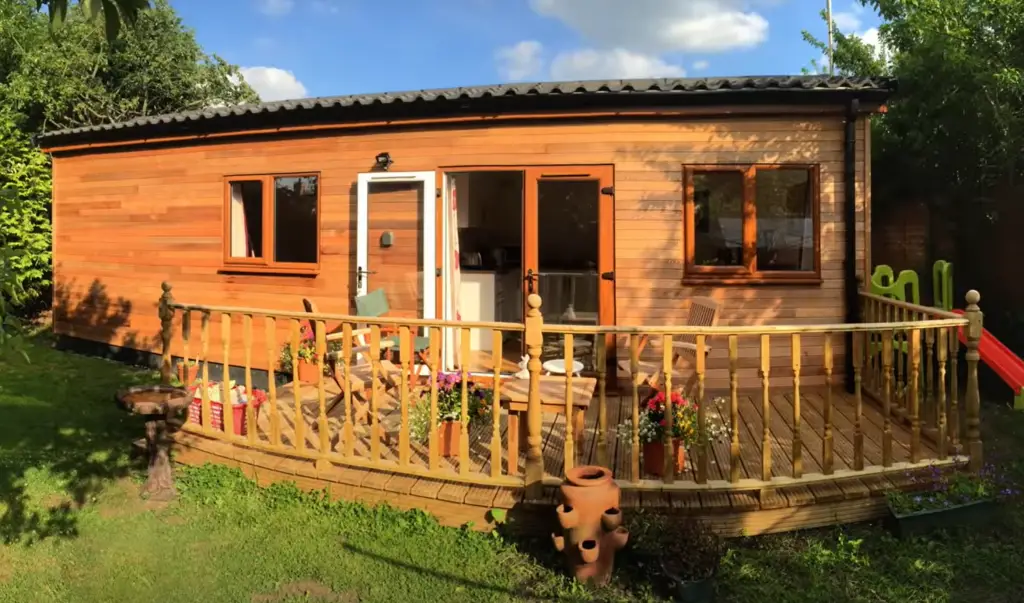 Built as a mother-in-law house or granny annex, this garden room is complete with a front porch veranda and full living space. It has a full bathroom with separate bedroom and living space. It's a large 9 meters x 3.7 meters (29.5 x 12.1 feet) and is a great private space for guest or to rent out on Air BnB as a vacation home. 
4. Lush Garden Room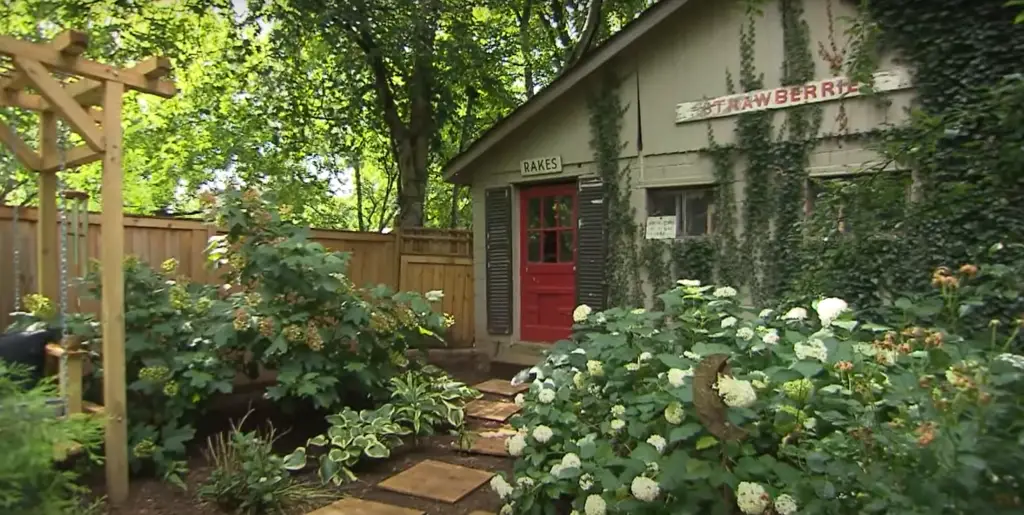 If you have a deep backyard garden with a lot of space to build, you can build a large garden room and create a plan for a beautiful garden landscape. This garden took over a decade to fully mature but the finished product is absolutely stunning.
5. Natural Light Garden Room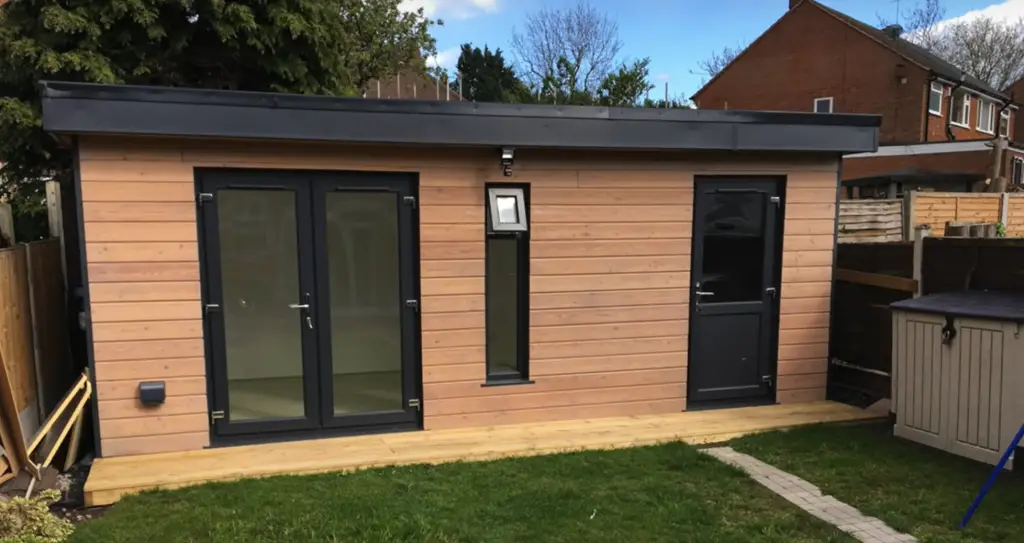 This garden room has 2 separate doors and a window which lets in a lot of natural light. It's great for a studio, gym, or pub room because it's a big open space.  
Watch more 100 Garden Room and Patio Design Ideas
6. Wide Open Contemporary Garden Room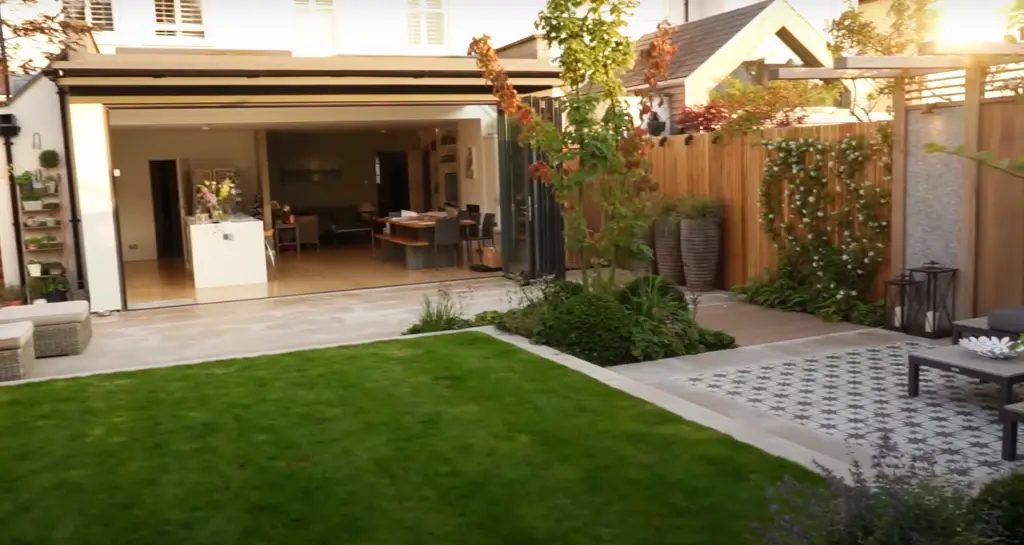 We love this wide open contemporary concept which opens up to a lawn and more seating. It has a full kitchen with seating so you can escape the rain while still feeling like you're outside. Just add a BBQ!
7. Small Garden Room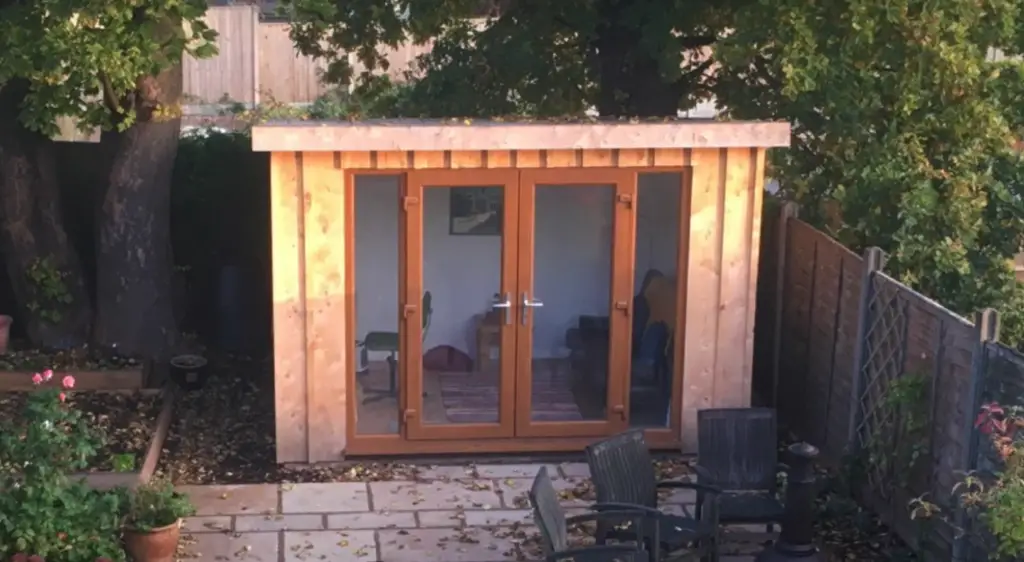 If you have a small backyard garden, then this is the perfect size garden room. It's a 2.4 x 3.3 meter ( 8 x 11 feet) fully insulated garden room that is being used as a cozy garden office. It's the right size for a desk and small seating area.
8. Block Garden Room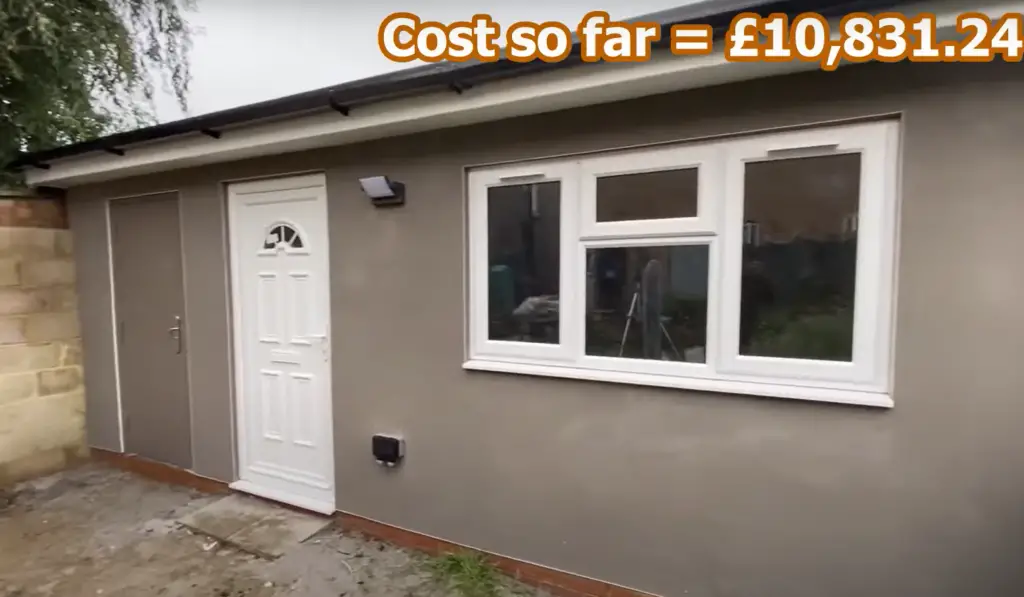 This is a block garden room design instead of cladding or wood siding. It's 6 x 4 meters (19.6 x 13.1 feet) and the cost is less than most sheds.
9. Classic Garden Room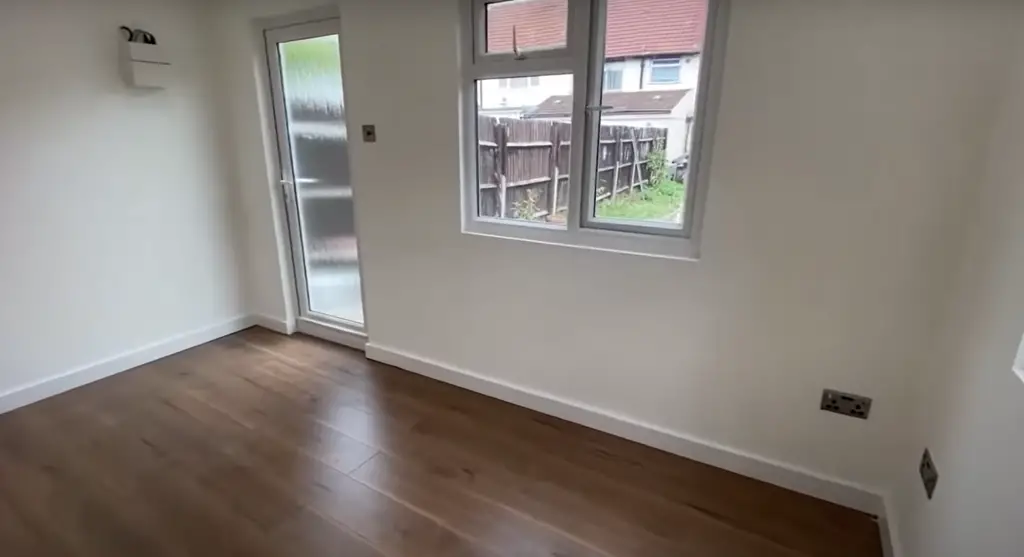 This garden room is crisp and clean and fully functional. It's a classic design with a durable hardwood laminate floor and white, bright walls.
10. Complex Garden Room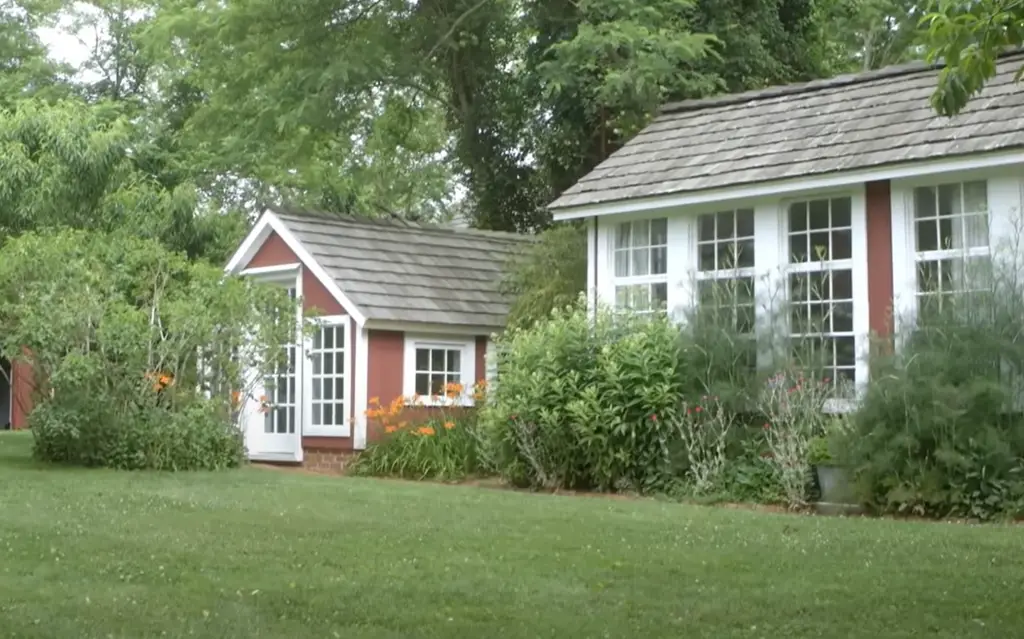 This garden room is complex and divided into "rooms" that have been in the works for over 17 years. It has multiple buildings, a shadow garden, and different open spaces for many functions. It's a bit more complex than most backyard gardens can accommodate but it certainly something to strive for. 
11. Garden Room Built-In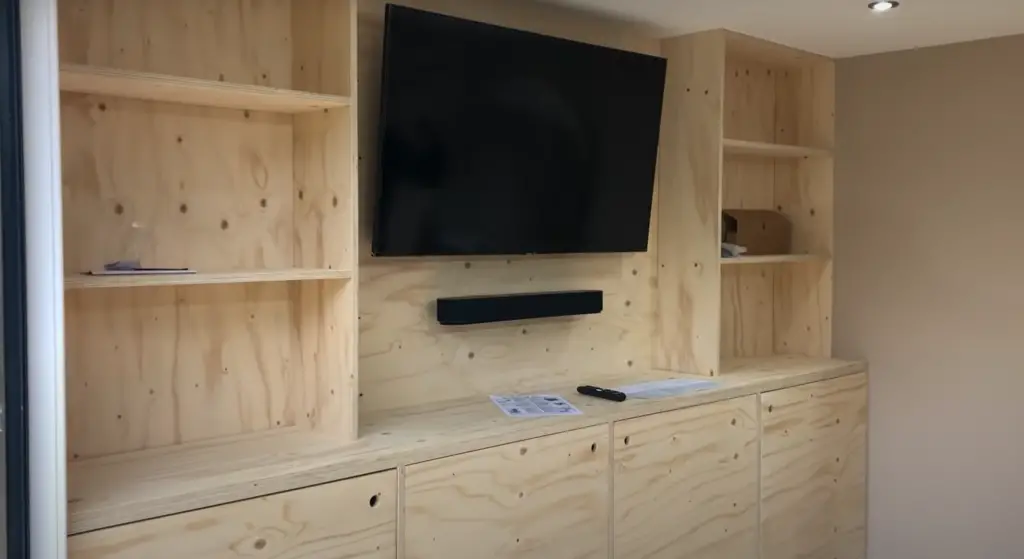 We love this wood built-in entertainment center. It has ample storage space, a wall mount TV and amplifier, and the light wood complements the garden room decor. It's knotty pine keeps the outdoor feel of the garden room.
12. Large Independent Garden Room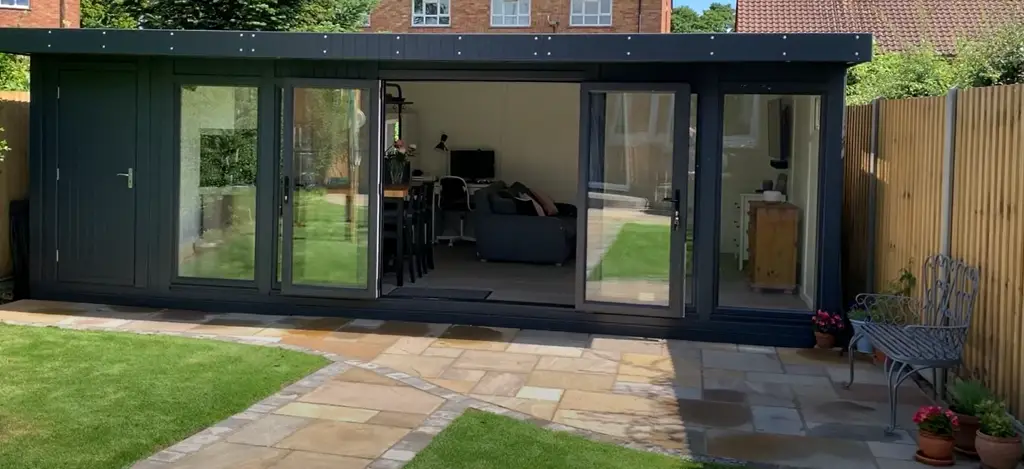 This is a large completely independent garden room designed to be a vacation home, guest house, or Mother-in-law house. It's 7 x 4.2 meters (22.9 x 13.77 feet) and has a full bathroom, lounge, office, and kitchenette plus a dining room. 
13. Bright Garden Room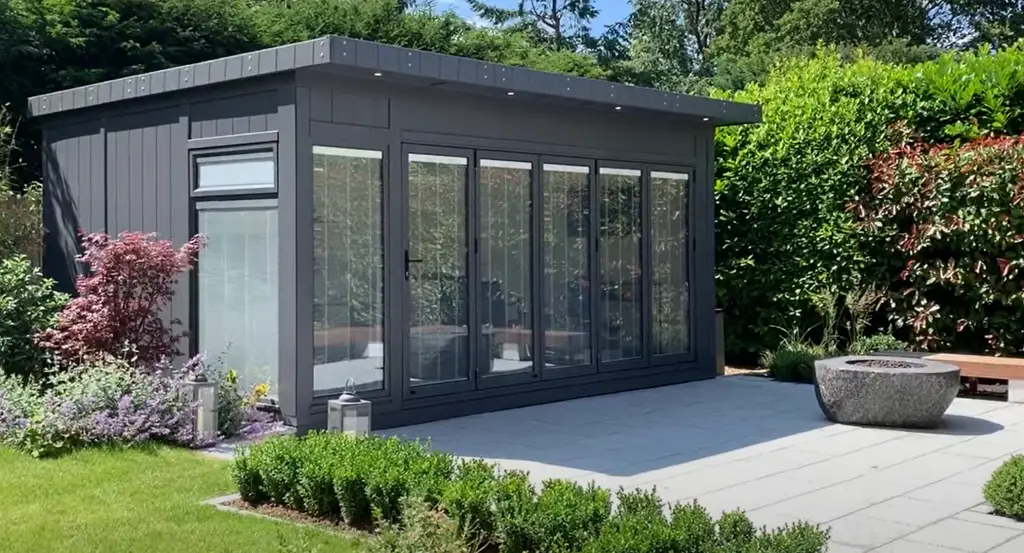 We love all the windows in this garden room. It's 5.5 x 3.7 meters (18 x 12.1 feet) and has a wide open space inside. With a kitchenette and bathroom this space can fit a large desk for a great garden office or use it for a studio or she-shed.  
14. Vaulted Elegant Garden Room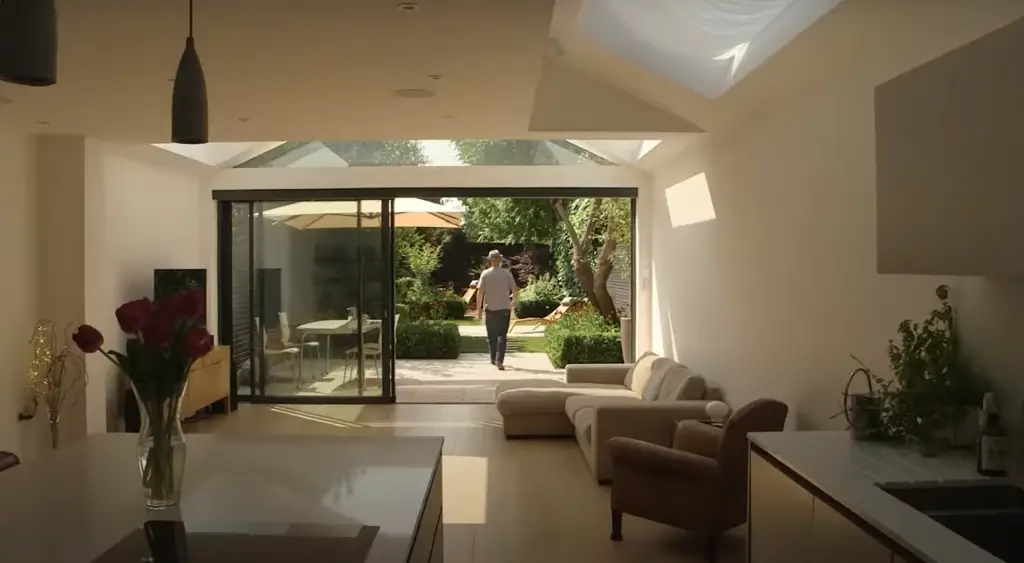 This is an elegant garden room with a contemporary flair. The vaulted ceilings give it a wide open design which makes it feel very spacious and large. There's plenty of space for guest, entertaining, and anything else you need a garden room for.
15. Attached Garden Room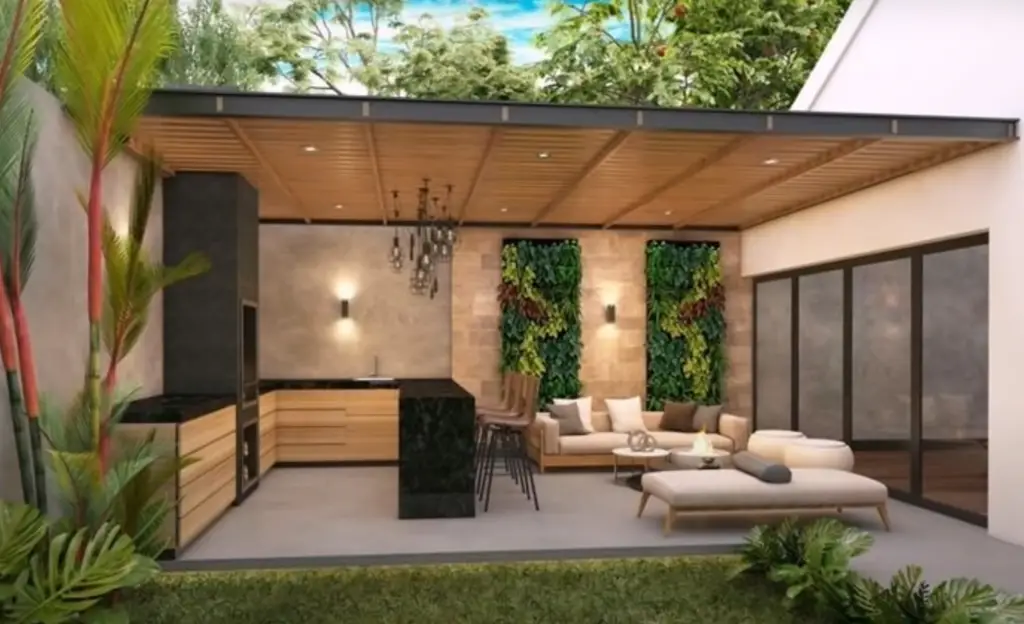 This design is attached to the main house instead of being totally separate. We love that you can cook and lounge while having your toes in the grass. It's indoor/outdoor design makes it perfect for homes with good weather most of the year. 
16. Glass Garden Room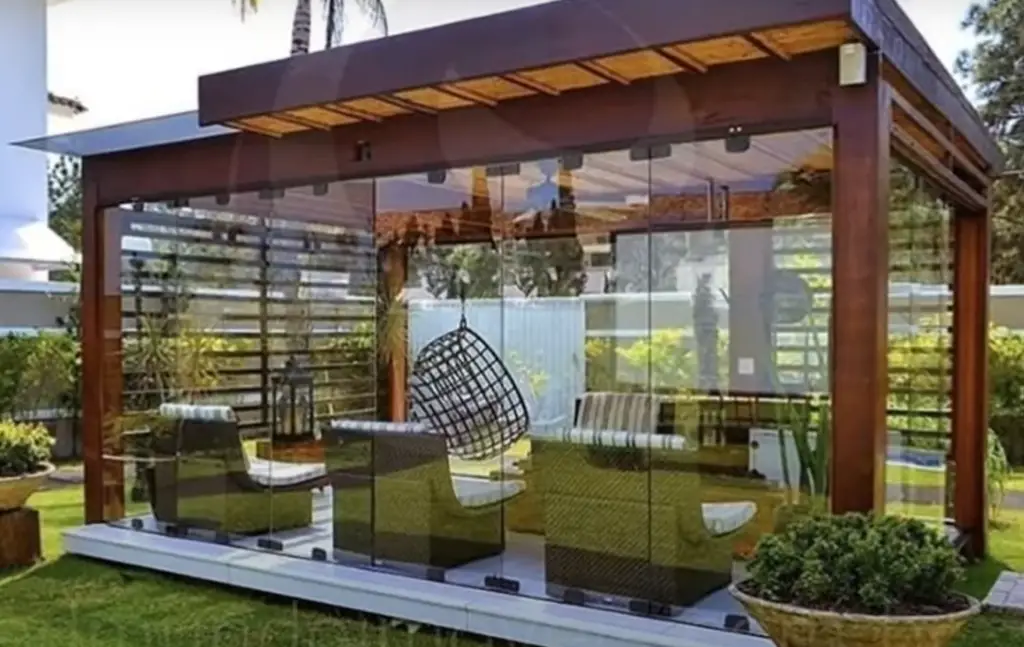 If you don't mind cleaning windows, this light and bright garden room is the perfect place to be inspired or just relax.  We love the hanging chair and ample seating without the need for TV.
17. Garden Room Fortress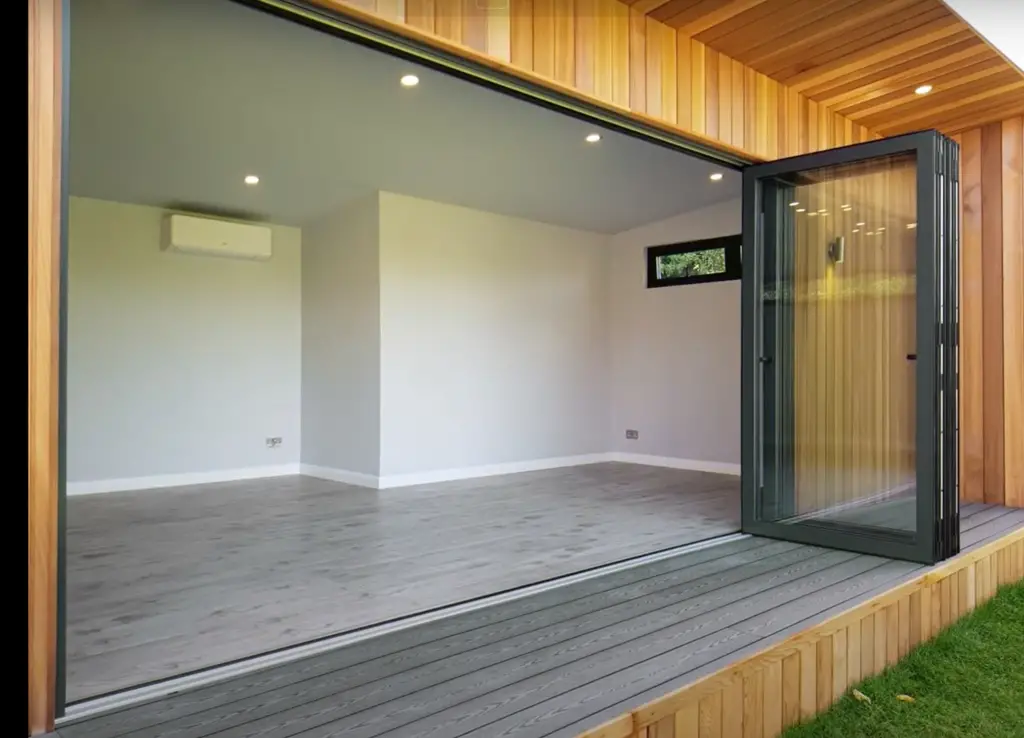 This is called the garden fortress for its fortified aesthetic. It's a 10 x 5 meter (32.8 x 16.4 foot) garden room with wood cladding and black aluminum accordion doors.  
18. Double Sliding Glass Garden Room
This garden room has light wood and white and gray trim. We love the double aluminum sliding glass doors instead of accordion doors, for a change. With ample seating and an elevated veranda, this design is perfect for entertaining.
19. Astro Roof Garden Room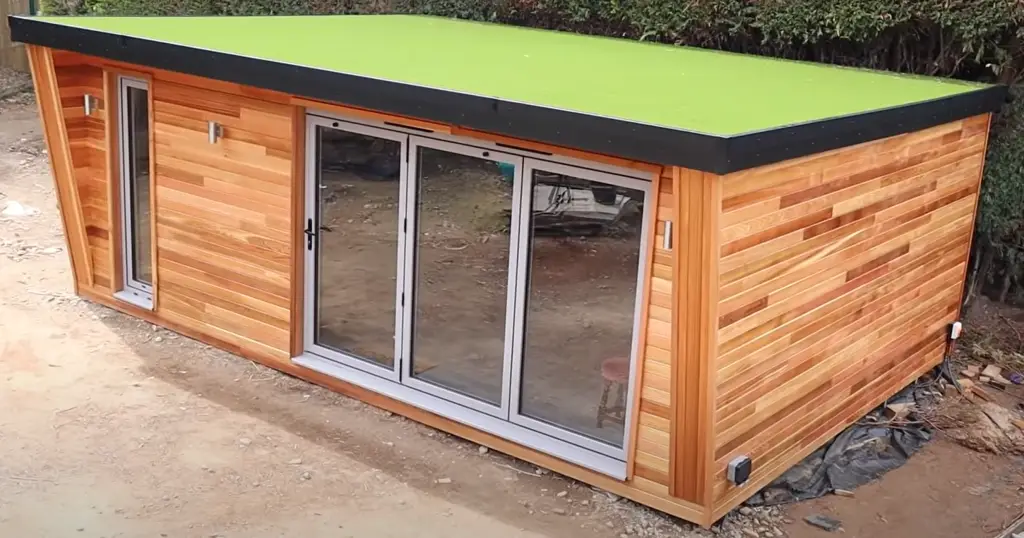 The owners of this garden room decided to add artificial turf to the roof.  This is used instead of grass, or a green roof, because it's neat and clean, doesn't overgrow, won't cause problems for your roof, plus, it looks cool. Astro turf can cut down on AC usage and help keep your garden room cool. 
20. Succulent Green Roof Garden Room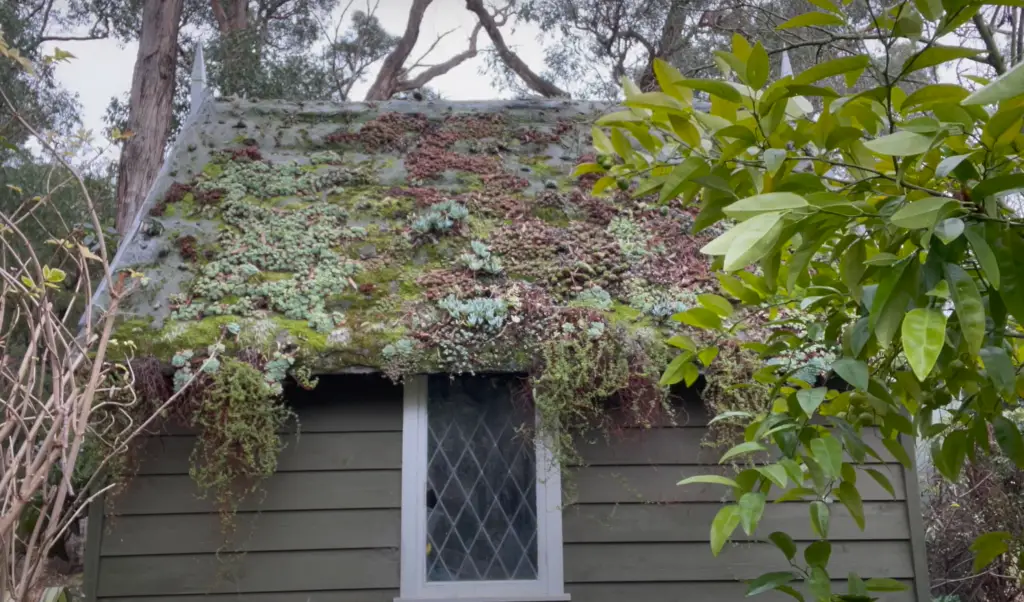 This amazing garden room uses succulents instead of sod for a green roof. It looks cool and you get natural moss and lichen growth. Once the green roof is established, maintenance is low, except for the occasional weeding or watering. Succulents make a nice green roof and add an element of nature to any garden room.
Final Thoughts
These 20 garden room ideas are meant to inspire you and help you brainstorm ways to improve your backyard garden. Find out more if you're ready to learn how to get started in building a backyard office.