There has never been a better time to build a backyard office. Escaping the noise and distractions of working from a home office makes a productive worker. But, before you get started on building a backyard office, you need to know the differences in materials and costs for each type. And once you've decided on which backyard office to build, see how to get it built in 9 steps.
How to Build a Backyard Office
Before building a backyard office from scratch, there are essential elements that you must be aware of. 
To build a backyard office, start with getting a planning permit, if needed. Then clear the location, lay the foundation, and install the subfloor and joist. Next, put up walls and install the roof. Then, install insulation, windows, and doors, and paint or stain your new backyard office.
Some States don't require a planning permission if certain criteria are met. Find out if you need a planning permit.
Foundation
The type of foundation you choose will also be determined by the conditions in the area in which you live. The most recommended type of foundation is gravel/crushed rock. You can also go with concrete slabs, poured footers, wooden foundations, etc. Choose one that is appropriate for your building and requires little site preparation.
Electrical System
It's important to consider how the electrical system will be installed. Unless you are an electrician, don't try this on your own. Plus, if your county requires a planning permit, they're going to want to see that this was done by a licensed electrician.
Plumbing
If you decide to have bathroom facilities in your backyard office, then it's important to figure out how to install this. Like electricity, it's best to hire this out and your county may require it for planning permission.
Interior
It's important to have a clear picture of how you intend the interior of your backyard office to look like. An office space should have lots of natural light to increase productivity and overall satisfaction. Paint it with bright colors and choose a light floor.
Planning Permission And Building Regulations
You will have to look at the standards in your local area for building backyard offices and apply for a permit. Not all States and counties require a permit, especially if your shed is going to be less than 200 square feet and be off grid without electricity or plumbing. Find out if you need to get planning permission.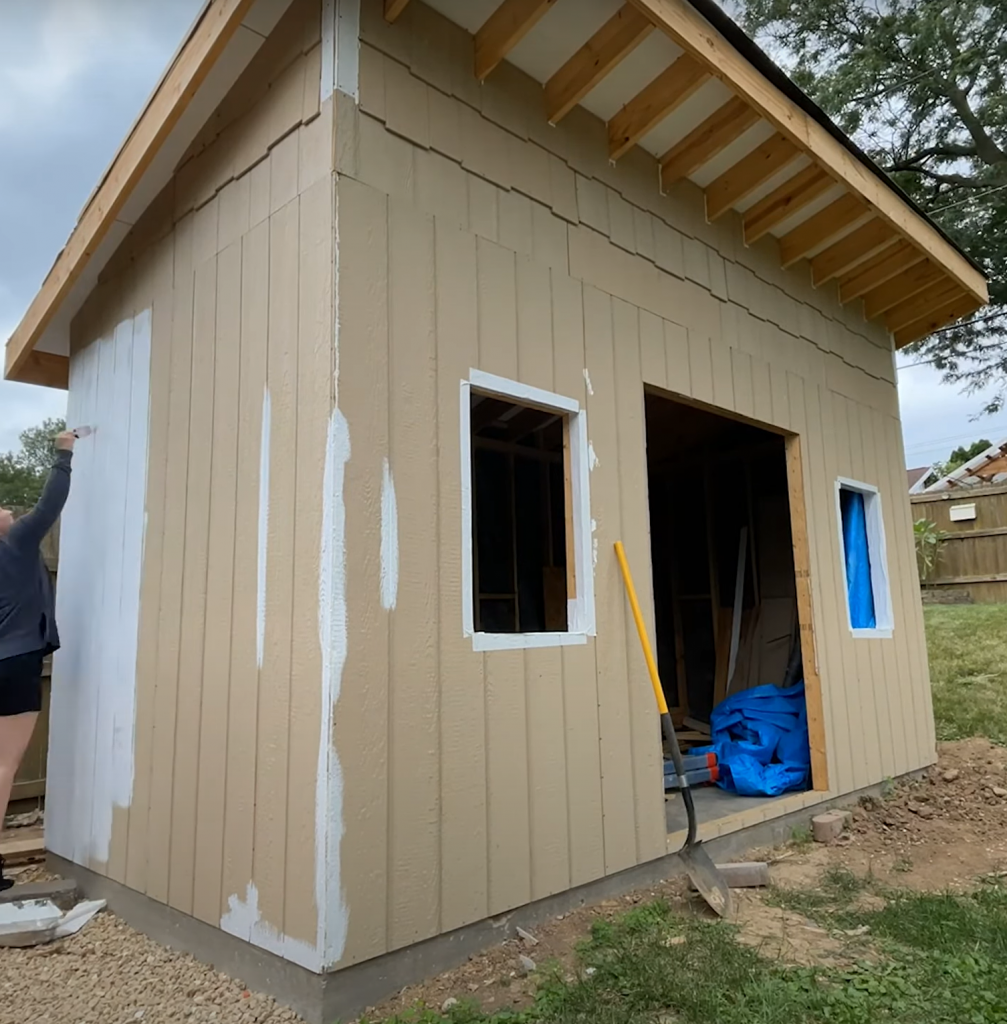 9 Steps to Build A Backyard Office
Get the necessary permits from your local area.
Choose the site where you intend to build your backyard office. Clear the area so that you can lay the foundation.
Lay the foundation. The process of laying the foundation of your backyard office will vary depending on the type of foundation you choose. If you are unsure, enlist the help of a building contractor. The foundation should match the desired size of your backyard office. Use 4 concrete blocks that sit on the concrete footplates as support to the frame of the structure. These are features that you can fill in for the joists of the frame.
Install the subfloor and joist- Place the joist and proceed to install your backyard office's flooring in a horizontal direction from that of the joists.
Construct the walls of your backyard office. The procedure for this will depend on the material you are using for construction be it wood, metal, vinyl, or bricks. Use cross beams to support your walls. Make sure you leave room for the windows and the doors.
Install the roof. Once the walls are in place, the next step is to put up the roof.
Install appropriate insulation in the foundation and then proceed to lay the floor. After you insulate the foundation, insulate the walls as well. Cover the insulation on the walls with wooden boards.
Put up the windows and nail them into place securely. Do the same for the door. You could simply screw the door into the building frame.
After this paint your backyard office however you like. Be creative.
And with that, you will be done constructing your backyard office. This is just an overall guide on the process of constructing your backyard office. We recommend getting in touch with a professional building contractor to get things right.
How Much Does It Cost to Build a Backyard Office?
The first question that interested parties ask when it comes to acquiring backyard offices is how much will it cost me? This is quite understandable. So are you one such person who has decided to take the plunge and build a backyard office but is unsure of how much it will cost? Worry not!
In this article, we will do our level best to give you an idea of how much of a dent building a backyard office is going to leave on your wallet. So buckle up and pay close attention!
In most instances, the cost of building a backyard office will depend on several factors. These are:
The size of the backyard office- The bigger the office, the more it is going to cost you.
The materials that are used.
The labor involved.
The construction methods.
All in all, with these factors in consideration, it will probably cost you anywhere around $3,000-$7,500 to build a backyard office. This is not that much when compared to purchasing a ready-made backyard office which can cost as much as $10,000.
Building a backyard office is actually not the same as building a house or any other building for that matter. The techniques and building principles differ, and also the quality of finishes will be different. For a backyard office, the foundations and floor slabs don't have to be as heavy as those of a house. You also don't need large windows and fancy ventilation in the backyard office. At times, plumbing is also not necessary.
The truth is that there are 4 different types of backyard offices and the cost of building each is different. They include:
Metal/Steel- This is the cheapest option with a price range of around $2,500-$6,000.
Wooden/Timber- These can cost anywhere around $3,000-$7,500 to build.
Vinyl- They have a similar build to wooden offices, with the only difference being the finishes. They can cost around $3,000-$8,500 to build.
Brick- The cost of building a brick backyard office will be around $3,500-$6,500.
Note that these are all cost estimates for a 10X10 ft. backyard office.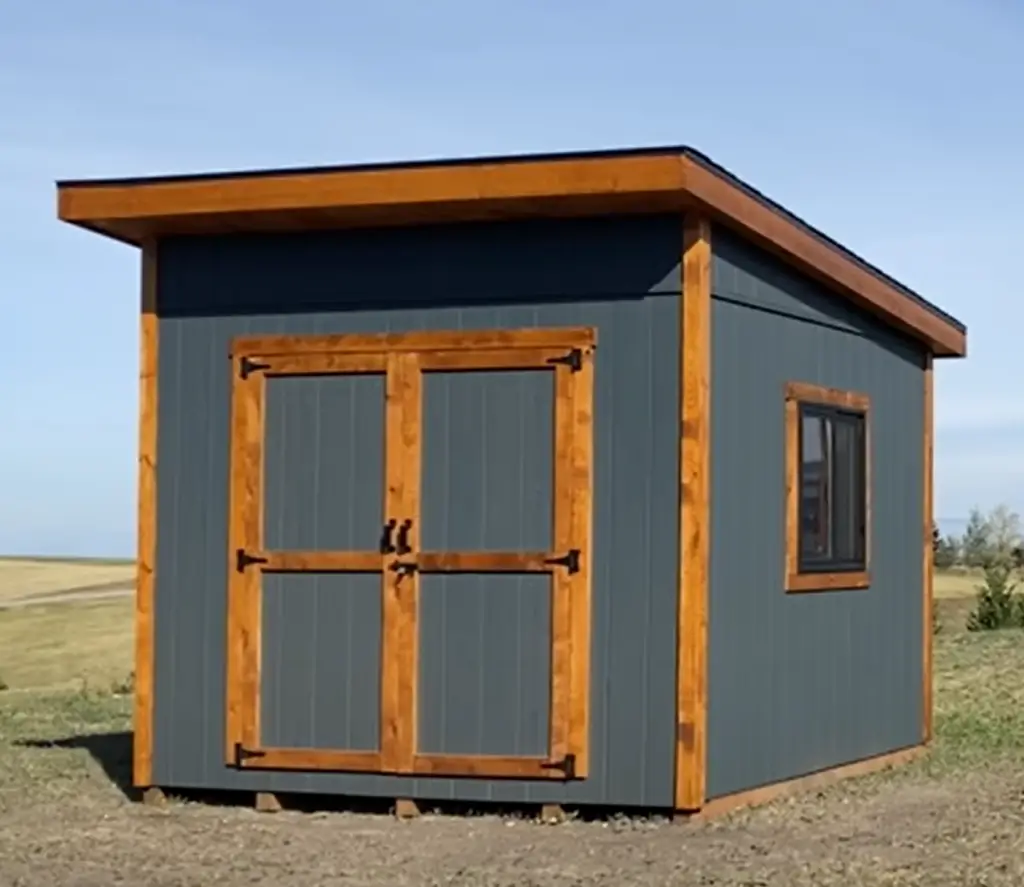 Cost estimates for Each Type of Backyard Office
Wood
Wooden backyard offices are the most popular and common types. This is because wood is easy to acquire, looks great, and naturally blends with the outdoors. What most people don't know however is that wooden structures require regular maintenance because if the wood is left unmaintained, it will rot and spoil.  So if this is your choice you may have to factor in maintenance costs.
The material costs will be as follows (approximately):
Floor joists- $17-$200
Floor boards/Plywood- $200-$400
Rafters- $250-$500
Wall siding- Hardwood ($80-$350), Cedar ($250-$700), Pine ($250-$375)
The total cost of materials will be approximately $1,325-$3,100.
You may also have to include labor costs if you can't do the work yourself. Hiring a professional handyman or contractor can cost you anywhere around $2,600-$3,900. A carpenter will cost you from $1,000-$2,500.
Metal
Metal or steel backyard offices come in a variety of forms. Thin sheeting, corrugated sheeting, or even steel poles can be used to build a backyard office. If you want a sturdy, durable, and long-lasting structure, then this is the right choice for you. They are also the cheapest option.
The steel needs to be galvanized for maximum durability because it can rust over time. They are fairly light which means that if you live in a windy area you will require a heavier foundation.
The material costs will be:
Floor joists- $175-$200
Floor boards/Plywood- $200-$400
Wall framing (I-beam and channels) – $800-$1,700.
Wall siding- Thin steel sheets ($350-$550), Corrugated metal sheets ($280-$500)
Roof joists/rafters- $250-$400
The approximate total cost of materials will be $1,705-$3,750.
You will also need to hire professional help. A steelworker or welder will cost around $600-$2,100.
Vinyl
Vinyl backyard offices are a new trend. They consist of a wooden framework and wooden boarding that is covered with vinyl siding. They are maintenance-free and stronger than metal backyard offices. They, however, cost more but they do offer better value for your cash.
The approximate material costs for building a vinyl backyard office are:
Floor joists- $175-$200
Floor boards/Plywood- $200-$400
Wall framing (4 sides)- $700-$2,000
Wall siding- OSB panels ($250-$400), Vinyl siding ($300-$700)
Roof joists/rafters- $250-$500.
The total approximate cost for materials will be around $1,875-$ 4,200.
You may need to get professional help in which case a professional handyman will cost around $2,600-$3,900 and a carpenter will cost $1,000-$1,500.
Brick
Using bricks or concrete blocks to build your backyard office does seem a bit extreme especially if you are in the USA. Brick structures will cost you more than all other types of backyard offices. A large part of this can be attributed to the labor cost you will likely incur. Their advantage is that they have good insulation and are the sturdiest.
The approximate material costs for a brick backyard office are:
Floor joists ($175-$200), Concrete floor slab ($250-$750)
Floor finish- Tiles ($200-$1,000), (Boarding $400-$800), Carpet ($250-$900)
Walls (4 sides) – $1,400-$1,800
Roof joists/rafters- $250-$500.
The total approximate cost for building materials will be around $2,275-$4,250.
You will be forced to hire professional help. A bricklayer will cost around $1,000-$2,000.
Construction of a brick backyard office will take longer.
Additional costs
No matter how hard we may have tried to cover all cost aspects you need to be aware of, there will always be additional costs that you should be mindful of. Some of the items we mention may be generic or only applicable in some instances. They are:
Plumbing– If you plan to have a bathroom and/or running water in your backyard office, plumbing will be an additional cost that you need to be mindful of.
Electricity– This will be a requirement for your backyard office. You will need a licensed electrician. This will be an additional cost, and may also add to your monthly electric bill.
Doors and Windows– Just one door and two windows will be sufficient for your backyard office. The cost will depend on your choice.
Permits– Before erecting your backyard office, you may require a permit. Make sure to look up the building codes and then obtain the necessary permits. The cost of this will vary according to the state you are in.
Foundations– They come in many shapes, materials, and sizes and will affect the cost of your project. The type of foundation will be determined by the type of backyard office you intend on building as well as the conditions where you live. You will therefore need to consider the cost of the foundation that is best for your backyard office.
Roofing– Metal, plastic sheets, and slate tiles are just but a few of the roofing materials you may need. Sheets are the best and cheapest for a backyard office and can cost anywhere around $200-$500.
Building area– All figures and estimates in this article are based on a 10 X 10 ft. backyard office. Depending on your desired size, the cost will go up or down. Going bigger means more materials and labor which equals a higher cost.
Special services– Services such as interior designs and architectural designs as well as landscape design may also be a factor you should consider. They aren't however, necessary.
There is a wide price range for garden offices ranging from a few thousands of dollars for a thrifty self-built structure to well over a hundred thousand dollars or more for a residential-standard tiny house that is fully equipped with all the expected amenities.
Costs Increase with Size
Understandably creating a more expansive space will cost more, especially if you review the cost breakdown we share below. The Kanga Room Systems' Kwik Room, an entry-level product line has a range of price points which are primarily determined by square footage.
For example, here are the prices of Kwik Rooms of various sizes including price per square foot.
| | | |
| --- | --- | --- |
| Kwik Room shell kit dimensions | Starting price ($) | Price per square foot ($) |
| 8′ by 10′ | 7,200 | 90 |
| 10′ by 12′ | 8,500 | 70.83 |
| 12′ by 14′ | 9,500 | 56.54 |
| 12′ by 16′ | 10,600 | 55.20 |
| 14′ by 14′ | 10,600 | 55.20 |
But, as price rises with increasing Kwik Room size, the cost per square foot falls, making the largest Kwik Rooms almost a third less per square foot than their smaller counterparts.
In the UK, the pattern of pricing remains similar. Warwick Buildings' office pod starts at $7851.21 (£6000) for a 10.5′ by 8′ structure ($93 per square foot) but delivers better value per square foot (around $75) with its larger, 12.5′ by 9.8′ pod which costs $9159.75 (£7,000).
This makes examining price per square foot a prudent strategy for ensuring that you get the best value from your workspace build. Going a little larger could be worth it in the long run.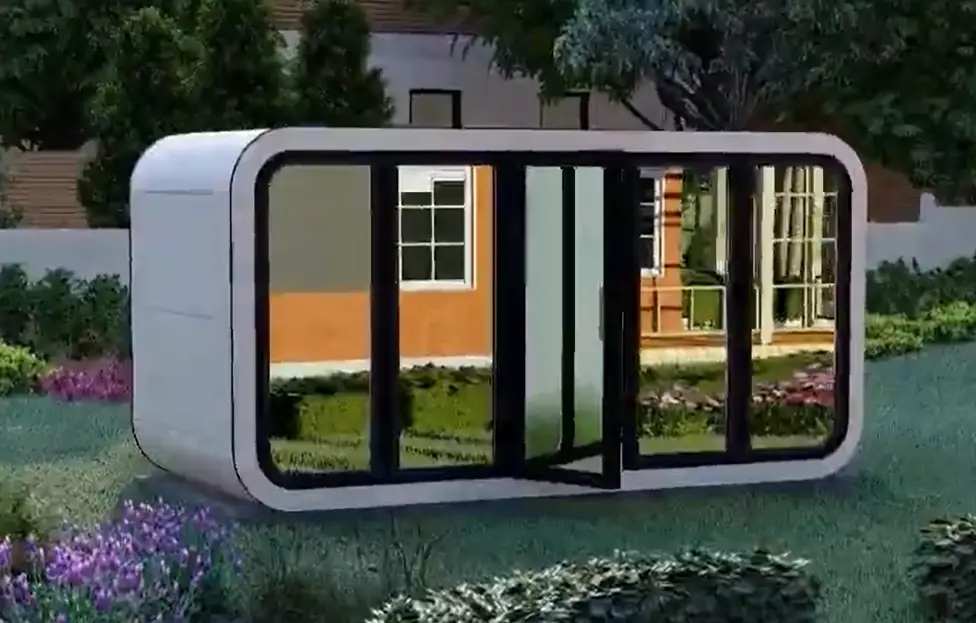 Pre-Fab Backyard Offices
Pre-fabricated garden studios are a fast-growing market due to the popularity of this quick to build, fast-moving product.
These buildings are factory built by experienced carpenters who fabricate flat-packed panels for shipping to your location. Once delivered, you can self-assemble, get a contractor to build, or order a turnkey service as we describe below.
Pre-fabricated backyard workspaces differ from custom builds because you are ordering an office with an off-the-shelf design and specification. There are therefore prescribed limits on the changes that can be made to personalize your structure.
You will usually pay more for purchasing a pre-fab office shed versus a custom build.
For example, a very capable blogger was able to build a remarkable 12′ by 10′ garden home office for just $3500 all in. Taking this as your benchmark let's take a look at what you will be paying for a pre-fab equivalent (same dimensions):
Clearly, if you are able to undertake the construction work and build off a garden office plan, you will make major savings on the cost of an office, leaving much more for equipping it and furnishing it.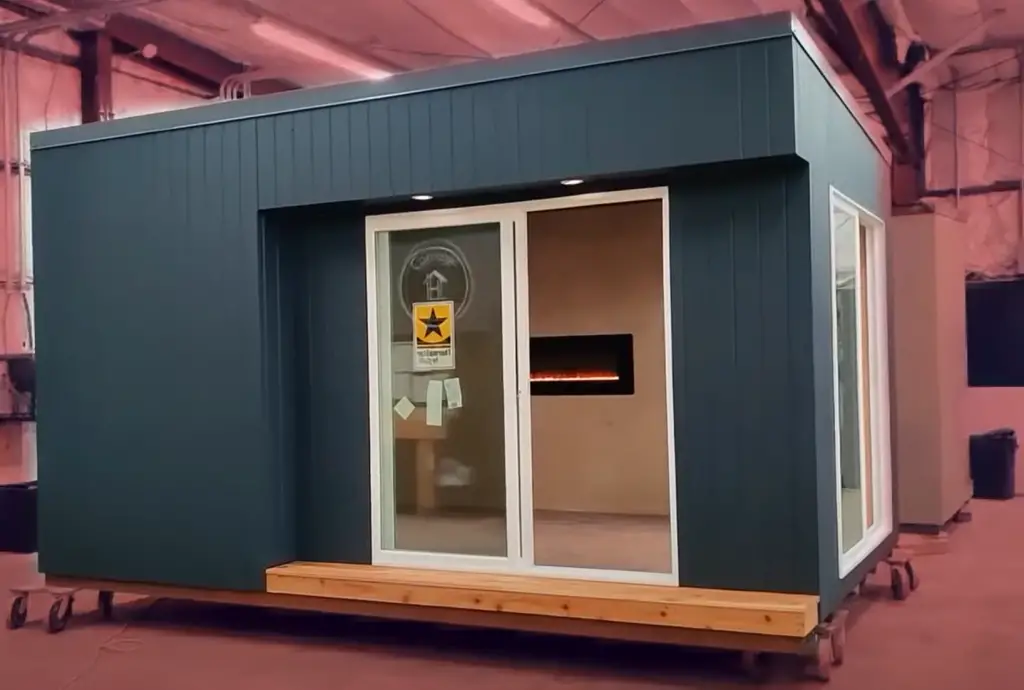 Turn-Key Design and Build Backyard Offices
Turnkey installation of a garden office is by far the luxury option, and when it comes to outlay you can find yourself spending amounts equivalent to the cost of an extension or even a small house!
Many architects and design and build companies have pivoted on the trend for habitable garden structures and offer fully equipped studios and offices connected to your utilities and drainage and ready to move in.
These custom-built workspaces are designed to make the best use of your available space and are kept sympathetic to your locality and regional planning laws. The construction work may also involve laying foundations, insulation, and plastering walls as well as landscaping the area around your office. 
For this type of service expect to pay more, but turnkey projects are incredibly quick and convenient, saving you time, hassle, and allowing you to get working in your office quickly.
Let's look at some prices:
British firm Crown Pavilions are renowned for their residential grade garden offices. They provide an exemplary turnkey service, designing expansive structures that are highly durable and can be used in comfort all year round. Their starting price for a cedar-clad 12′ by 10′ pitched roof office is $25,228 (£19,280)
Los Angeles-based design and build firm Cover have built a strong reputation for themselves with their stylish garden offices which they design and build with amazing attention to detail. Precision fabrication means that everything is sealed with smooth lines and a clean Californian aesthetic. Their end-to-end service starts at $81,000 for a garden office.
In. It Studios in the UK have a unique approach to pricing with a turnkey package that includes custom design and installation from ($1439) £1100 per sq meter. 
So we have seen that multiple factors contribute to the price you will pay for your backyard office.Clearly delivering your garden pod or studio has to be profitable to the company you work with, therefore it will be priced accordingly. Examining what goes into your studio build, especially if self-building or assembling a pre-fab structure, may provide opportunities to save on costs.
Major contributors to the price you pay for a garden office include:
Design
It is important to remember unless you design your shed office yourself, you will be paying in part for the intellectual property of a designer architect. Garden office builders and pre-fab manufacturers will be contributing their expertise to create a hard-wearing structure that will be up to the rigors of day to day use. A custom design will also need to be drafted so that accurate building plans can be provided to building contractors. Most backyard workspaces are carefully designed to not require a planning permit which saves on costs.
Materials
Your choice of materials is a big factor in the quality and durability of the structure you erect. It is important that high-quality materials are used that comply with local building regulations. Many garden offices are timber, steel, or aluminum frames which will affect what can be achieved with the design and the overall costs. Roofing may be metal or asphalt.  High-quality hardwoods like cedar are also expensive, but have incredible longevity and improve the appearance of a  studio with cladding. Hardware like windows and doors is also a large expense, especially if double glazing is used.
Labor
Craftsmen like carpenters and joiners are key members of the workforce that build pre-fab office pods and sheds in a workshop environment for delivery to your backyard. Tradesmen and contractors, provided by the manufacturer or hired locally, can then assemble the cabin office on your property. 
Shipping
As the panels of a pre-fab office are large and heavy they are usually hauled by flatbed trailers. Many companies only deliver within a certain distance of their base and will charge supplementary fees for long-distances or awkward access to your property.
Extras
Companies vary in the precise package of services offered and you will need to carefully research what you are getting for your money to avoid an unexpected last-minute expense. Some of these structures are delivered shell-only and will require weatherproofing, insulation, and interior drywall to be habitable. Foundations may also be a supplementary cost and of course, fittings and features like toilets and showers will add to your final bill. 
Frequently Asked Questions (FAQs)
How Much Will It Cost To Hire a Building Contractor to Build my Garden Office?
You may want to source your own materials, purchase a plan, and see if you can hire a local building contractor to build your workspace.
According to HomeAdvisor.com:
Hiring a building contractor to build a garden office will cost a fee that works out as a percentage of the total project cost which is typically between 10 and 20 percent. Jobs are unlikely to be priced per hour but the rate paid usually works out at $50 to $95 per hour.
If you only need help with specific tasks an alternative may be to hire a handyman to help you out on an hourly basis. Make the effort to do your due diligence for selecting a contractor to build your garden office by obtaining multiple quotes, requesting references, and asking for examples of previously completed work. 
How Do the Costs of a Backyard Workspace Compare to Hiring an Office Space?
If you are self-employed or a freelancer, having a dedicated workspace could save you the costs of hot-desking, using a co-working space, or hiring a small office. Clearly, the capital outlay will be thousands of dollars but how does a 10′ by 12′ garden office compare to hiring office space. 
Hiring desk space with providers like WeWork will cost anything between $250 and $350 per month, meaning a savvy lower budget garden office build will have paid for itself within one to two years. This means that the right workspace is a great investment if you are intent on homeworking long-term.
Can I Get Financing for my Garden Office? 
It is important to do your research and get the appropriate financial advice for financing your build. Most of these structures are not eligible for mortgages so a personal loan is probably the most accessible form of financing for a garden office. Some garden office companies offer finance arrangements. 
Does a Garden Office Have to be a Shed Structure? 
Not at all. All sorts of structures can be repurposed and renovated for office use. Trailers are a popular option for a comfortable backyard workspace. Take a look at the beautiful Airstream trailer conversion over in our article '21 Amazing Backyard Office Ideas'.
Final Thoughts
A backyard office is a shrewd investment if you are serious about homeworking and makes an eye-catching centerpiece to any garden.
Always do your research and speak to plenty of companies about what can be achieved within your space and budget. If you get the opportunity, speaking with the owner of a great backyard workspace you admire can provide you with lots of pointers and recommendations for building your own.
As with all large purchases, a sound and well informed financial plan will pave the way to success and the satisfaction of getting to work in a beautiful backyard workspace of your very own.