Adding cladding the exterior of your garden office or shed helps to maintain its integrity over the years and improves insulation. The cladding definition includes many materials that add an extra coating to a building. This article discusses different types of wood cladding, metal, vinyl, and stone cladding definitions along with an in-depth look at how each may or may not help you protect your shed.
Cladding Definition
The cladding definition includes any extra coating on the exterior of a building. It is used primarily to prevent wind and rain from entering the shed. Sound and thermal insulation plus fire resistance are included in the definition of cladding. It is also used to make the exterior of a building more aesthetically pleasing.
Protection
The choice of material for the outer cladding has a considerable influence on the appearance of the building. A good exterior cladding for a garden office not only protects the building from moisture penetration but is also resistant to insect and fungal attack.
It also has resistance to UV light. Protection against these risks ensures a more durable surface that requires less ongoing maintenance. Some cladding materials have a natural resistance to certain risks. Many materials can be easily treated to protect them.
The exterior cladding will also provide an extra layer to keep noise in and out of your home, reduce wear and tear and there are a number of environmental benefits. Your home will be cooler in summer and warmer in winter. Your electricity consumption will be reduced and your energy bills will drop.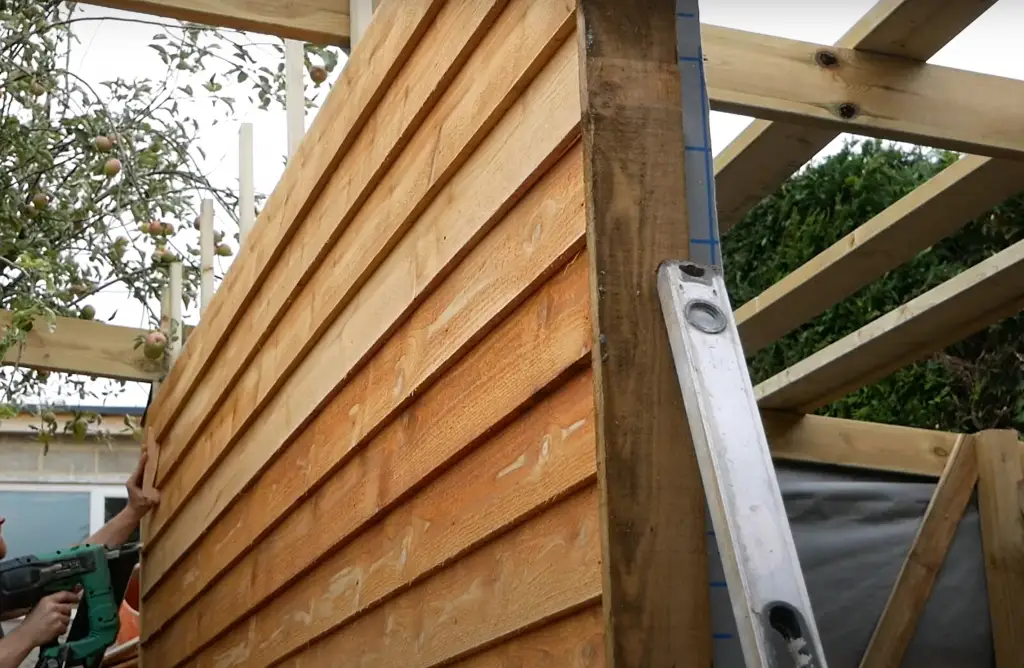 Wood Cladding Definition
Wood cladding is the most popular type of cladding. It offers elegant aesthetics and at the same time is treated with protective coatings to be resistant to rot, fungal, and insect attack. It's definition includes different types of wood.
Treated Softwood Cladding
The wood cladding used in garden offices is fast-growing pine cladding that is honey-colored in its natural state. Pine cladding requires protection against rotting, insect and fungal attack and protection against UV light. As in its natural state, it is not a permanent cladding.
Rot, fungal and insect infestation are a major problem with timber claddings. The best way to treat pine cladding is under factory conditions, where the wood is impregnated with protective agents under high pressure. Some suppliers apply the protective agent with a brush. This is better than nothing, but it does not penetrate the wood, just like preservatives applied under pressure.
Softwood has characteristics of greater thermal conductivity than hardwood. It has greater flexibility in design and is easier to install.
Thermo-wood Cladding
In this case, to preserve the wood, it is heated at very high temperatures. Garden offices clad with thermo-wood are often left without a decorative surface. Many cladded garden offices are painted, which not only repels moisture but also provides a uniform color. Some tend to choose paints that have extended maintenance, with the surface not flaking but biodegrading.
Compared to pre-modified wood, it increases resistance to moisture and biodegradation. During processing, sugars crystallize within the wood structure, which is why fungi and molds cannot grow due to lack of food. The resins evaporate from the wood, so you can rest assured that over time they will not be sticky, hard-to-remove stains.
The most serious drawback is the increased fragility. Therefore, care should be taken when setting up. The use of nails is not recommended, but if we have to use them, they should be sharp and with small heads. The nails should be hit carefully so that they do not hit the wood with a hammer. It is safer to use screws, although you should follow a few recommendations here. For example, the holes for the screws should already be drilled.
Its periodic maintenance should be similar to that of traditional wood. Thermo-wood can be varnished, painted, waxed, and oiled. The use of preparations with a UV filter is recommended. However, thermo-wood does not require chemical impregnation against mold and mildew.
Cedar Cladding
Cedar cladding is by far the most commonly used material when it comes to covering garden offices. The reason for this is that it is a dimensionally stable wood that has a natural resistance to fungal and insect attack and does not require a decorative surface.
Cedarwood initially has a reddish-brown color, but when exposed to light it wears down to a silver tone. While the silver looks beautiful, it will have a dramatically different appearance than the first look. Natural redness can be preserved by applying oil that protects against UV light. This must be applied before the wood is exposed to sunlight. So, if you care about preserving the original color, you should think about doing so.
Cedar is a softwood but has all the characteristics of hardwood. When cared for, it has a natural resistance to moisture and decay. It is also less susceptible to movement or shrinkage caused by temperature changes. Cedar can withstand low and high temperatures, retaining all its aesthetic and quality indicators. It is resistant to rot, which means that antiseptic treatment is not applied.
Cedar will not bend or sag even if left outside for an extended period of time during the year. The lifespan of cedar is 100 years.
Siberian Larch Cladding
Siberian Larch has natural durability that makes it an excellent garden office cladding. It is also resistant to insect and fungal attack. If left untreated, it also wears down to a silver color.
It also produces natural oils that make the wood resistant to rot and moisture during maintenance. The material costs for cladding can rise and fall depending on supply and demand on the market. Siberian Larch is usually a cheaper alternative for cedar.
The advantages of Siberian larch stem from its slow growth, due to the extremely demanding conditions in which it grows. These demanding conditions result in extremely densely grown trees and heavy resin-soaked wood. Its dense growth provides high stability, and the resin in wood is resistant to pests and rot.
Composite Woods
Composite wood is made from a mixture of real wood fibers and resins, which results in a tough, dimensionally stable product. Like the cement boards. In composite wood cladding, the color pigment is added during production. The boards retain their color and do not need to be repainted.
Composite cladding is a low-maintenance product for exterior cladding, often made from sawdust, wood waste, and other products. It is manufactured to imitate the aesthetics of real wood. It is also normally less susceptible to water, debris, and weathering.
Composite cladding is durable, lightweight, low maintenance, and cost-effective. It is resistant to moisture, insects, and fire. It also does not expand or contract. There is little detail on the return on investment over the product's lifespan, and promises vary.
Composite wood is fire-resistant and for superior home protection, can be combined with highly efficient insulation and moisture barriers. Although, during installation, synthetic materials can release fine dust particles into the air that can irritate the lungs. Also, these materials are not biodegradable.
High-Pressure Laminate
High-Pressure Laminate is a composite made of 70% wood fiber and 30% resin. High-pressure laminate cladding offers exceptional longevity when used as exterior cladding. As they are very easy to clean, it provides hassle-free maintenance. With just a sponge or damp rag, high-pressure laminate cladding can quickly be wiped clean.
Another factor to consider when choosing a cladding material is the ease of installation. High-pressure laminate cladding, used in both exterior and interior spaces, saves both money and time as it is very easy to install. It needs no routine maintenance and it's not going to fade.
Metal Cladding Definition
Choosing metal cladding means that you are choosing the most durable option. Some companies that use it offer a 25-year maintenance-free warranty. The metal cladding usually consists of smooth steel sheets that are painted in color. Low maintenance and durability are the major advantages of this exterior cladding choice.
Metal cladding will last for decades after it is mounted. It is not harmed by snow or rain, it does not have a place for the growth of mold or fungi. In turn, metal cladding is insect-proof, so you won't have to waste money cleaning the siding to keep the insects away, as with wood. Finally, in the rare event of a fire, metal cladding is fireproof and can help to secure your house.
The cladding of aluminum, zinc, copper, or Corten steel has a sleek appearance and can be designed to follow curved exteriors. It comes in big, smaller, and easy-to-handle sheets. As well as powder paint, finishes may be polished, sandblasted, or mirrored. The most popular metal cladding options are steel and aluminum.
Steel Cladding
Steel is one of the most affordable metal cladding in terms of upfront costs and offers a good life expectancy of over 35 years. It is available in a wide range of colors and effects, from high-gloss reflective surfaces to any factory painted color.
Corrugated steel is also a steel cladding option. Corrugated steel requires minimal maintenance to look good. It is often mixed with a wood cladding, but it can also be used alone for the entire building. Its corrosion resistance is very strong, so it works effectively against moist air, water, air, and other corrosive materials.
If you want the best resistance to sound and temperature, it is best to choose a thick steel cladding. Steel on its own is not normally insulative, but the value is that during building, steel cladding can be insulated very quickly and inexpensively. Steel cladding can work well if you live in an area where temperature fluctuations or very influential seasonal changes occur.
Shipping containers are a great alternative to traditional sheds and come with metal cladding already. They're durable, large, and can be purchased and converted for less than the cost of most shed conversions.
Aluminum Cladding
The aluminum cladding looks high quality and exclusive, while at the same time providing protection from environmental and weather influences. Aluminum reliably protects against moisture and condensation and is not sensitive to weathering and air pollution. In addition, it is very easy to maintain. Aluminum profiles are particularly strong and robust due to the construction with supports.
Aluminum linings belong to the category of the most reliable, durable products. Aluminum is able to withstand excessive humidity, resists temperature changes, scratches, shocks, and other mechanical impacts.
When the surface of aluminum oxidizes, a hard, dense protective layer is formed that prevents corrosion and gives this cladding a life of 40 years or more. Coatings can be added to further enhance the natural properties of aluminum or to achieve the color and surface finish you desire.
Resistant to storms and breakage, robust, long-lasting, aluminum defies all weather conditions and protects itself against corrosion. Another reason people choose aluminum is that it can be up to 100% recycled.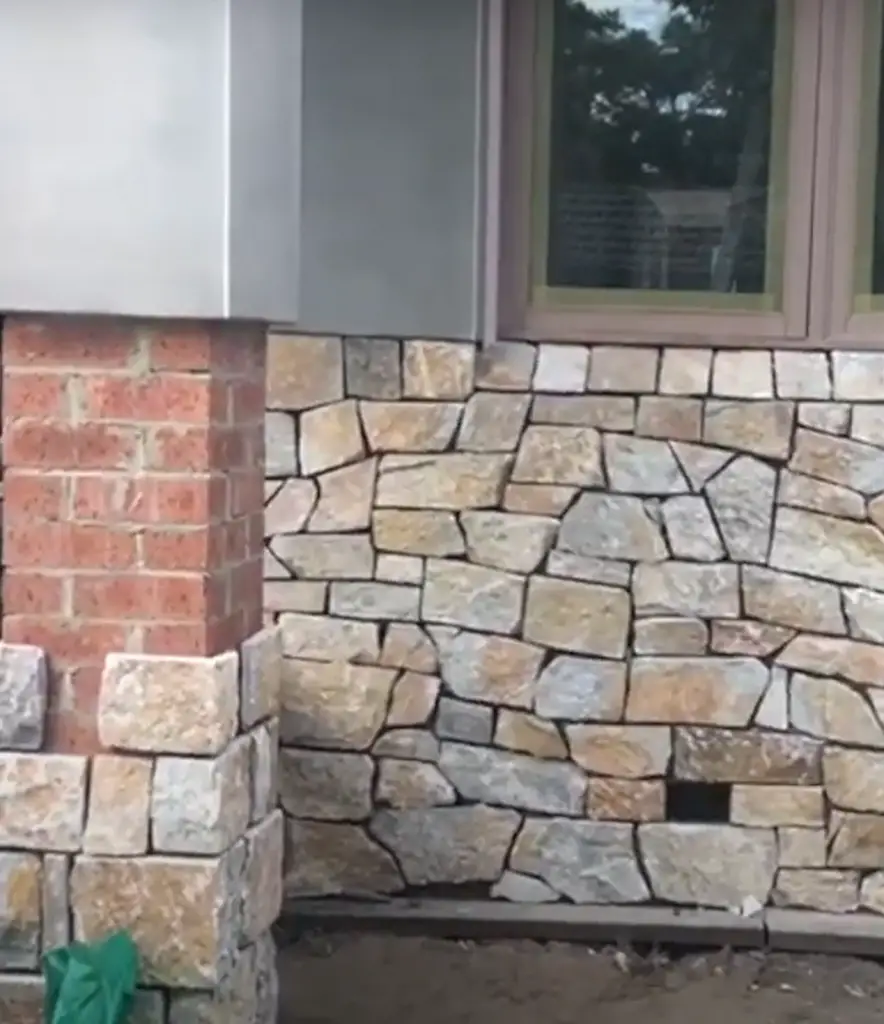 Stone Cladding Definition
When exposed to the elements, real stone cladding is produced naturally and extremely durable. Stone gives an authentic look to a home, does not fade, and lasts for decades, under proper care.
It is also heat, pest, and mold resistant, and can be recycled at the time of disposal. Stone cladding, however, is much more costly than alternate cladding forms.
Brick Wall Cladding
If used properly, brick can give any space a unique, imperfect impression and an original look. One of the advantages of brick is its versatility – it will fit many styles perfectly. They usually require minimal or no care to shine in full splendor.
These materials are made even more economical by the fact that they can last for decades if properly maintained. Extremely hard, durable, and resistant to impact damage, brick can save you the cost and need that you need to tear down and replace cladding every few years.
Bricks are fire-resistant, thermally efficient, durable, weatherproof, low-maintenance, non-toxic, and offer excellent sound insulation. Bricks are also sustainable and are usually recycled, reused, or crushed to make new bricks.
The biggest environmental disadvantage of brick cladding is the enormous energy costs required to produce the bricks. As bricks are fired in kilns, huge amounts of energy are used to produce them.
Decorative Stone Cladding
Stone cladding serves as a decoration which, with its characteristics of natural material, contributes to improving the appearance. Installation of decorative stone is quick and easy because in many cases it does not require grouting. The mosaic panels were calibrated and attached to the grid.
The panels are laid in the same way as in the case of ceramic tiles. It is recommended to use high-quality ceramic adhesives for external surfaces because these adhesives are more elastic and flexible. This coating does not require special maintenance.
Installation can be time-consuming and labor-intensive. Stone is also a more costly material than some other materials for cladding. It has to be sealed for protection, and if improperly placed, it collects moisture behind the cement, which could then weaken the stone.
Vinyl Cladding Definition
Vinyl cladding has an incredibly long lifetime, regularly lasting for more than 50 years with no maintenance required. It is also one of the least costly exterior cladding options. In comparison, vinyl siding supposedly uses less than half of the generated electricity and gasoline than brick siding.
About any other cladding material other than vinyl is painted with a film of paint. What is special about vinyl cladding is that the color is baked-in. The coloring of the vinyl siding is 100% homogeneous: the color on top flows all the way around. This means the paint will not be abraded, rubbed out, or taken off mechanically.
The slippery surface of vinyl ensures that when sprayed with a garden hose, dust, cobwebs, and other debris slip off reasonably quickly. You will never have to scrub, patch, prime, and paint the outer surface of the building because there is no paint to remove.
However, vinyl has equal downsides. Manufacturers frequently advertise that it lasts around 20 to 30 years for high-quality cladding. However, the cladding might actually begin to reveal its age after just 10 to 15 years, depending on your environment. In sunny climates, vinyl cladding, mostly dark siding, begins to fade. As the paint is likely to chip and crack in a short period, painting is a bad choice for reviving the pigment.
Cost of Cladding
Your budget is one of the factors that will affect the materials you can pick. Bear in mind that depending on the intricacies of a project, material costs will vary greatly. Many suppliers can only deal with trade directly, which means you need to hire a construction company or architect for the type of cladding you want.
Depending on the material you choose, exterior cladding is generally fixed to a wall through timber battens or a steel frame (which is directly attached to the structural walls). Cladding or rendering can also help to boost the insulation of your home; rendering appears to be the less expensive choice.
There could be a certain type of screen for some cladding options, which is a breathable waterproof device that lets water drain away, minimizing the chances of built-up condensation.
Also, the entire garden office does not always need to be clad, often it will still be sufficient to treat either the upper or lower half of a property and paint the rest.
Final Thoughts
The definition of cladding is broad and includes many materials that cover the exterior of a garden shed or house. Each material has it's risks and benefits. The cost varies depending on which one you choose and how much of it you need. You can install cladding yourself as a DIY project or hire a professional.