Learn how to build a shed without planning permission and save the time and hassle of applying for a permit. Depending on the State and county you live in, there are ways to avoid getting a permit to build a shed. But it's risky, so be sure to follow the rules of your county or you may be fined and asked to remove your shed because they consider it a safety hazard.
You can build a shed without planning permission in most States and counties as long as it does not require new electricity or plumbing, is 1 story, and does not exceed the square footage requirements. Certain States require a permit for all new sheds no matter the size.
Each State and county is different, so check what your county's requirements are and keep your shed below that requirement to avoid penalties.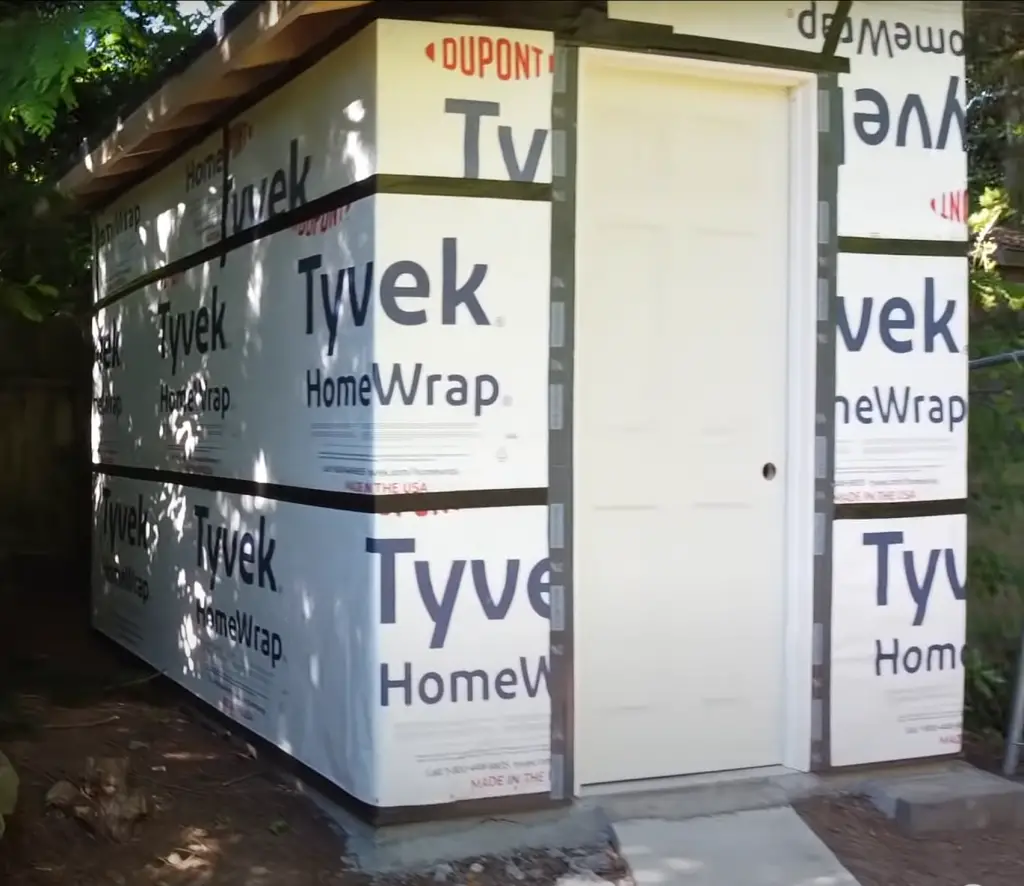 How Big Can I Build A Shed Without Planning Permission?
A shed can be built up to 1 story high and 150 or 200 square feet or less without planning permission. Some States and counties require planning permission for all new sheds no matter the size.
Certain States require permits for any shed, no matter what, like Alabama and certain counties in Florida. This is usually because you live in a hurricane or flood zone. If a shed is built improperly and it takes flight during a storm and smashes into your neighbors house, then you've put someone else in danger. On the same token, you know that your neighbors can't put potentially damaging sheds in their yard that might hurt you.
In the UK, your shed will have to be a maximum of 8 feet (2.5m) and they have to be a single story. When you consider the floor and roof insulation that your garden office will have to have, 8 feet may not seem tall enough.
How High Can You Build A Shed Without Planning Permission?
You can not build a shed higher than 1 story, or 14 feet, without planning permission in most States. Since each State has different requirements, it's important to know the individual guidelines for each county.
In the UK, a shed can't be taller than 8 feet without needing planning permission. It also needs to be 6 feet from your garden fence or boundary.
Electrical and Plumbing
Some types of sheds need electricity and plumbing. If you're going to use it as an office, gym, or as an extra room for guests, then you're going to want it fully outfitted.
Installing electricity or plumbing requires a permit in every State and the also require that a licensed professional to does the work.
Electrical
The electrical connection between your office and your house should be underground in a trench. It should be buried about 500-750mm deep.
You will have to cover the trench with some hazard tape and fill it with stone and earth. The hazard tape and the stones will warn anyone who will be digging in the future that there is electricity buried there. 
If you want to save some money or time, you can run armored cables around your home, for example, pin them to your fence. This solution isn't really recommended, especially if you have small children or animals. 
Plumbing
If you're going to have a toilet or a small kitchen in your garden office, you will have to think about how the water will get to and from your office.
If you're lucky, you'll be able to fit a small sink or a toiler into the mains water supply and sewerage system. But when it comes to waste, you might have to have your pumps fitted in. This depends on how far the waste has to travel. You should keep in mind that getting pumps is an additional cost.
A good alternative to this is an eco-toilet or a compost toilet. It doesn't require plumbing and new models don't smell and are easy to install.
UK Requirements For Garden Office
In the UK, a Listed building or National Park requires planning permission regardless of the height and location of your garden office. 
Whether you'll need to apply for planning permission depends on what you'll use your office for. If you're going to use it to just work online from home, you don't need to apply for planning permission.
You might also need planning permission if you're going to have plumbing in your garden office.
The planning department won't consider your neighbors' complaint if your office building is well designed, built with quality materials, is in a good location, is the right size for your garden, and if the work you'll be doing in your office will be quiet and unobtrusive. 
In case you want to build a big office right next to your neighbor's house, or if you will have a noisy business with many visitors, the planning department would take your neighbor's complaint into consideration.
That is why you should consider the impact you'll have on your neighborhood when planning a garden office. It would be a good idea to show and explain to your neighbors what you'll be doing, so you answer any questions they might have.  
Keep in mind that most local councils have a design code that states exactly what kind of development they want to encourage in their area. You can run into problems if you hire unqualified designers and builders who don't understand what is acceptable in terms of planning.
To successfully design your office building, you will need an architect's input. The architect will help you find the perfect design for what is acceptable in your area and you won't have to worry about not getting the planning permission.
Timing
Keep in mind that it will take about 2 months to process your planning application.
During these 2 months, you will be required to plan fixtures and fittings and think about what you might want to do with the rest of the garden once you build your office. If you need a short term solution for your workspace, building a garden office might not be the best solution for you. 
Some people think that whether they get planning permission or not depends only on luck. That is far from the truth. Whether or not you get your planning permission depends on how well your garden office is designed, what materials you've chosen, and how well you understand planning legislation. 
Many people find applying for planning permission off-putting because they don't want to deal with the council and all the paperwork. You should keep in mind that it's better that you get involved with the council and get your permission as soon as possible than to have to get involved with the council once someone complains. 
Final Thoughts
Building a shed without planning permission is possible if you live in a State or county that doesn't require it for all sheds and you keep your shed build within their requirements. If you are installing electrical or plumbing a permit is most likely required by your State. In the UK, the requirements for planning permission more straightforward.