A shed awning isn't just aesthetically pleasing, it's also a great way to add value and functionality to your shed. It can be added to the door, window, or side of the shed to protect it from the elements. There are many types of awnings you can buy or you can build one yourself.  
This article hopes to inspire you with the best awning ideas for your shed.     
What Is An Awning On A Shed?
A shed awning is a secondary exterior overhang which adds protection from the elements, style, functionality, and beauty to the entry door and windows of a shed. Often in a 45 degree concave across the front with ends at a steep angle creating a broad face across the top of the awning.  Curved, round, straight, standing seam, and oval are popular shapes.  
12 Shed Awning Ideas
Shed awnings are made of wood or metal and you can either buy them prefab or do it yourself. They range from easy to hard to build. Wood awnings can be paired with a metal roof for a modern rustic look. Copper is a beautiful choice and is very durable. It adds an elegant aesthetic to your shed. With so many options, you don't have to just go for the standard wooden shed awning.
Cedar Wood With Metal Roof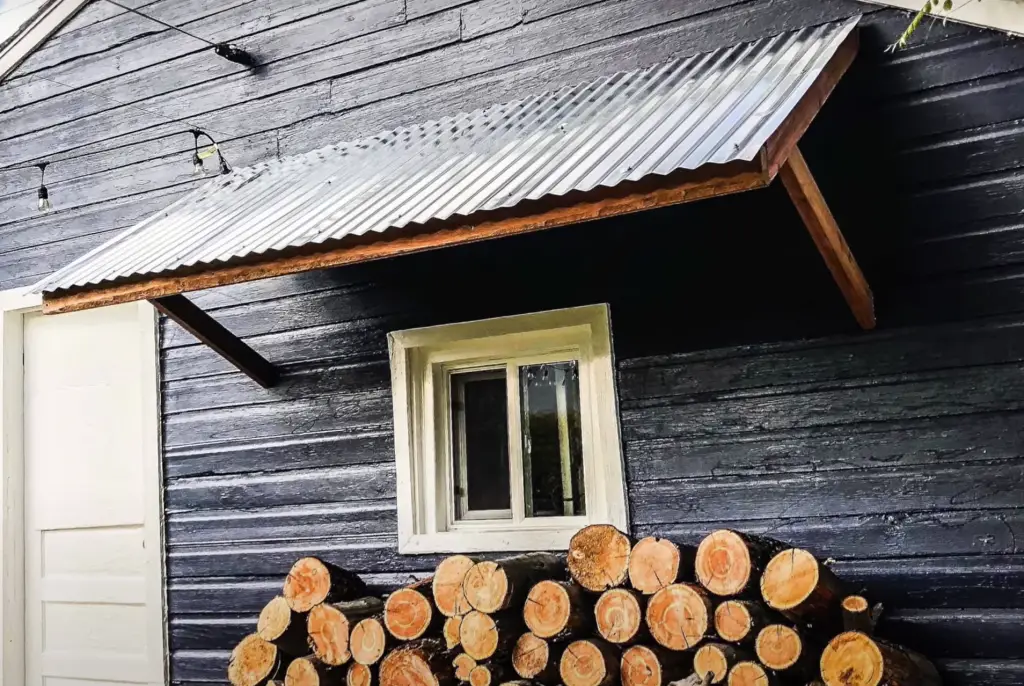 Stained cedar wood with a painted corrugated roof makes a rustic but polished shed awning. On the side of the shed, this awning covers not only the window, but firewood or anything you need to store as well.
Simple Plastic Shed Awning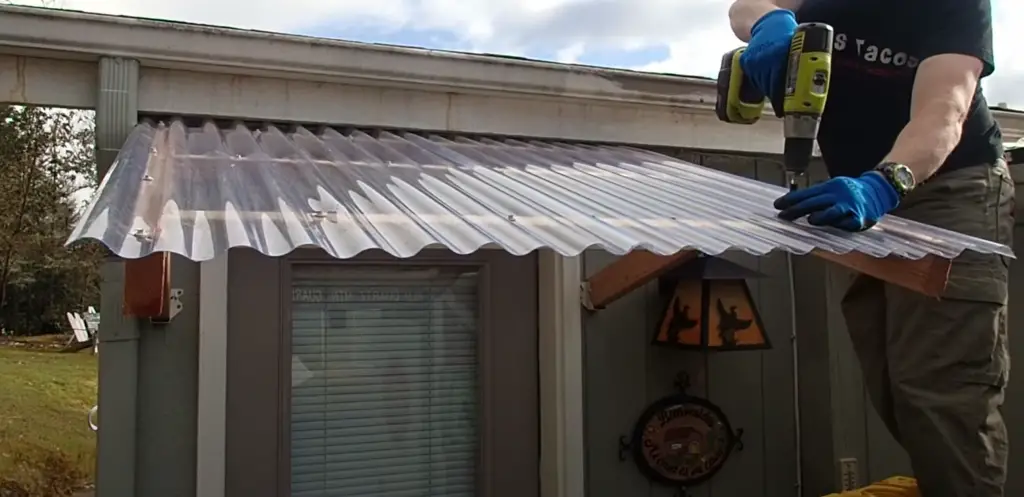 This simple metal shed awning is a classic design that's all about function. It's easy to DIY for most skill levels. The structure has four 2 x 4's cut at a 15 degree angle, metal brackets, a wooden frame and plastic roof.
Simple Wooden Shed Awning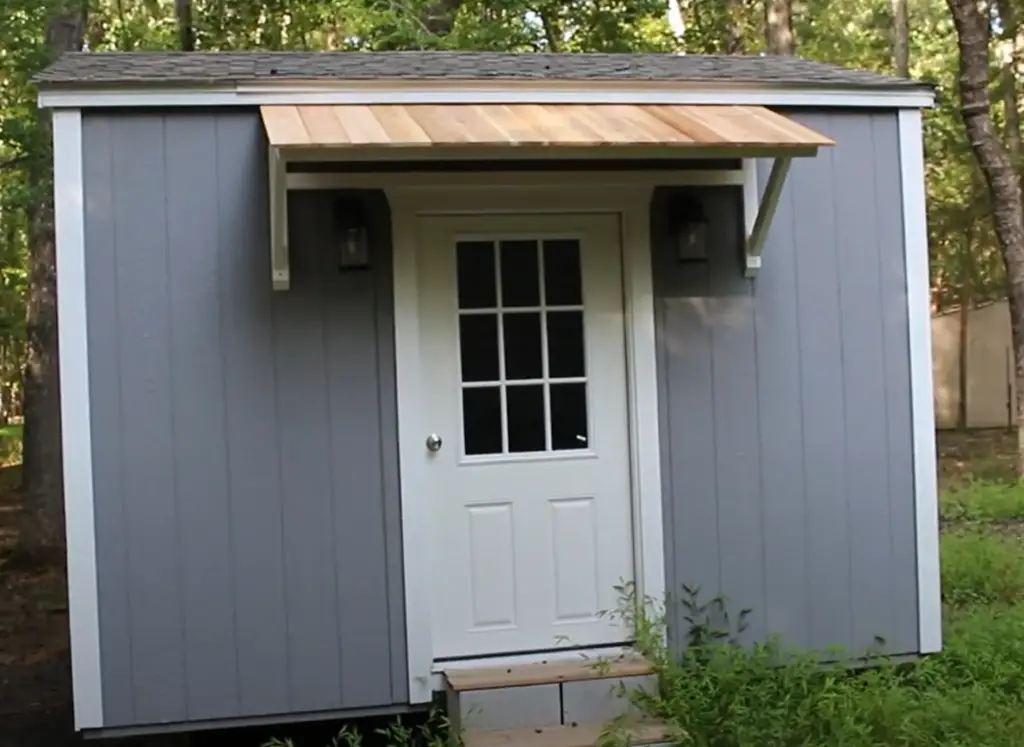 This simple wooden awning and structure is made of 2 x 4's cut to a 22 degree angle, wall mounts, and screws. Then, the structure was painted to match the trim and the awning was stained. Staining wood makes it more durable .
Metal Shed Awning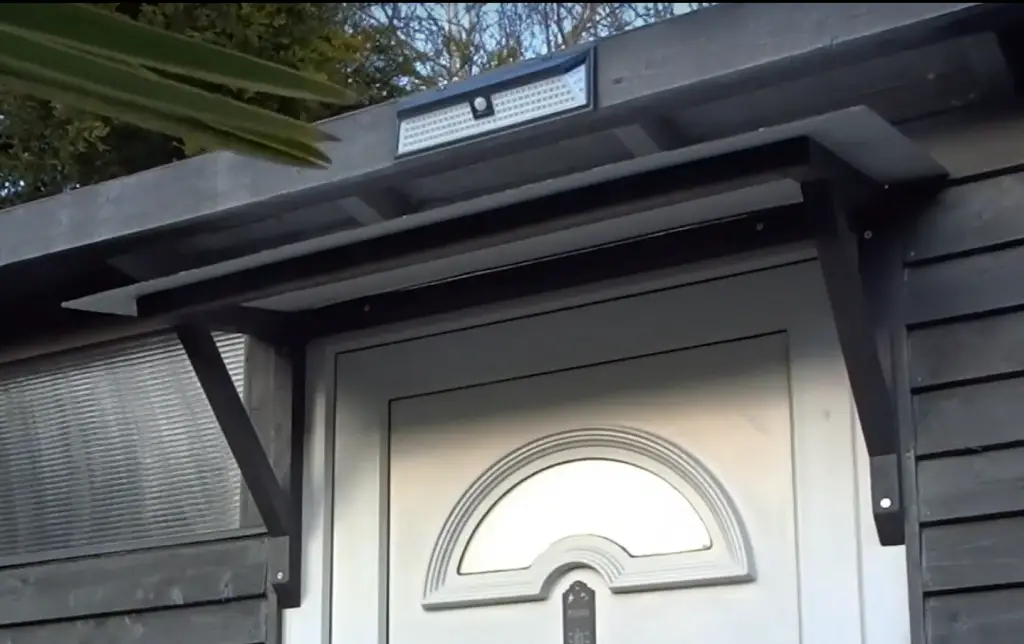 This metal shed awning uses metal brackets and a piece of scrap metal to create an awning that doesn't require cutting 2 x 4's. The dark metal gives it a modern flair.
Rod Iron Shed Awning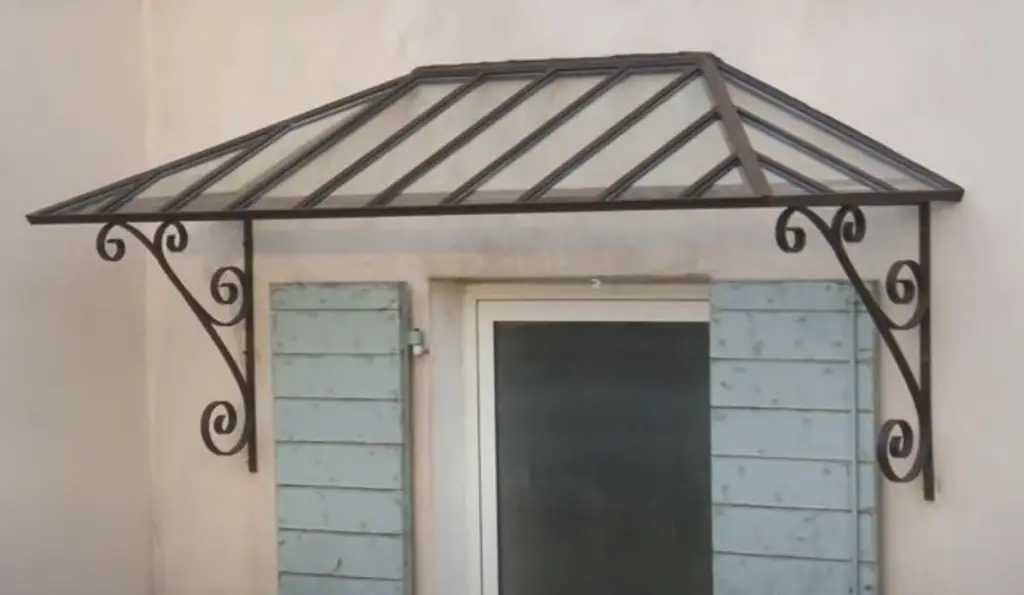 You can have function and beauty with this rod iron metal awning. The awning is factory-made but it can be hung yourself and the structure are fancy metal brackets.
Suspension Metal Shed Awning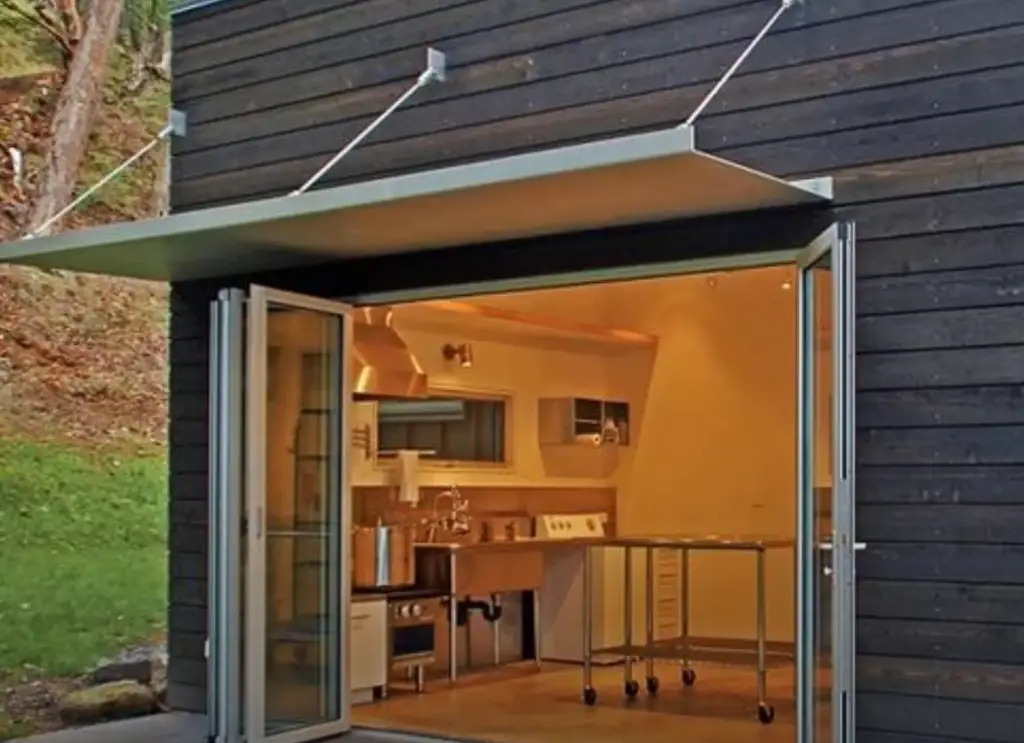 The suspension metal awning is one of our favorite shed awnings. It looks modern and maintains the aesthetic of the shed. A piece of polished metal and suspension cables mounted over the door add an industrial look.
Modern Metal Shed Awning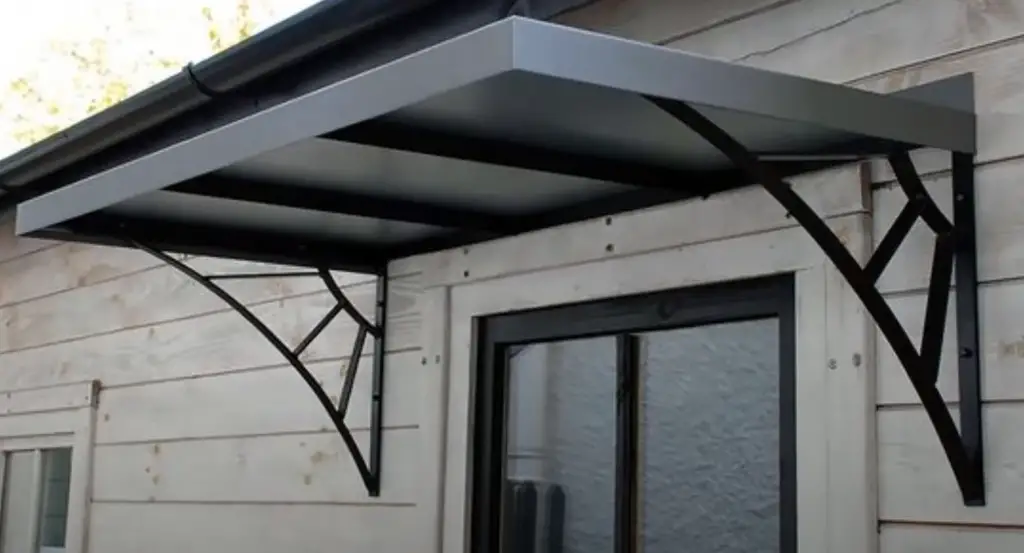 This modern metal awning uses a single piece of metal mounted to metal brackets, bonus points if you find a piece to upcycle. Mounting metal brackets into wood siding just needs a drill and some good looking brackets.
Wood and Canvas Shed Awning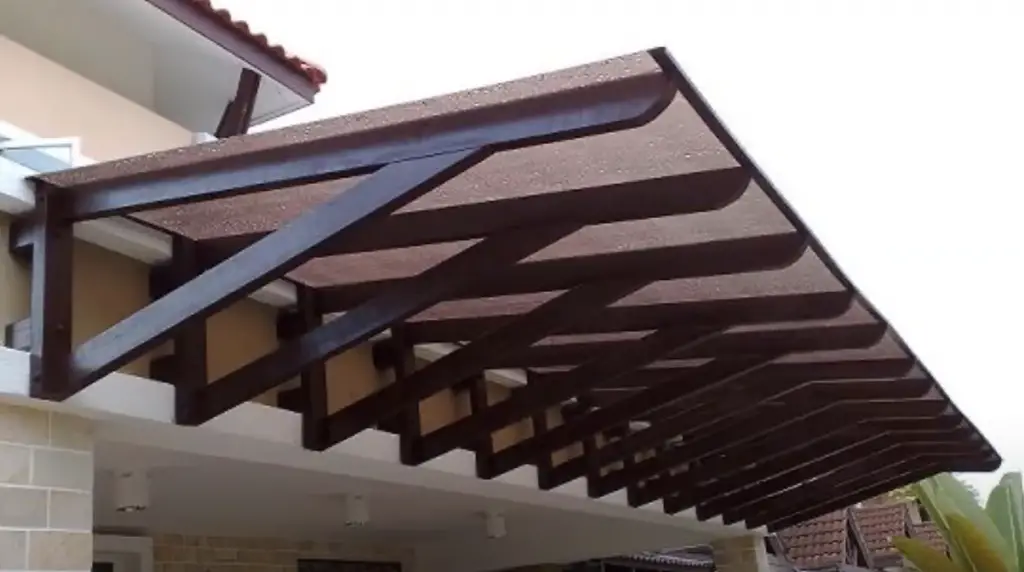 These painted wood brackets are spaced and a piece of durable waterproof cloth was stretched as a covering. The trusses add a beautiful aesthetic to the shed.
Concave Curve Shed Awning
The concave shape adds a great deal of style, along with functionality. Copper metal adds a unique option to the standard metals. This design has a 45 degree concave roof section which ends in a steep angle making a broad face across the top. 
PVC Shed Awning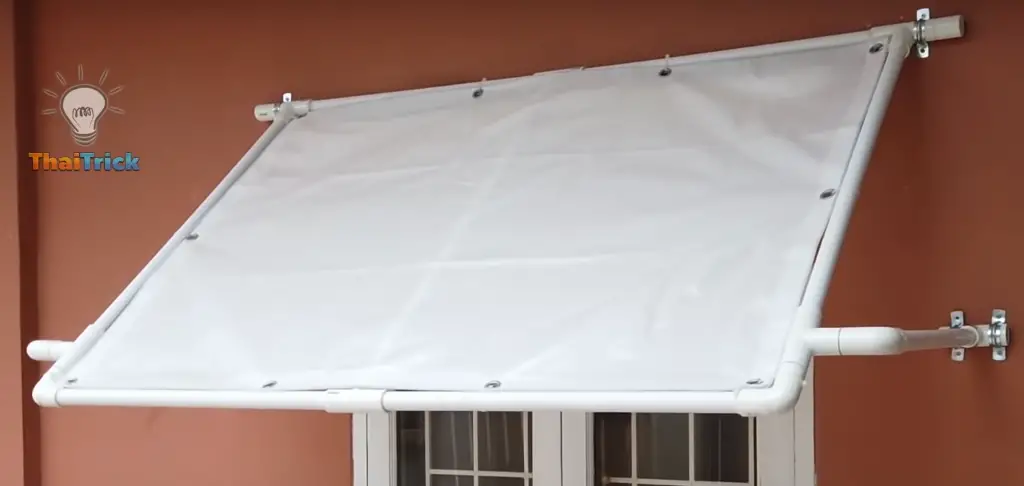 PVC shed awnings are an easy way to get the job done. It isn't as pretty as some of the other options, but it is cheap, funtional, and easy to install. 
Rustic Metal and Wood Shed Awning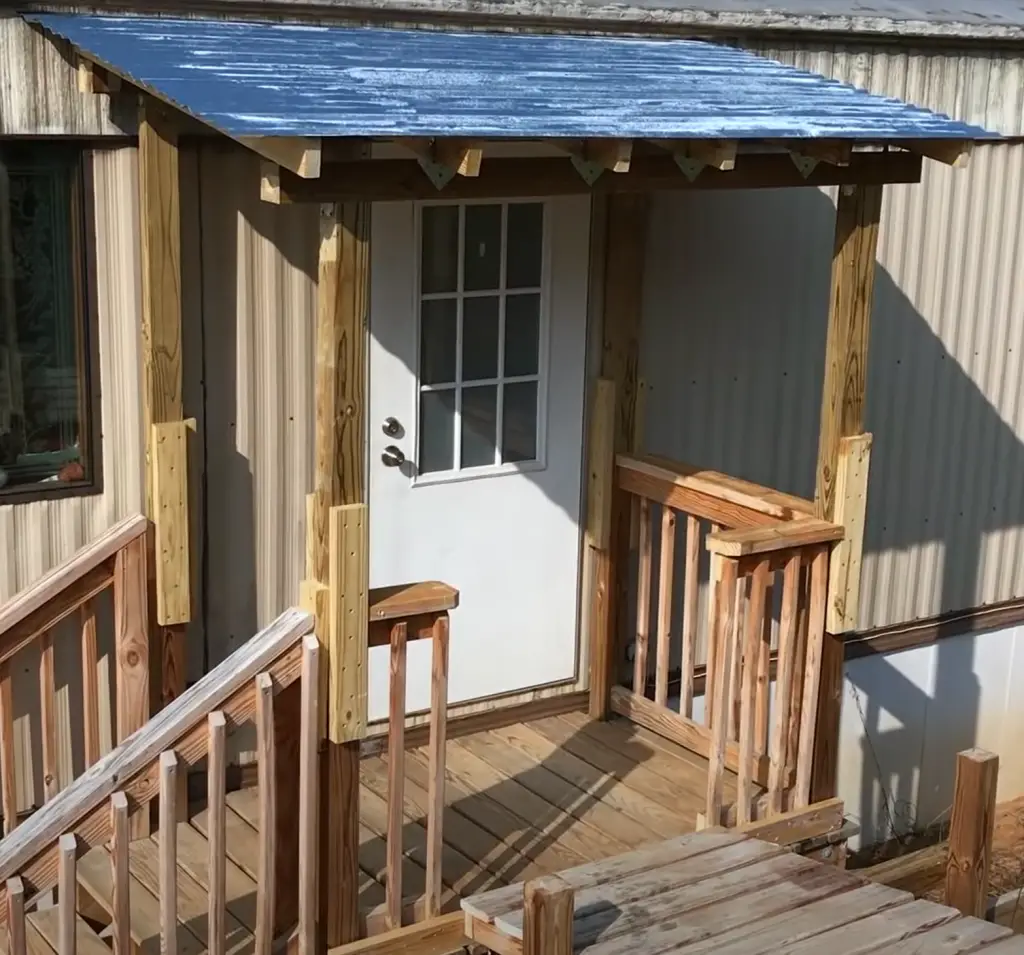 This awning is made of a corrugated metal roof with wood support. It's a DIY frame with wood support and an upcycled piece of metal.
Shingled Roof With Wood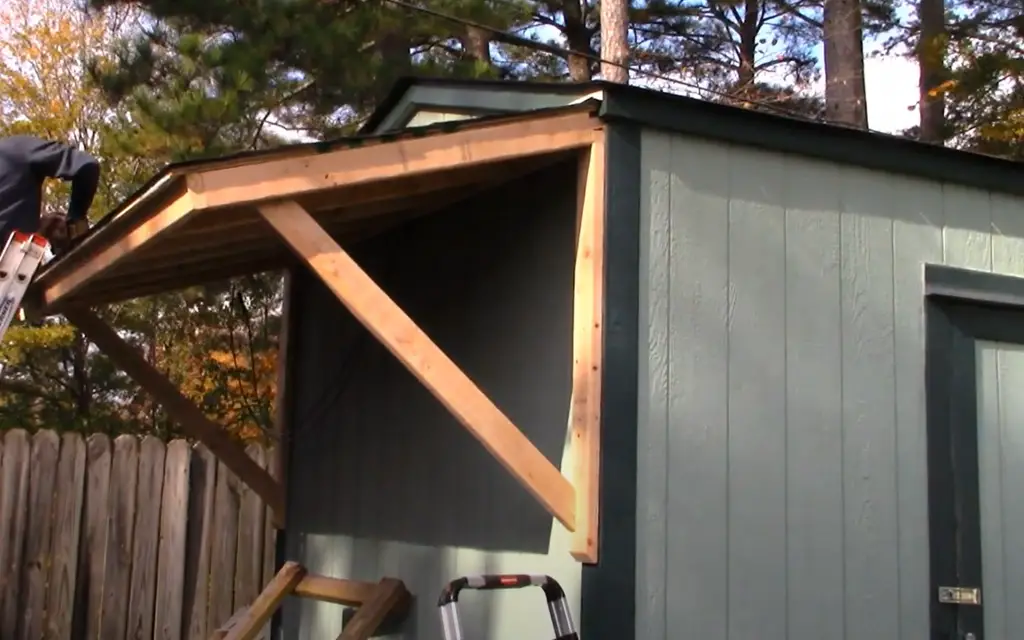 Simple wooden structure and frame plus matching shingles makes for an easy DIY project.
How Do You Build An Awning For A Shed?
Building a shed awning starts with the planning and design of a frame, support structure, and roof. Cut and install the wooden or metal frame and support structures, add a roof, then roofing materials. Lastly, stain or paint the wood. 
You can build an awning anywhere on your shed yourself or make it easier and get help from a friend. DIY shed awnings can be simple or complex, so be realistic about your carpentry and construction skills. 
Awnings are typically over windows or doors, but you may need one on the side or over the windows for a few different reasons. Maybe you need to protect a firewood stack on the side of the shed, you need a south-facing roof for solar panels to work well, or you need to provide protection to equipment. These are sometimes called a shed extension or lean-to.
There are different types of awnings. You can make it very easy on yourself and build a simple overhang over the shed door or you can build a more permanent wooden awning.  
What You Need For A Shed Awning
Popular types of DIY shed awnings are metal and wood. Whichever you choose, you'll need to gather the same basic materials and follow the same basic steps. 
2 x 4's or 2 x 3's, pallet wood is also an option
Plywood for wooden awnings
Deck Screws and Lag screws
Roof Covering, usually shingles
Stain or paint to match the shed
Measure and Buy Materials
Decide where you need the shed awning and decide materials you want to use. Choose 2 x 4's and shingles or roofing material to match the shed. 
Build The Frame and The Structure
Using a circular saw, cut the wood to the appropriate specifications for the type of awning you are building. Next, frame the awning and nail it together.  Next, build the structure the frame will sit on. 
Install Awning Frame and Roofing 
Once the frame is installed, you can now put the frame on top. Plywood is a popular choice for wooden awnings. Secure with nails and screws. Then apply shingles, or roofing material.  
Install Trim and Stain Exposed Wood
To protect the awning from moisture, install trim where the shingles meet the shed. Stain or paint the wood to protect it from the elements.  
What Is A Permanent Awning Called?
A permanent awning is called a fixed awning, wall mounted awning, fixed window awning, shed extension, or lean-to. It is intended to withstand the elements and provide constant protection. A permanent awning can not be retracted and is usually made of a welded metal frame and covered with a metal finish or durable cloth.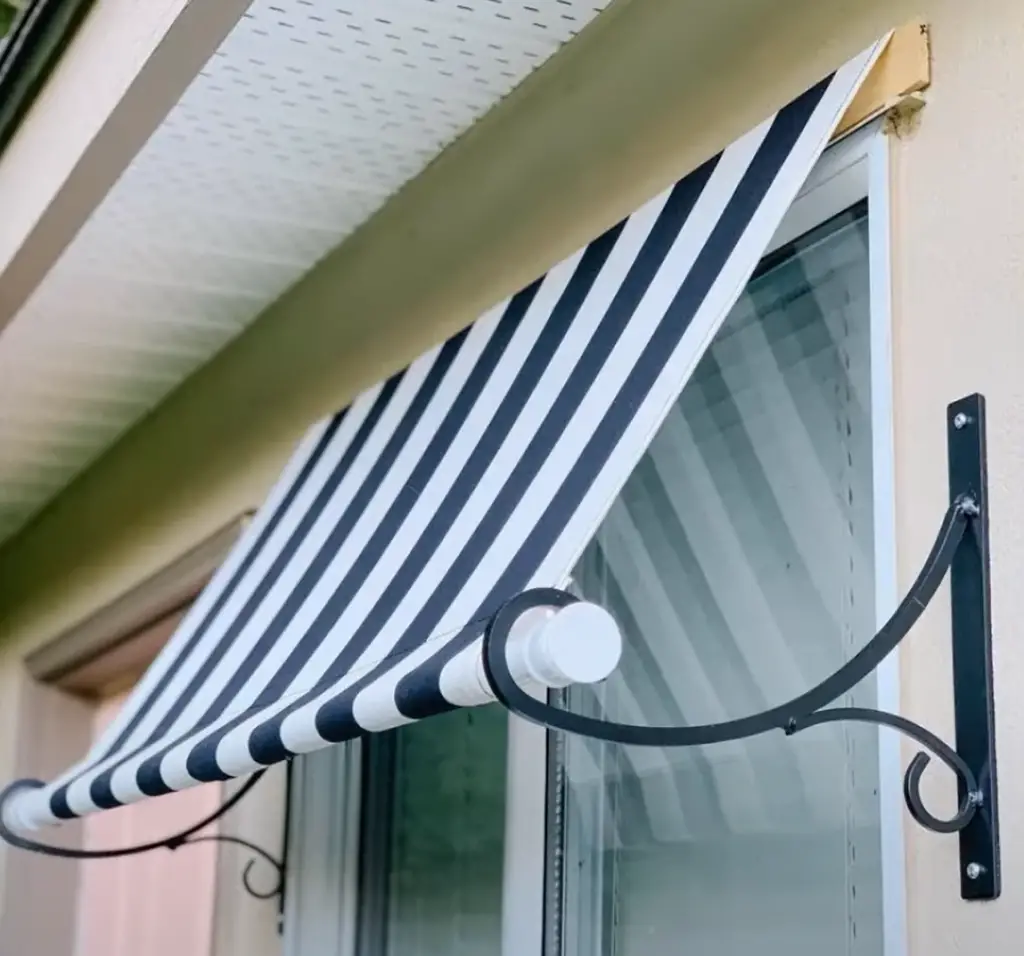 What Is The Difference Between An Awning and A Canopy?
The difference between an awning and a canopy is how they are made which is determined by their intended use. Awnings are permanently attached to a structure and canopies are freestanding and temporary. Canopies are made of cloth whereas awnings are made of wood and metal. 
Stretching a canopy over a window or entry door involves metal brackets and a nice piece of durable cloth. This is a nice DIY project for your shed.