Wood cladding adds a beautiful aesthetic to your backyard office. It protects your shed from the elements and certain types of wood cladding require very little maintenance. You can choose DIY installation, buy new wood cladding, or choose upcycled materials to make your backyard office shed look great. Before you start, you'll need to install battens and soffits and choose the best wood cladding for your shed.
This article gives you 10 great ideas for wood cladding plus information about how to choose the right one for your shed, battens and soffits, and what you need to do to get the project moving forward. 
How To Choose Wood Cladding
Choose wood cladding by considering cost, durability, and maintenance. Then, decide if you want horizontal or vertical cladding. Both are the same functionally, but horizontal cladding has a more traditional aesthetic and vertical looks more modern. Scottish larch, Western Red Cedar, European Pine, and timber wood cladding are popular choices.  
Wood Cladding Ideas
1. Horizontal Timber Wood Cladding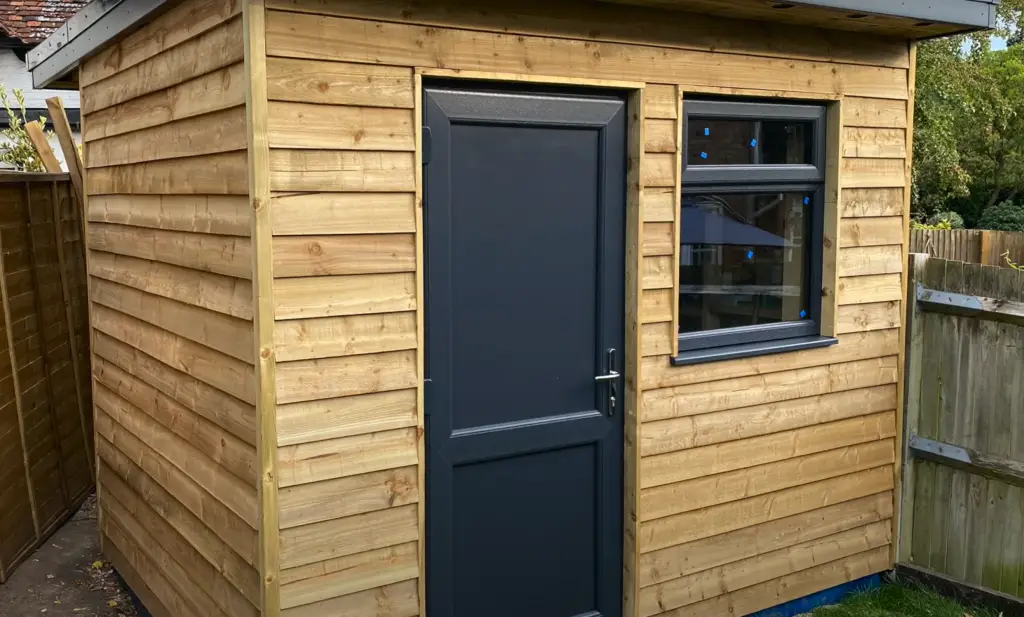 Horizontal timber wood cladding looks rustic and traditional. This shed used featheredge wood cladding, gravel board, roofing batten, soffit vents, and clear wood preserver.  Timber is one of the most durable types of wood cladding and can be seen still looking good and withstanding the elements on ancient historic buildings around the world.
Choosing a horizontal installation of wood cladding makes your shed look more traditional and classic than a vertical installation. And with a clear or light stain, you can really see the beauty of this timber while protecting the integrity.
2. Vertical Timber Wood Cladding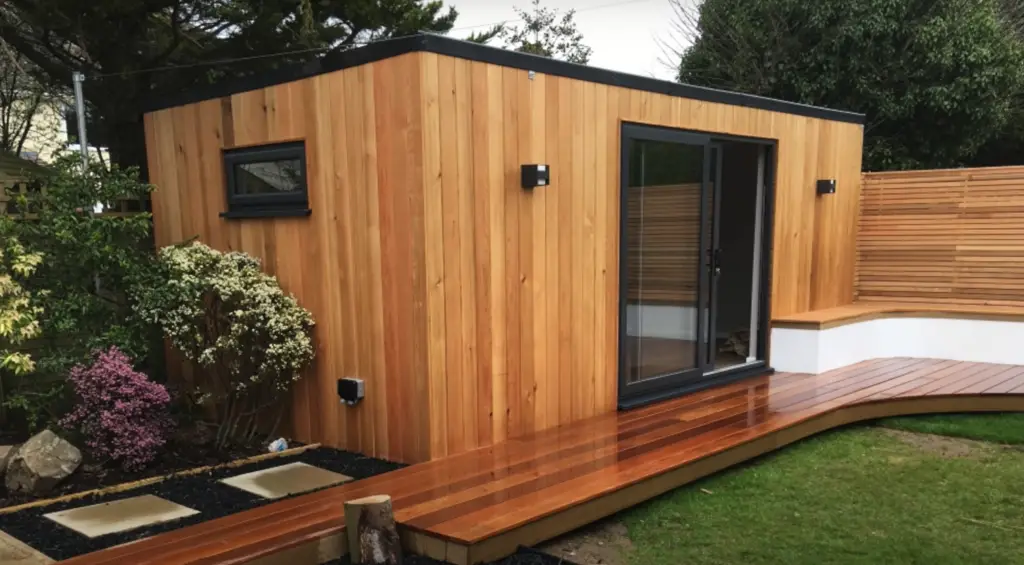 Timber is a very durable type of wood and using vertical installation instead of horizontal installation gives this wood cladding a more modern and clean look. The clear or light stain highlights the natural light wood colors and brings out the beauty of the wood. The black trim adds a nice contrast to the light wood.
3. Cedar Wood Cladding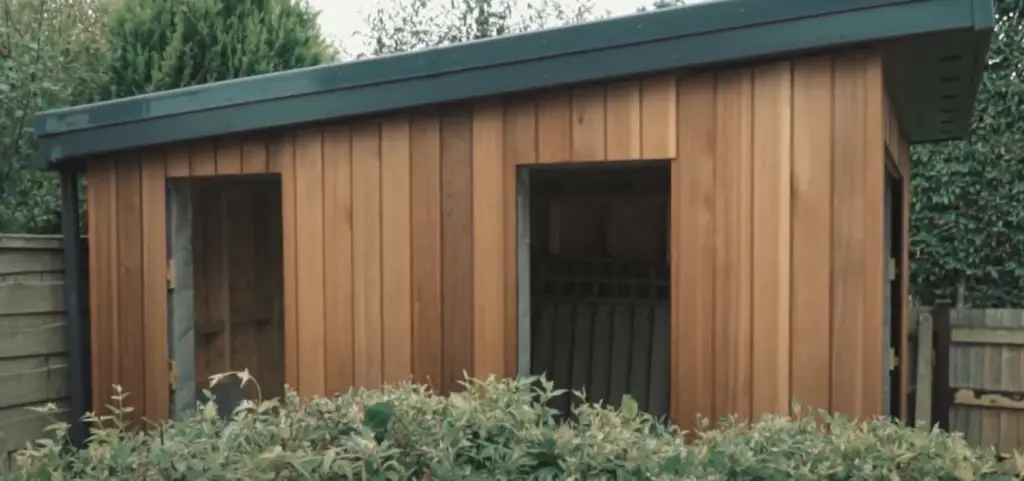 There are a few types of cedar but the most sought after is Western Red Cedar. For wood cladding, it's a popular choice if you're looking for warm tones and a wood that is durable and rot resistant. Western red cedar color ranges from light pink to dark chocolate with very few knots. It should be stained or painted to maintain integrity after installation.  
4. Masculine Wood Cladding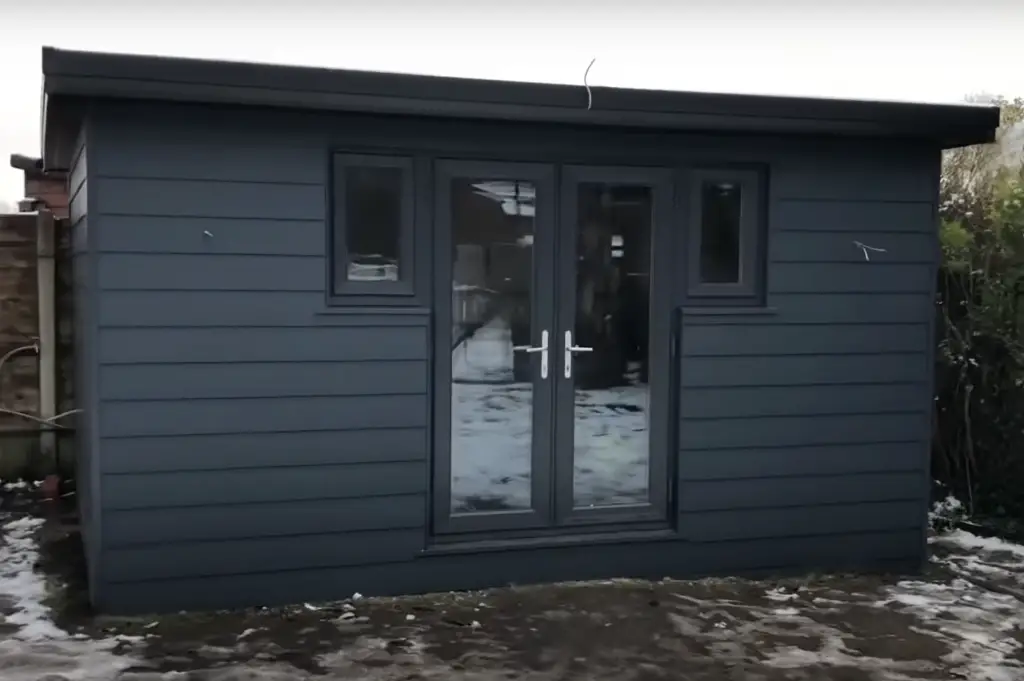 Dark gray paint on wood cladding not only protects it but also gives it a rugged masculine appeal. With horizontal installation, it's a traditional look with a masculine aesthetic. This look is perfect for a pub shed, man cave, or workshop. 
5. Cedar Shingle Wood Cladding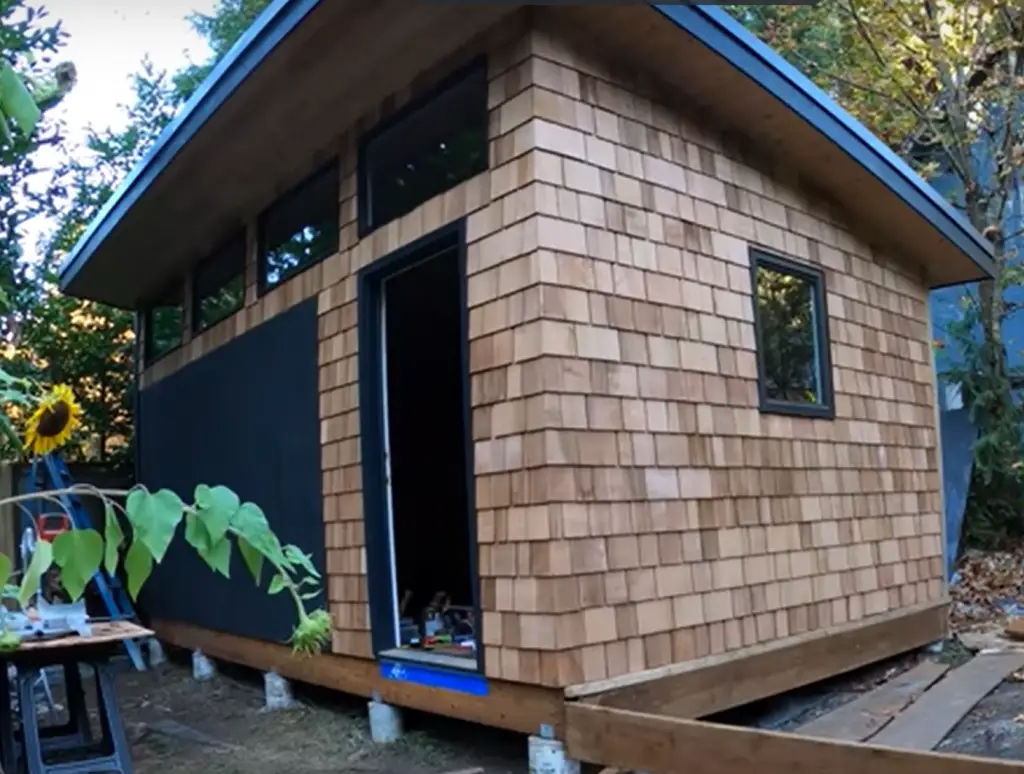 Cedar shingles give a beautiful look to your backyard office. It's a different spin on wood cladding than we're used to seeing. Unlike vertical or horizontal cladding, installing cedar shingles gives your backyard office a totally fresh look.
6. Pallet Wood Cladding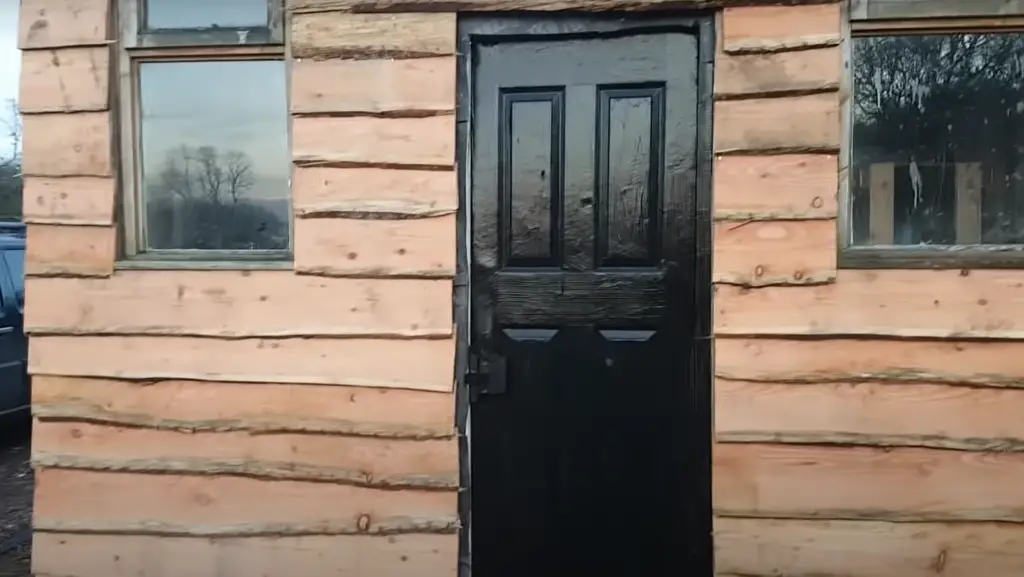 Using wood from old pallets is a great way to keep costs down and make a cool looking backyard office. Reclaimed or upcycled pallets can be found free or cheap locally, from supermarkets, stores, or construction companies. Facebook Marketplace is a good way to start looking for them. Just install, sand, stain, and you're ready to go. 
7. Contemporary Wood Cladding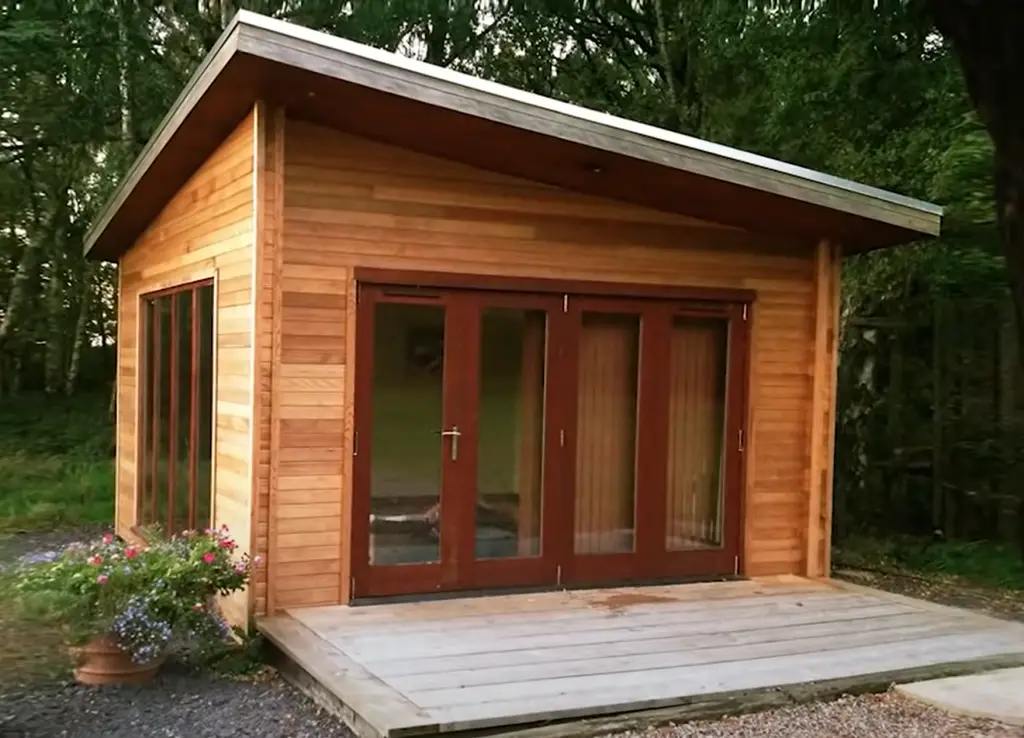 This is a contemporary wood cladding design with an asymmetrical roof. The door trim perfectly matches the natural hues of the wood. 
8. Vertical Cedar Wood Cladding
Cedar wood cladding placed vertically makes the backyard office look modern. The shape of this shed adds a nice aesthetic to the office. All types of cedar wood have a low risk of shrinkage and are extremely resistant to decay. It requires very little maintenance and just needs to be stained.
9. Rustic Scottish Larch Wood Cladding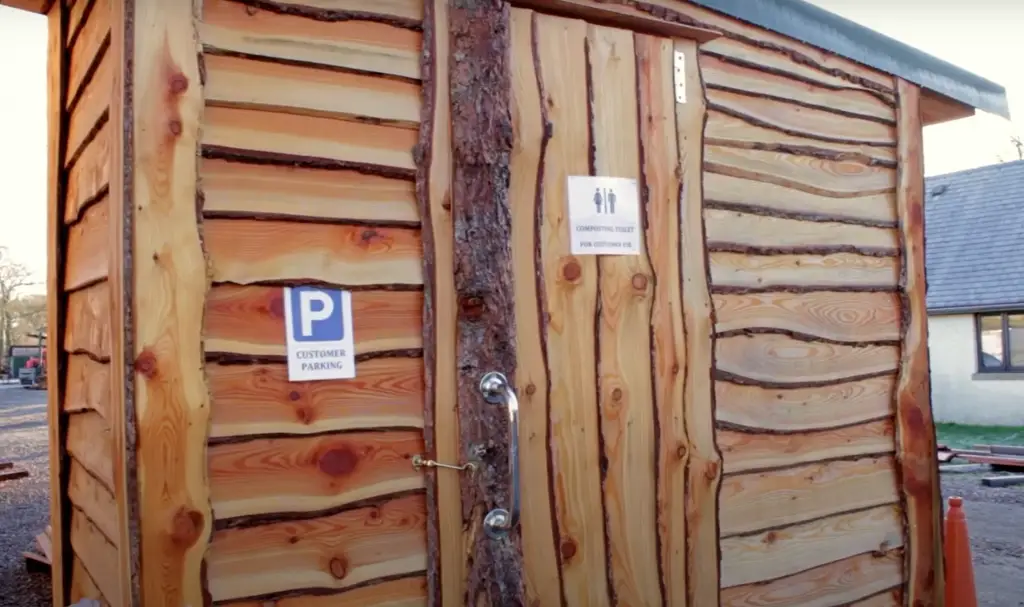 Scottish Larch is a totally different aesthetic than most wood cladding options. It's a knotty wood that is full of character, durable, sustainable, and less expensive than other types of wood. It ranges in color from pale orange to reddish brown and requires a stain but painting is not recommended.
10. Pine Wood Cladding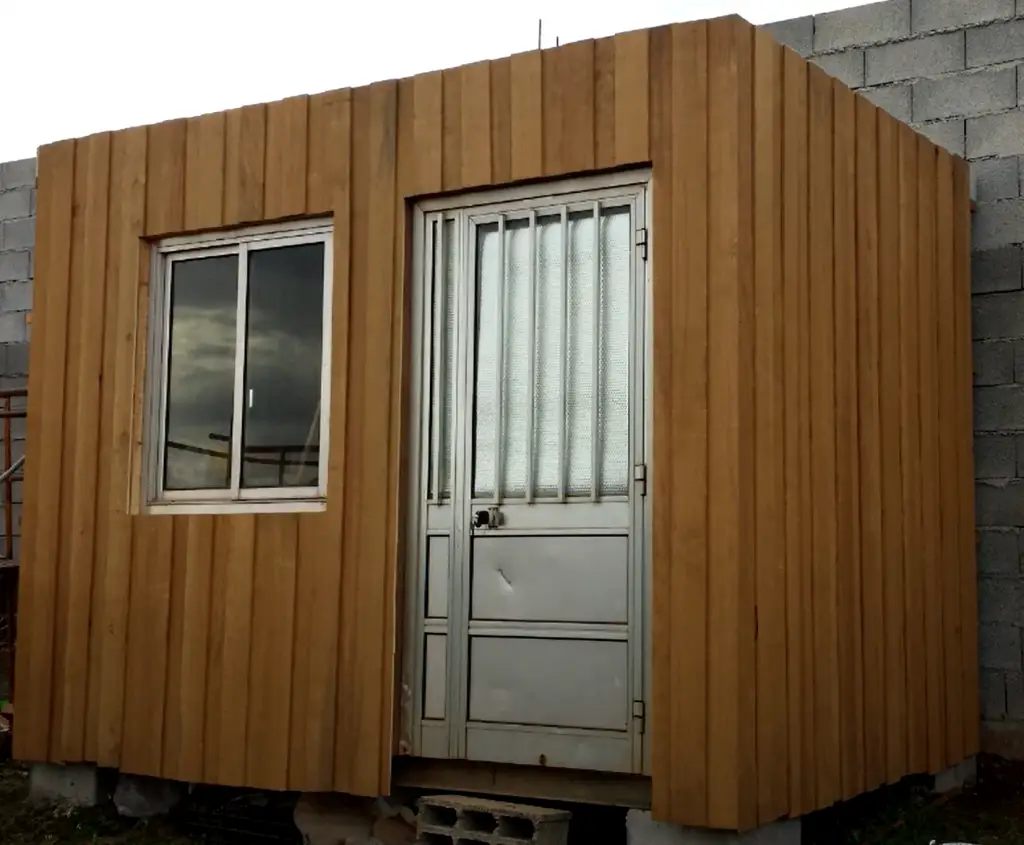 This wood cladding has pine wood boards with a layer of veneer and self-tapping screws. A popular choice for pine wood cladding is buying ThermoWood which is heat treated to improve durability, color, and resistance to decay.  
Before You Install Wood Cladding
Before you install wood cladding, you'll need to install battens and soffits. These are pieces of wood that are installed to provide air flow and ventilation underneath the wood cladding.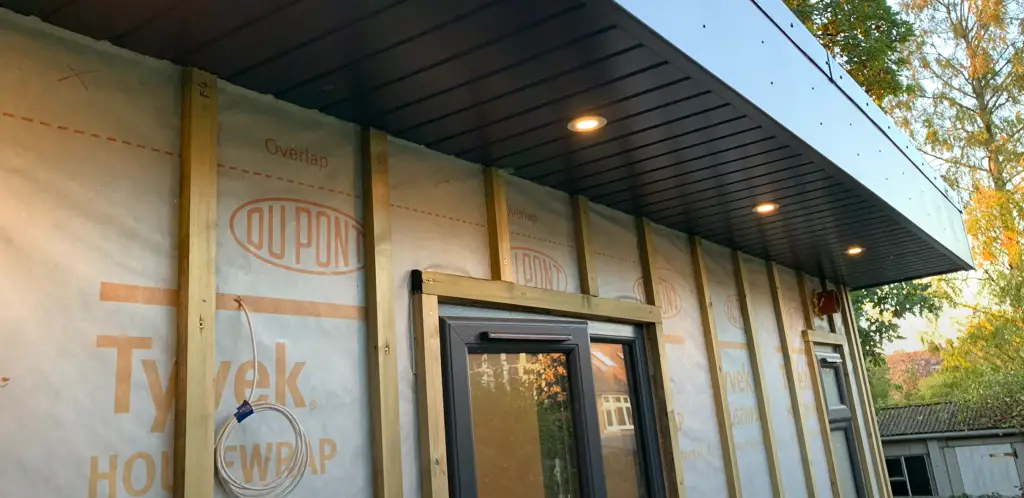 Battens and Soffits
Battens, or fascia, are installed in the opposite direction of the way your wood cladding will be installed. So, if you choose vertical cladding, the battens need to be installed horizontally. This ensures air flow underneath the cladding. 
Soffits are the overhang from your roof. They help ventilate your backyard office and get the heat out, plus they make your shed look like a complete project. 
Final Thoughts
Choose a design idea and install battens and soffits before you get started on installing wood cladding. You backyard office will look better and be protected for years to come.