Are you stuck for ideas on how to heat your backyard workspace? Read on 5 of the best heating solutions for your garden studio with examples of some of the best heaters on the market. 
From Spring through Autumn your backyard studio is the ideal bright, roomy, and personal workspace where you can really enjoy being productive. But as the colder months approach, you might not be so enthusiastic about your commute across the yard.
Depending on the type of backyard office you erect, you may be dealing with draughts or a frosty space that cools down very quickly. Being cold while concentrating on work can really hamper your productivity and if the temperature drops too low you can run the risk of hypothermia. That's why it's important to plan how you will heat your home office when the weather gets cold. 
Pinpointing the best solution for staying warm in your garden office
Clearly, you will want a solution that works effectively and is energy efficient so your costs for working from home do not build up, especially if you are heating an additional space on your property throughout the winter.
Thankfully, help is at hand! We have taken a look at the most suitable heating options for backyard workspaces of all sizes trawling the market for examples that will do a great job of keeping you warm on even the coldest of days.
---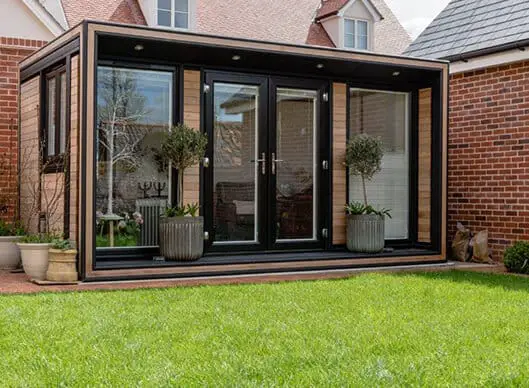 5 Best Heating options for Backyard offices
5. Ceramic heater
Having a backyard office that is a little on the snug side can be advantageous when it comes to keeping warm. Also, a well-insulated annex or garden studio probably does not need a large heater as it should retain heat well.
Opting for a compact and portable unit means you can have your heat where and when you want it.
Fan heaters have typically been the popular choice for small and fast heaters. A ceramic heater is an upgrade of this heater type and harnesses the thermal properties of ceramic to heat your space more safely and efficiently than the conventional metal wire heating elements.
A great example of this type of contemporary heater is the sleek and compact  De'Longhi HFX30 Capsule ceramic heater. This lightweight portable heater is a must for the design-conscious.
With dimensions of only 19.1 x 10.9 x 27.9 cm (not much larger than a MacBook Pro), it can fit into the smallest of spaces and be readily toted by its sleek leather-effect handle.
Despite its small size, this 1500 Watt ceramic heater provides thermostat controlled heating along with a digital timing function that can help you keep on top of energy bills. The Capsule has multiple heat settings, as well as a fan to keep you cool in summer which adds welcome extra utility. Safety is paramount with this reputable brand and this ceramic heater has an automatic shut off if it overheats or is tipped over. 
---
4. Oil radiator
If you are bracing yourself for a winter of work in your office hideout, you will need a heater like the AB-H1000 BY Mill that is up to the task of providing the sustained heating needed to maintain a steady temperature.
This is where oil radiators come into their own and make a great investment for a heater with consistent performance over long periods of time.
Oil radiators are filled with diathermic oil which has special thermal transfer properties. A radiator is a sealed unit that has a certain quantity of oil which expands and fills the radiator when heated by an electric element. It is the expanded oil that retains and then radiates the comforting warmth these heaters are known for. They may be a single panel or possess multiple fins. Castor mounting makes these radiators able to be wheeled to the right where you need them. 
The stylish Mill oil filled radiator would not look out of place in any trendy tech startup and is a fast heating 1000 watt oil filled radiator. Its twin-panel design heats up faster than traditional finned oil radiators which is just what you need on frosty mornings. It is silent, unlike fan heaters which will whirr away in the background. 
Its sleek contemporary design with smart brushed aluminum feet will lift any office space. A garden office of up to 150 sq feet can be reliably and consistently heated. Mill has added a range of functions to help you get the most out of using this heater. It has some Day and Night settings, a digital display thermostat, and the safety shut-offs that give you the confidence you need.
---
3. Pellet stove 
The beauty and drama of real fire may be a little bit distracting at first, but you will certainly come to expect and appreciate the strong dry heat and that is ideal for a garden workspace that may get a little damp in cooler weather. If you love the idea of a traditional cast iron stove, but do not have the time for wielding an ax to chop wood every few days, a pellet stove makes a fine alternative. These powerful heaters run on wood pellets.
They are made from compressed sawdust which makes fueling your burner not only cheap but sustainable. Modern design and engineering have made these stove heaters remarkably compact meaning you should find an easy to install solution for a variety of places. Just ensure that you will be able to install a simple flue and vent to ensure that your pellet heater is well ventilated. 
A good example is this beautiful Castle Serenity Pellet Stove which has all the functionality of a classic wood burner with integrated modern technology that allows to program and controls its function. It has a neat space-saving shape which is great for making the most of your studio space. The burning chamber is simple and easy to clean and the burning wood pellets leave a minimal amount of ash making the day to day clean up simple.
The best thing about this pellet stove is the efficient use that it makes of the fuel, thanks to the smart controller that can set your heating to one of five burn levels with a thermal efficiency of 69.8%.
As the demand for pellet-burning stoves has increased, designs have simplified for easy non-professional installation which can be all done in a day. This means that if you opt for a pellet burning stove you may be enjoying the heat of real fire on the very same day it arrives!
---
2. Propane heater
You may have memories of the old propane heaters of your parents and grandparents and how they could always be counted on in storms or power cuts. Perhaps you helped load and unload them for a friend in need. Propane heaters like the Rinnai EX08CT are a rugged and reliable choice for heating in the coldest weather.
Propane is also a clean-burning fuel that is cost-effective and can be readily worked into your household budget and safely stored on your property. Propane heaters are no longer the clunky and awkward units you may recall, but now come on far more streamlined designs that can even be wall mounted if needed. 
The Rinnai Wall Furnace is one such example and is getting well-reviewed for its utility, heat output, and performance. We think it would make a sound addition to a hard-working backyard workspace. This wall-mounted propane heater with fan-powered boost is capable of heating a small home so you will certainly be comfortable with this thermostat-controlled ductless heater.
A simple control panel allows you to set your target temperature and the responsive Rinnai furnace delivers consistent heat to the temperature sensitivity of 1 degree. If you are running a 'smart' backyard office it's great to know you can hook this heater up to your smart thermostat or controller.
This type of high output heater would be an ideal choice for an expansive studio as it is up to the task of heavy-duty heating with warranties in place of up to 10 years to cover parts and labor. 
---
1. Infrared heater 
If you are looking for a quick, unfussy solution for your garden office's heating needs, an infrared or IR strip heater like the UFO UK-15 could be the right fit for your space. They provide extremely efficient heating, despite their basic utilitarian appearance. Unlike space heaters or fan heaters, an IR heater transfers the electrically generated heat directly to you and the objects around you rather than heating the air.
The radiant heat you experience is much like sunlight on your skin. This more targeted heating saves energy and money and makes you feel warm more quickly. Infrared heaters are often found in bathrooms or workshops, but there is no reason why you should gain the advantage of this form of heating in your office. 
The UFO remote-controlled infrared heater is the type of heater that you could readily install on a wall or over a doorway within your office for the instant gratification heating that you may need to cut through the morning chill. The heating filament is surrounded by a carefully engineered reflector to direct the heat for maximum coverage of your backyard office, with a heating range of over 100 square feet.
This unit is also capable of heating hard to heat areas or draughty places with high heat loss so it will work with simpler garden structures like a converted shed. IR heating is very efficient, converting almost all energy supplied into heat. This means that this 1500 watt electric home office heating should only be costing you cents per hour.
If you loathe that burning smell you can get with metal heating filaments, you will find that IR heating is odorless, non-drying and does not consume oxygen. Plus, you have all the convenience you need with remote control with five heat settings and a timer function.
---
F.A.Q
Q. Is underfloor heating something I can use for my garden office? 
A. Yes! An underfloor heating system is a great option for a well built and insulated backyard workspace that really retains heat. These systems require professional installation and involve a network of fluid-filled tubes being laid in a snaking pattern that covers the subfloor of your office. The fluid in this hydronic system is electrically heated and when tiled over the tubes will conduct heat through the tiled floor for your thermal comfort. These systems can be used for heating or cooling and have integrated thermostatic control. 
---
Q. Can air conditioning keep me comfortable in my garden studio all year round? 
A. There are some great wall mount air conditioning systems that you can remotely control to either heat or cool your garden office. They are ideal for not only keeping cool in the summer but also comfortably warm in the winter. Most air conditioning units are programmable and remote-controlled with thermostats to keep you on top of your energy costs.
---
Rounding Up
Making sure that your backyard office is winter-ready will mean that you will be able to use it comfortably and confidently in the colder months. Decent heating will also prevent your structure from falling into disrepair with problems like damp or mold.
These five heating options will each do a great job of keeping your backyard workspace warm and you may even want to combine portable options like the ceramic heater or the oil-filled radiator to give yourself an extra boost of warmth on the coldest days.
If you are a garden office owner, how do you stay warm? We would love to know your questions, ideas, or thoughts. Reach out and let us know in the comments section below.